Tiffany & Co. and Tiffany Studios in Upcoming Fine Arts Event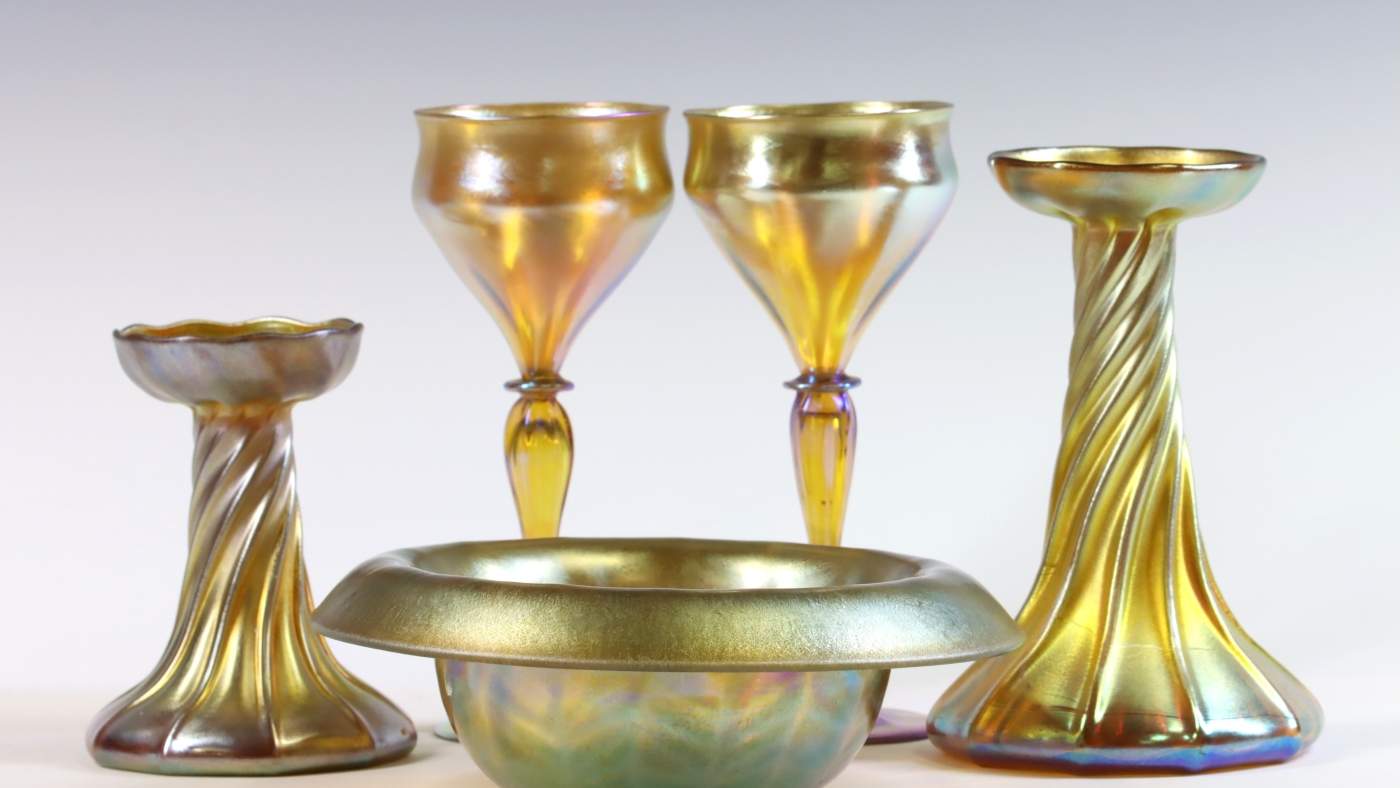 Did Someone Say Tiffany's?

Alderfer's is hosting a collection of various Tiffany & Co. and Tiffany Studios pieces in their upcoming 3-day Fine Arts Event. Grab a coffee and don your best Hepburn inspired sunglasses as we take a look at what's coming to the auction block this September.
Featured in Day 2 of the Fine Jewelry and Silver auction, we have a Tiffany 18K Gold Diamond Floral Brooch Pendant with a textured and polished setting and a heart shaped petal pave set with round diamonds. This stunning brooch has a clarity of VVS1 – VVS2.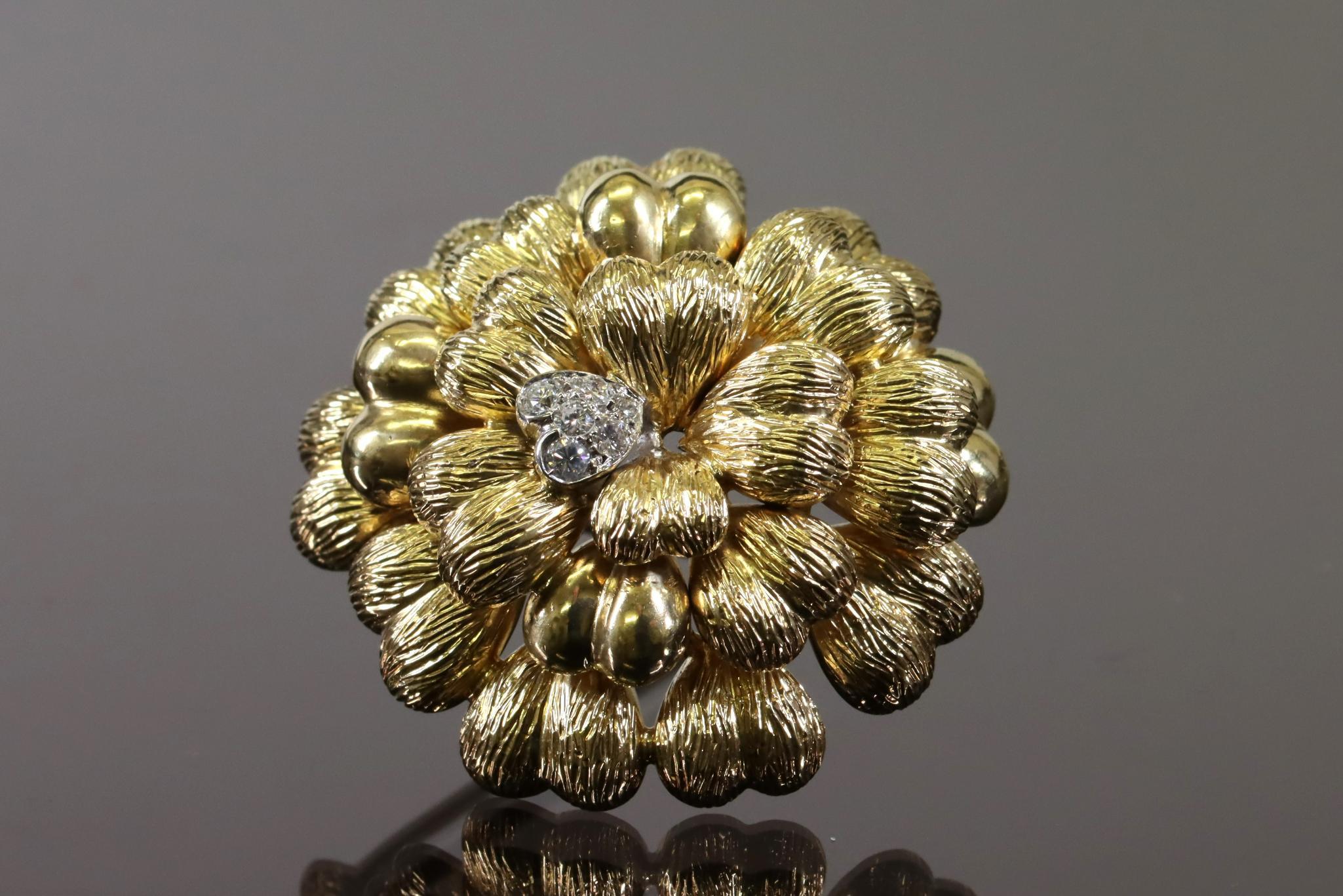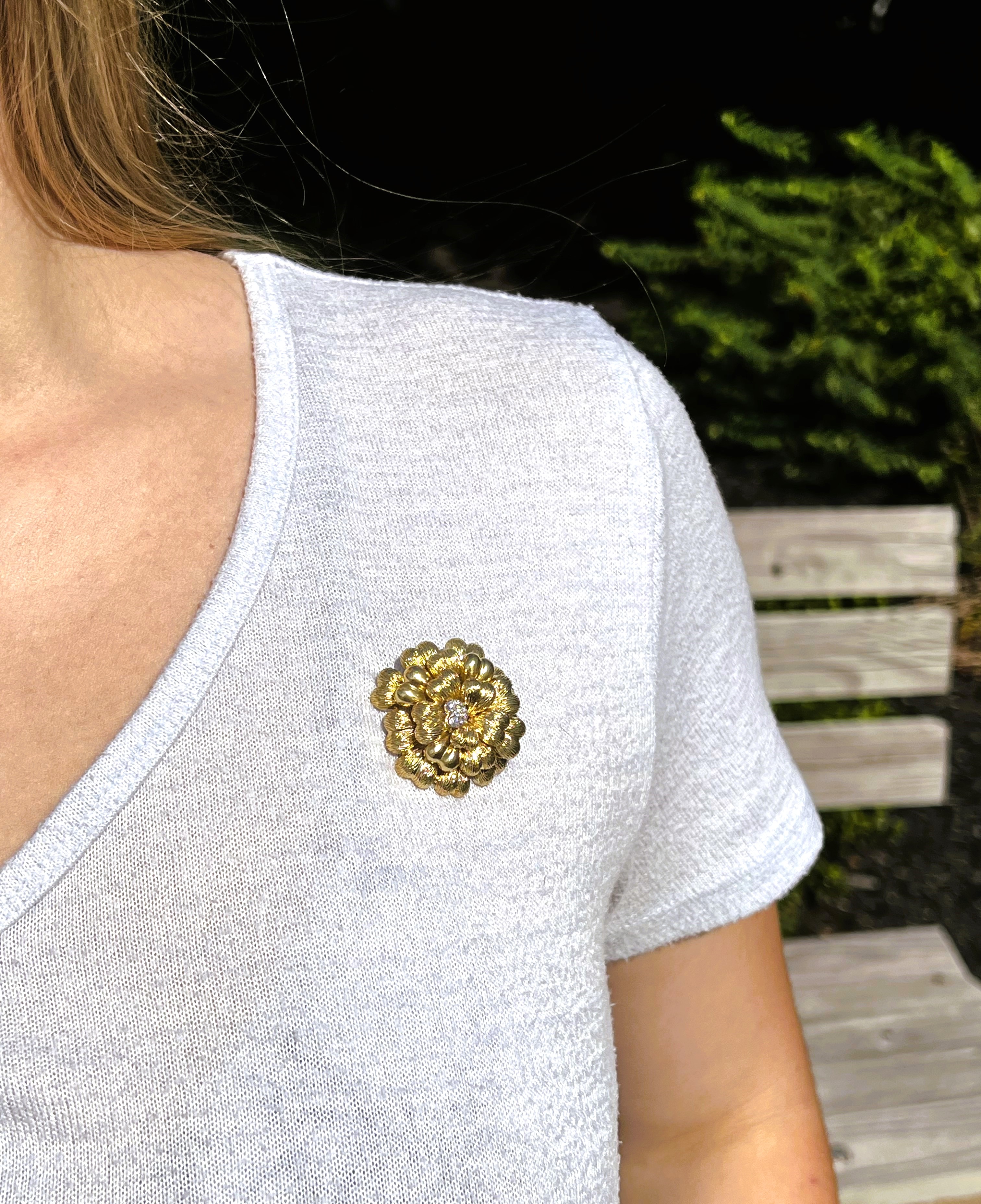 You may think that brooches have fallen out of style but nothing could be further from the truth. According to fashion experts and jewelry historians, the brooch is back. Brooches are being worn by celebrities, politicians, news anchors, and even Lady Gaga. Lori Ettlinger Gross, a New York based jewelry historian stated that "a brooch is independent of the body," meaning that unlike other pieces of jewelry that attach to the earlobes or hang on the wrist, a brooch can make a statement. It can promote a sentiment such as love or peace as well as start a conversation. Kristen Ingersoll, a New York based stylist, says "these days, a brooch is better than a tweet." It's an elegant statement piece that can elevate your style. This sweet Tiffany's floral brooch being offered can be worn a multitude of ways and will add sophistication to any look.
Tiffany & Co. has been handcrafting jewelry since the early 1800's. It's founder, Charles Lewis Tiffany, opened his first store on Broadway catering to ladies in search of high-end jewelry and couture pieces. Tiffany's was the first American company to adopt the .925 silver standard even before the rest of the United States followed suit. This standard ensures that all sterling silver is no less than 92% pure.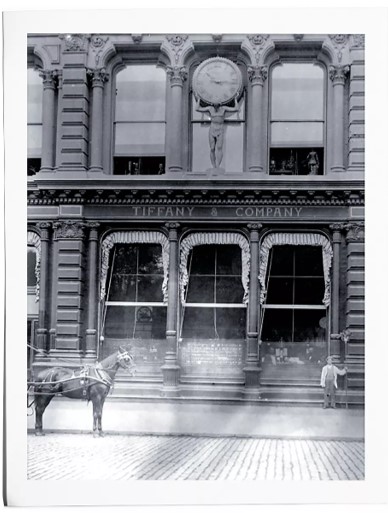 Charles' son, Louis Comfort Tiffany, grew the company with his design visions and expanded their commodities to include decorative arts using glass, crystal, enamels, and other nature-inspired materials. Thus, starting the Tiffany Studios brand. Louis also established the famous Atlas clock above the infamous 5th Avenue flagship store and started the Tiffany Artistic Jewelry department on 5th Avenue, allowing craftsman and jewelers to make pieces on location.
Also being offered in Day 2 of the Fine Jewelry and Silver auction is a Tiffany Sterling Silver Tea and Coffee Service and a set of ten Tiffany Sterling Silver Wine Goblets.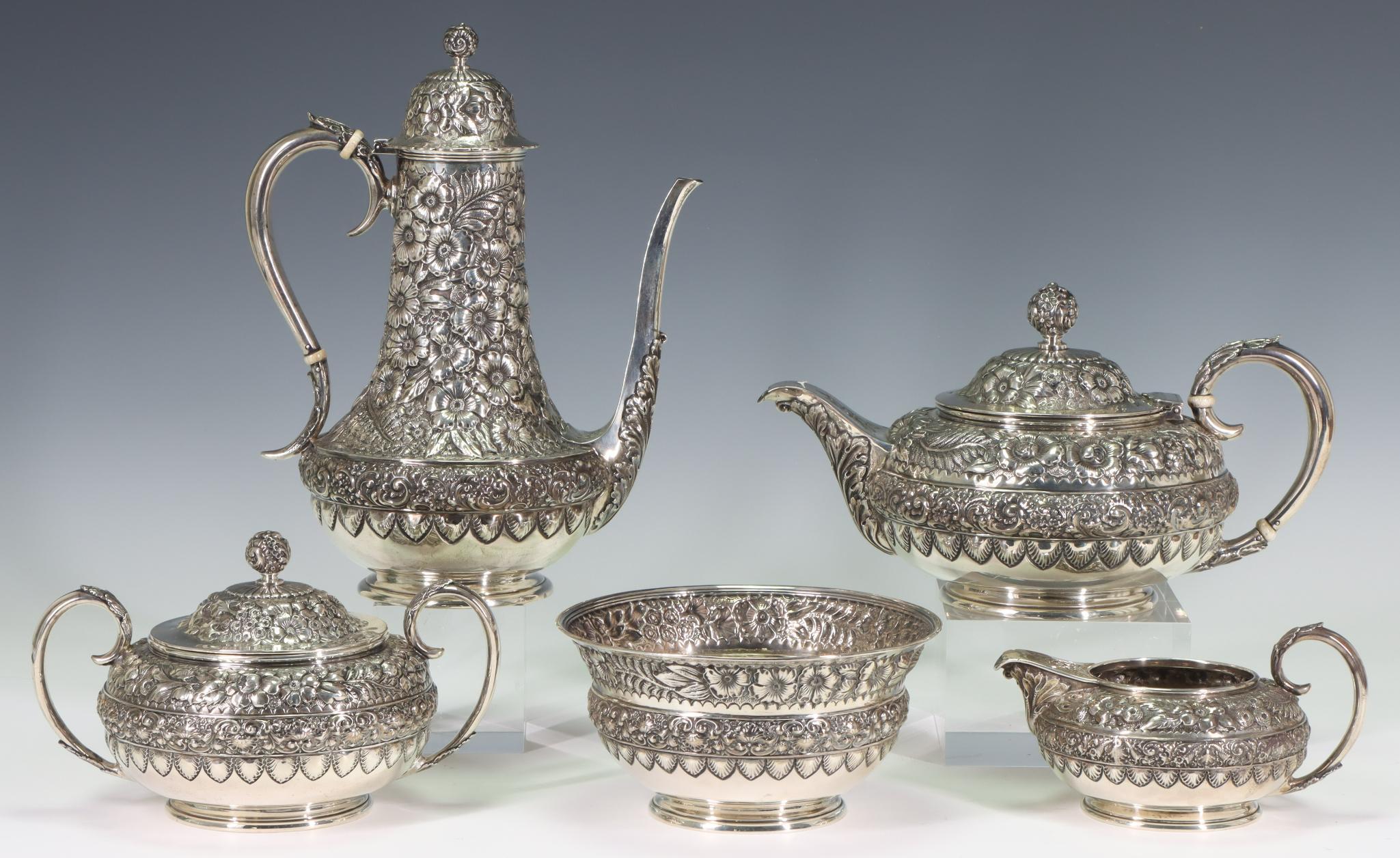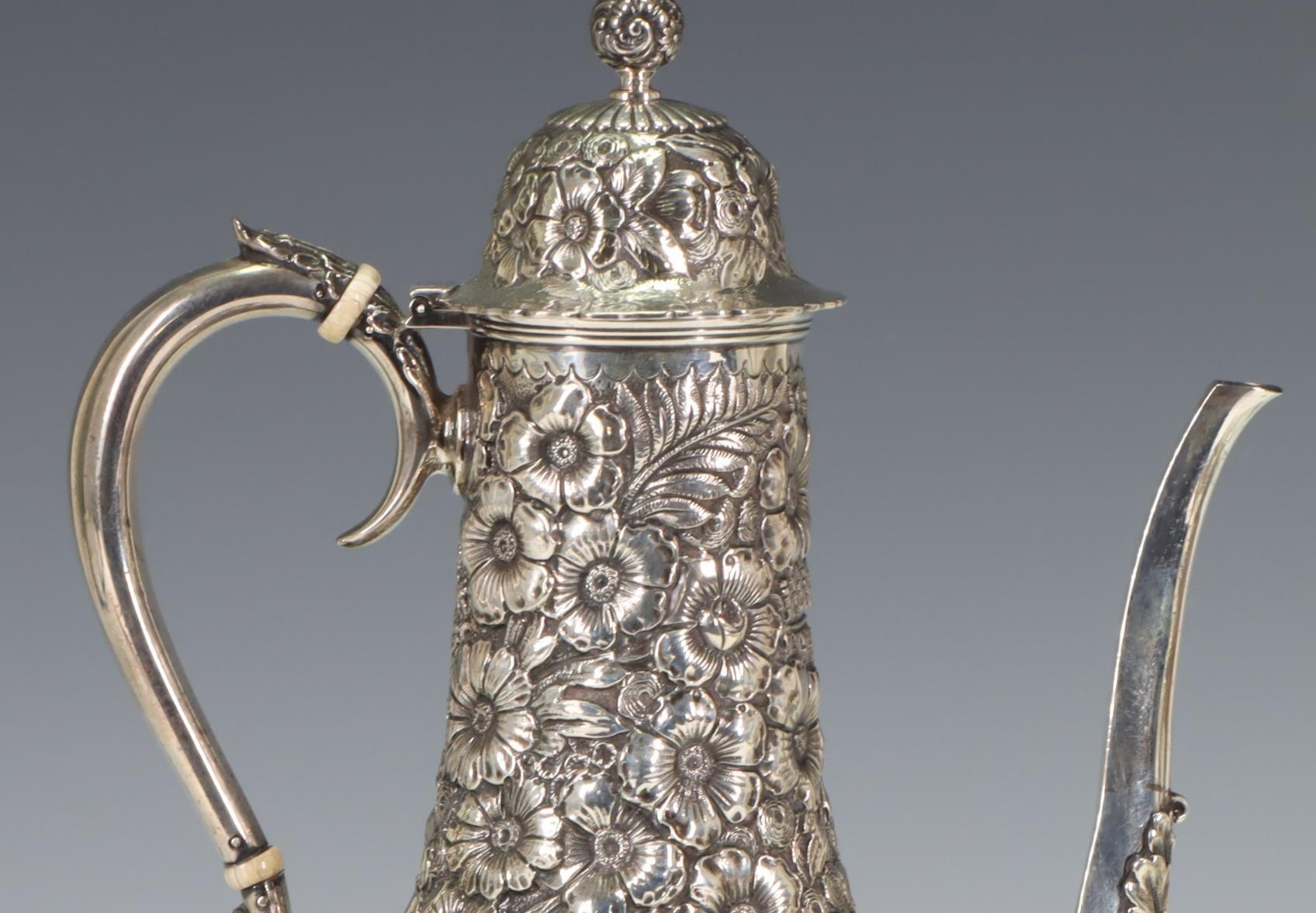 The tea and coffee service features an intricate floral motif over a band with shell and scrolling foliate decoration. Take a closer look at the detail on the coffee pot.

The sterling wine goblets are estimated to be circa 1920's, reigning from the era of champagne towers and lavish parties. The sleek, timeless design still has a relevant appeal in today's modern aesthetic.
Day 3 features fabulous Tiffany Studios decorative pieces including Tiffany Favrile glass. Designed by Louis Comfort Tiffany, Louis developed the technique by embedding colors into glass which resulted in the beautiful swirls and hues that defines Favrile glass. Louis patented his design in 1894. The term "Favrile" is derived from the Old English word for 'hand-made.' Louis Comfort Tiffany's designs gave him worldwide recognition and made him an influential designer during the Art Nouveau period.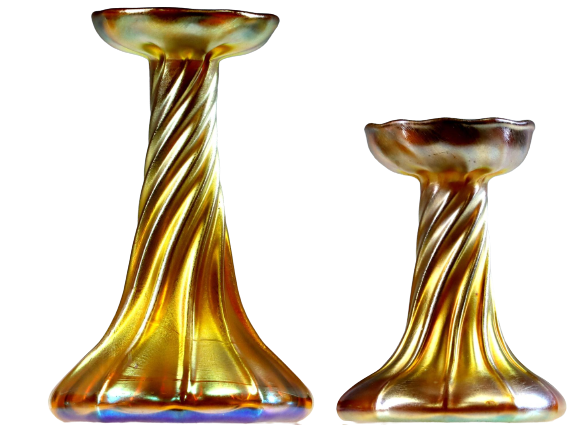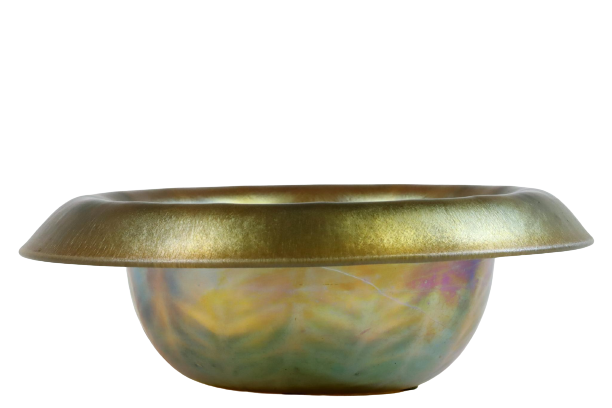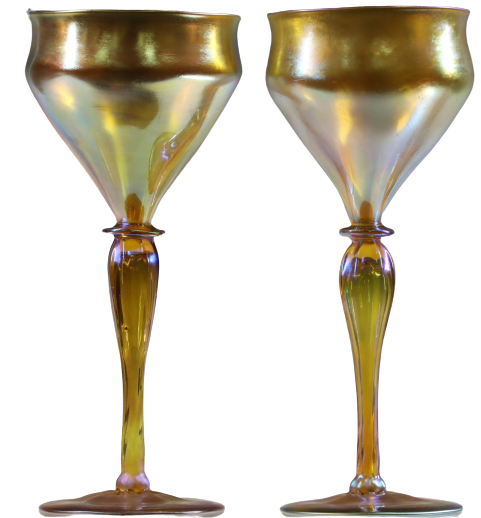 According to the New-York Historical Society, Louis Comfort Tiffany started a metal foundry at his factory in Queens where Tiffany Studios could manufacture their lamp bases. The factory expanded to include other "fancy goods" including desk items and candlesticks.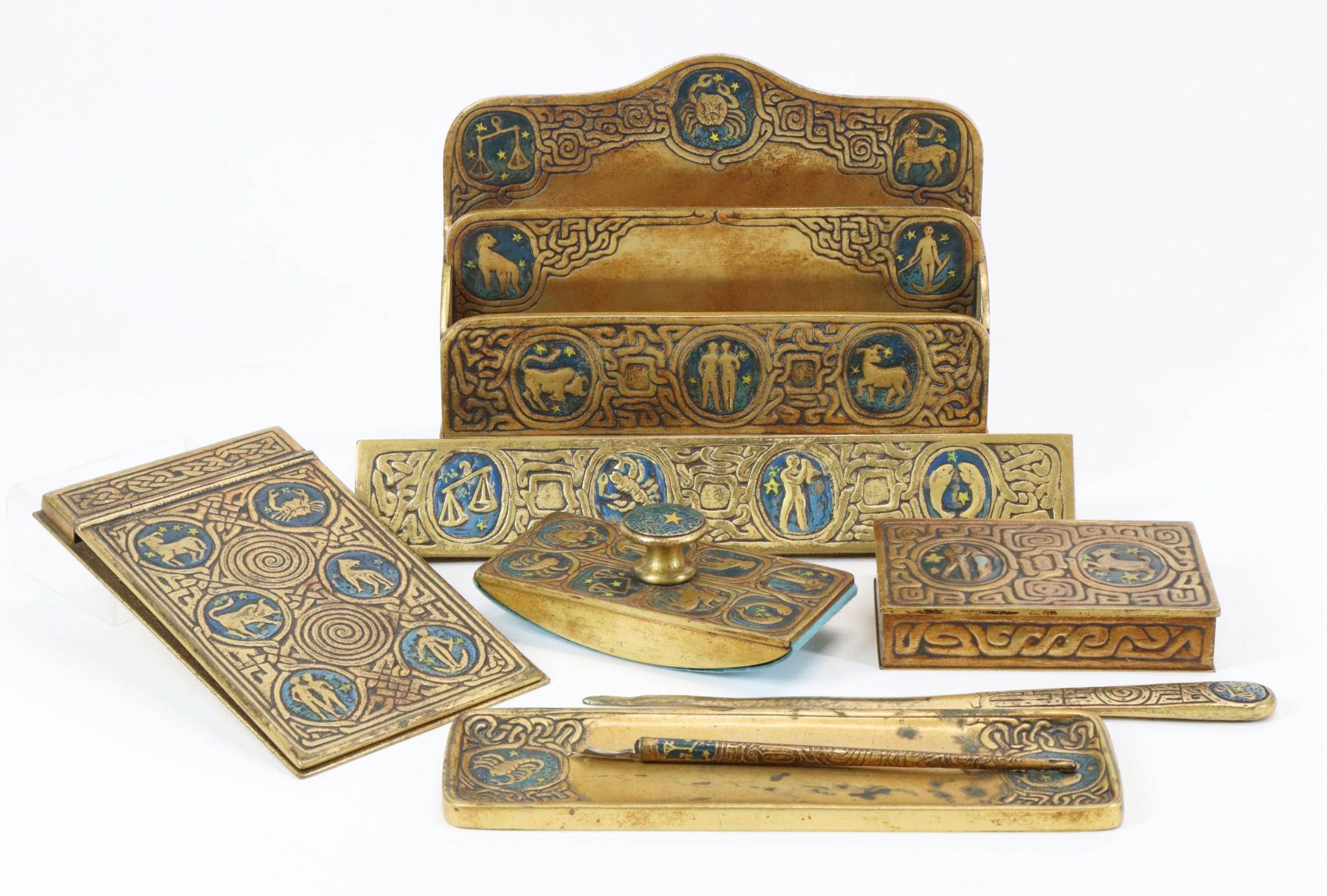 Included in Alderfer's Fine and Decorative Arts Auction on Day 3 is the Tiffany Studios Zodiac Desk Set. This early 20th century set is one of the earliest patterns that Tiffany Studios produced. It includes a letter rack, blotter, pen tray, fountain pen, letter opener, rocker blotter, notepad, and box.
All of these items, including other unique finds, will be offered in Alderfer's Fine Arts Event this September.
By Hayley Schaffer
---