Artist Spotlight | Fern Isabel Kuns Coppedge (1883 – 1951)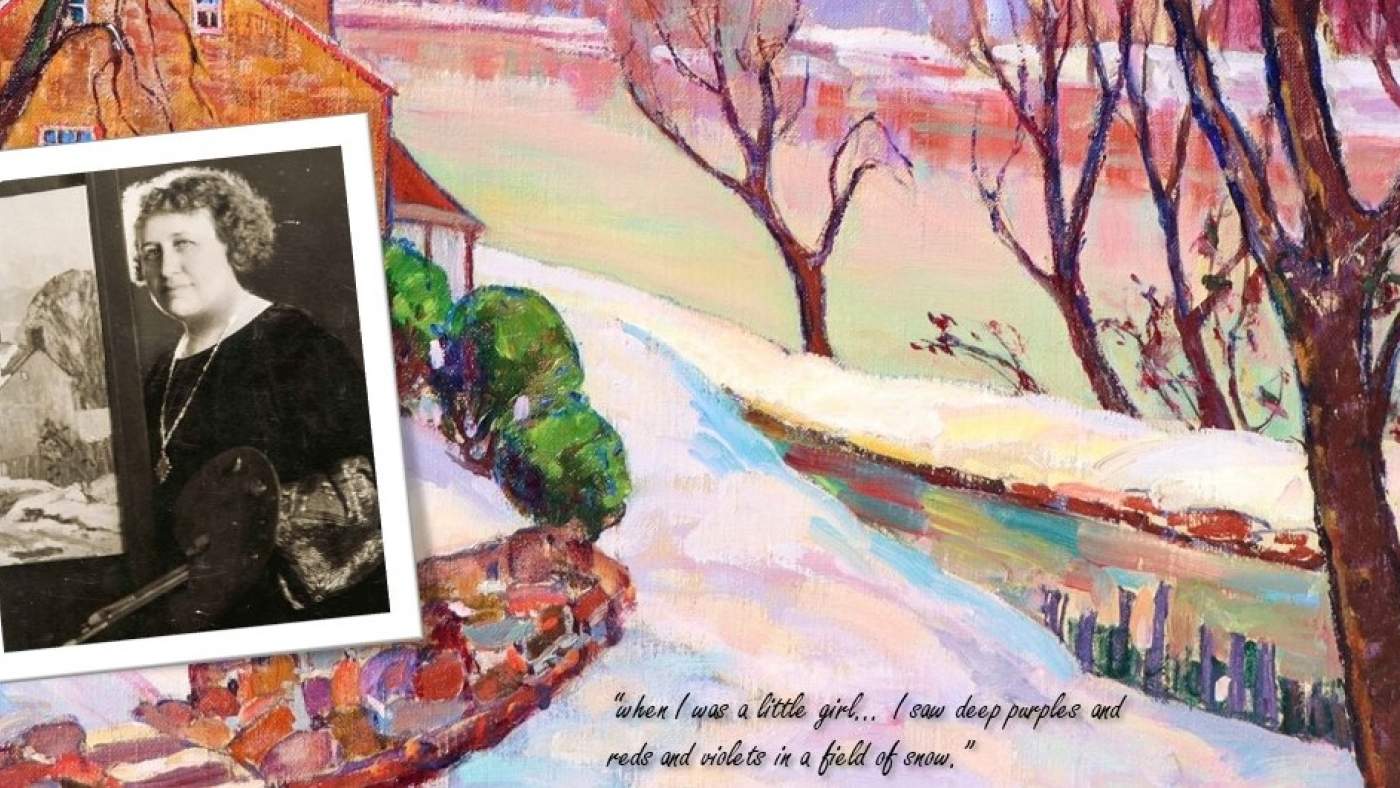 Alderfer Auction has sold an impressive repertoire of paintings by Pennsylvania Impressionists centered in and around the Bucks County area. Names such as Daniel Garber, Walter Emerson Baum, Edward Redfield, and George Sotter are associated with this early 20th Century art movement. As with most vocations during this time in the United States, the art scene was dominated by male artists. Female artists were struggling for a chance in the spotlight and for a chance to build a clientele network. In many popular art societies, women were excluded from membership and opportunities to exhibit their work because of their gender. Fern Isabel Coppedge is one of the emerging female artists of the early 20th Century who ignored these constraints and followed her passion for painting. Today, she is considered to be one of the only female artists associated with the Pennsylvania Impressionists and the only female member of The New Hope School.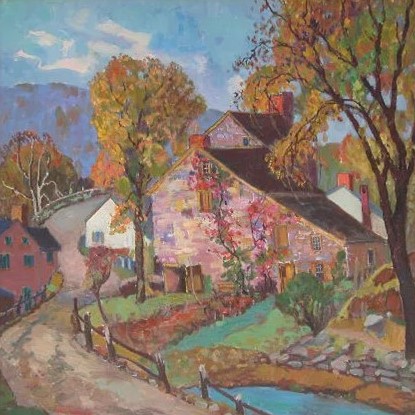 Oil on canvas, "The Cider Mill," SLL "Fern I. Coppedge." Price realized: $90,000 at Alderfer Auction
Coppedge studied at the Art Institute of Chicago after her husband noticed her interest and talent for painting. She moved around the country, eventually coming to New York where she was able to study under Frank Vincent DuMond, also an Impressionist painter. Coppedge then studied through the Art Students League in Woodstock under John Carlson. His approach and influence developed her loose brushstrokes and colorization. She eventually moved to Philadelphia and studied at the Pennsylvania Academy of Fine Arts. Under the guidance and friendship of Daniel Garber, a renowned Impressionist painter, Coppedge refined her love of landscape painting and discovered the beauty of Bucks County where she eventually purchased a home in Lumberville.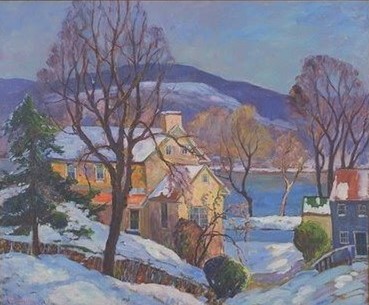 Oil on canvas, SLL "Fern L. Coppedge." Winter landscape. Price realized: $85,000 Alderfer Auction
It was during this time that Coppedge made friends with other evolving female artists in the Philadelphia area. She joined the Philadelphia Ten, a women's art organization dedicated to exhibiting its members' works. The group consisted of nearly thirty women throughout the years including Cora Smalley Brooks and Theresa Ferber Bernstein. Coppedge became a part of their society as well as The Plastic Club and other art societies for women in Philadelphia. She exhibited throughout the country with the Philadelphia Ten until 1935. Her paintings were featured in many publications and exhibits including on the cover of The New Hope, a social magazine written by residents of the Delaware Valley. Fern's Evening Local, New Hope oil painting was exhibited in a solo exhibition at the Independent Galleries in New Hope and with The Philadelphia Ten.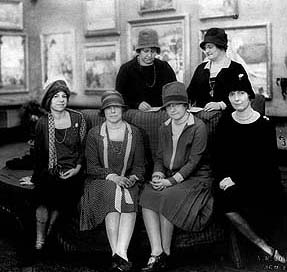 Members of the Philadelphia Ten, Circa 1928.
Through these networks of artists, she travelled to Gloucester, MA where she discovered an interest in painting coastal landscapes with sailboats and ports. She spent many summers in Gloucester painting under the tutelage of Henry Snell.
Coppedge loved the Impressionist practice of painting en plein air, which is the act of painting outdoors. This is impressive considering the majority of her landscapes are winter scenes. According to Les Fox, a biographer and expert on Fern Coppedge, Coppedge wore a bearskin coat and tied her canvases to trees so they wouldn't blow away in the wintery wind. She was considered the town's eccentric in Lumberville. In the harsh winter snow storms and freezing temperatures, Coppedge could be seen trudging along in her bearskin coat, canvas under arm.
Alderfer's is offering two examples of Coppedge's works in their upcoming Fine and Decorative Arts Auction on March 10th. The first piece being offered is a snowscape with a traditional Bucks County stone farmhouse nestled on a winding snow covered road along the Delaware river.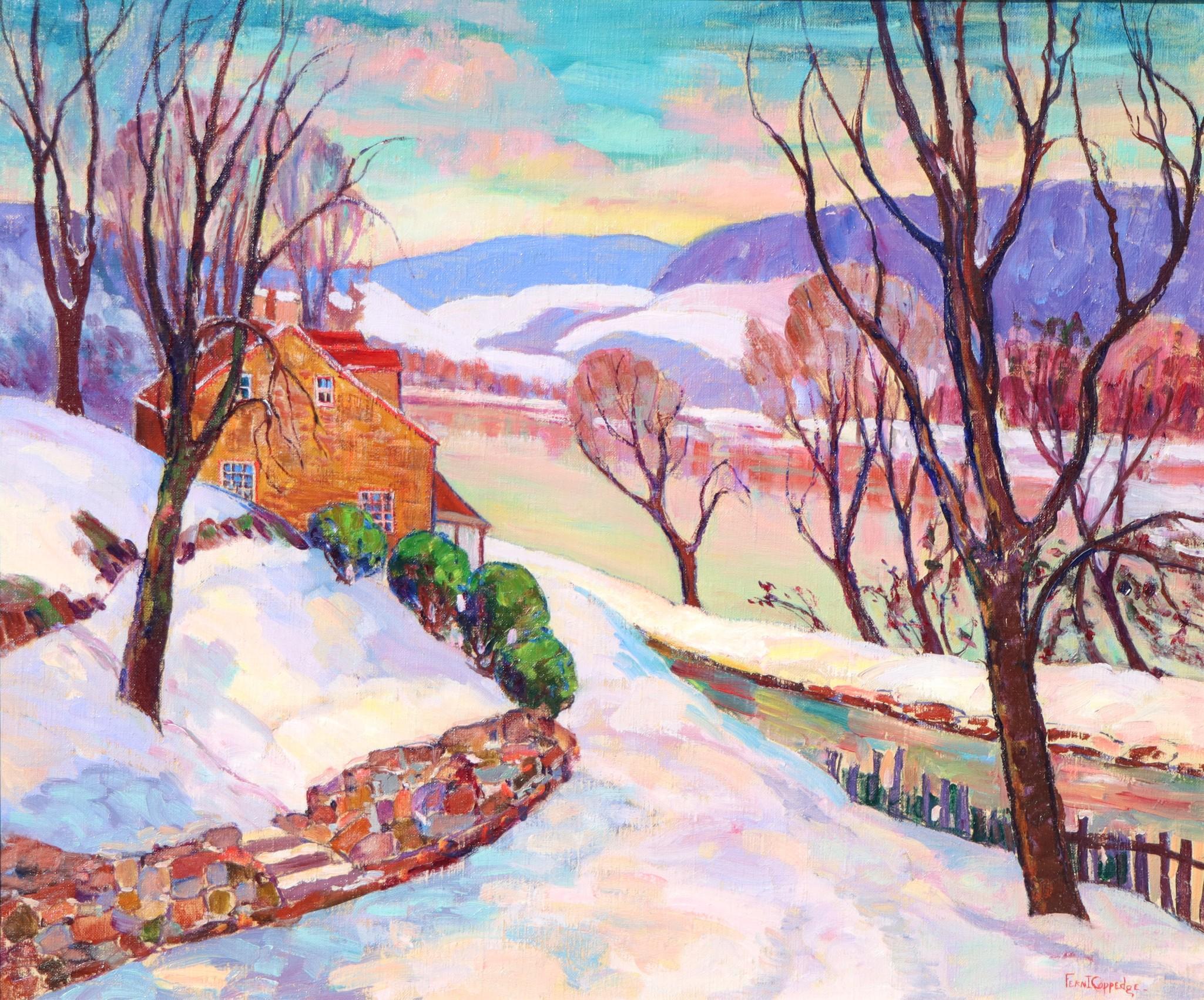 Oil on canvas, "Green and Gold." SLR. Estimated $20,000 - $30,000 Alderfer Auction
The house is assumed to be a depiction of Coppedge's beloved "Boxwood Studio." It is a quintessential example of Pennsylvania's vernacular architecture with its conservative colonial design. The snow is beginning to melt in the early morning glow of the sun as it reflects off the water. The bright green boxwood bushes planted along the stone wall contrast with the luminous violet shadowed mountains in the background. The title, "Green and Gold," indicates that the subjects of this composition are the golden clad stone house and the boxwood bushes, however these play a small part in the overall colors used in the painting. Coppedge painted blues and violets to create shadows and definitions in the snow along the road.
The other painting being offered is a harbor scene from one of Coppedge's summer visits to Gloucester, MA. The painting presents a diagonal composition with the dock leading out to the boats.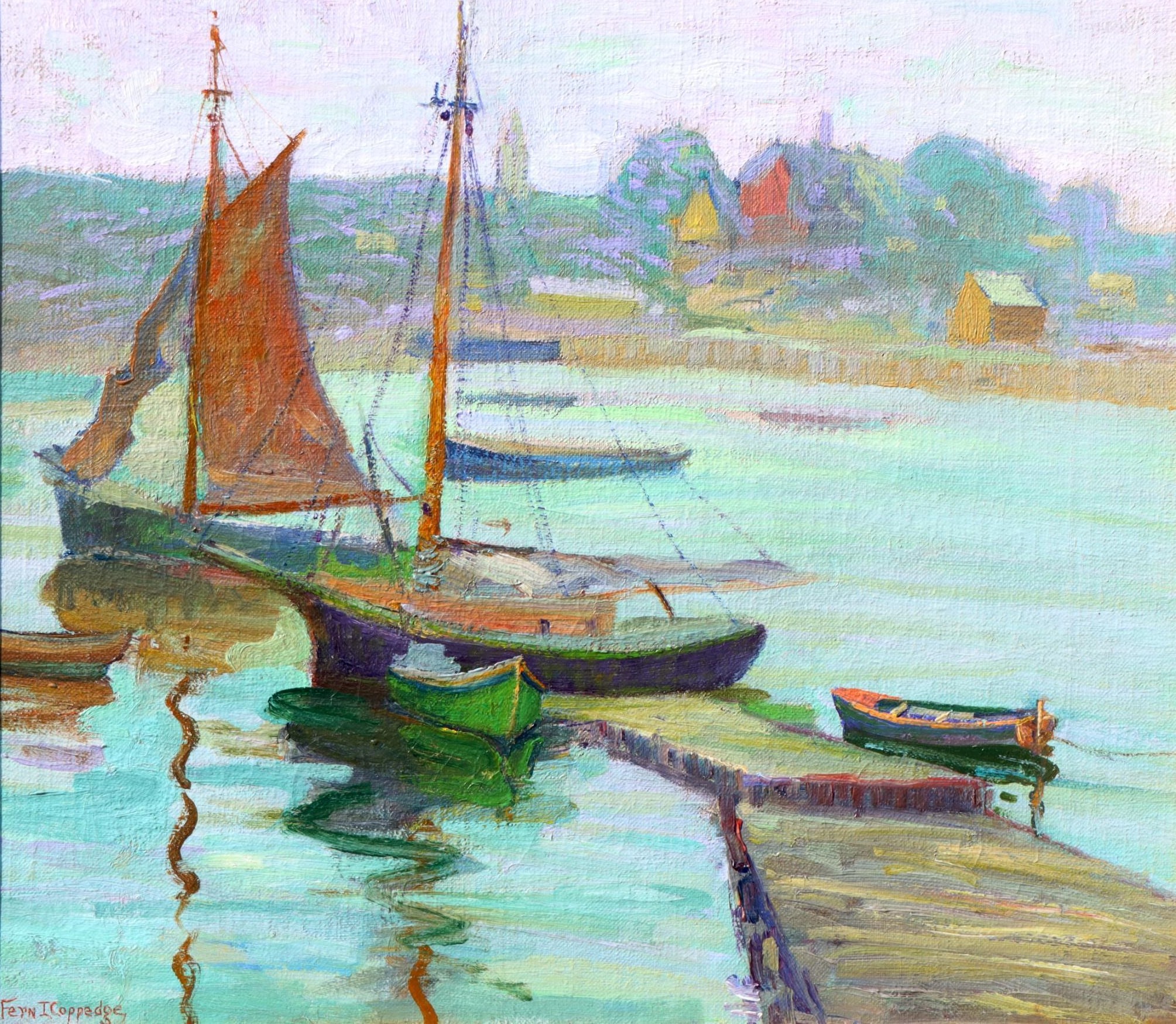 Oil on canvas, "Sailboats, Gloucester." SLL. Estimated $10,000 - $15,000 Alderfer Auction
Coppedge conveys depth to her painting with the detailed dinghy in the foreground and the far-off misty fog enshrouded village on the horizon. The reflections of the boats in the water seem to move to a new position with each glance at the painting, bringing the water and bouncing docks to life. Coppedge enjoyed painting harbor scenes such as this while she visited the small fishing towns along the coast of New England. Gloucester is a bustling tourist town today but was an artist's haven during the early 20th century with its picturesque sailboats and charming inland.
Coppedge was admired by Impressionist painters of the time for her depiction of landscapes however, unlike some of her compatriots, she used bold color pallets to depict what would normally be a subdued winter landscape. Coppedge applied color almost as a subject matter. She allowed color to shape the definition of the landscape rather than rigid outlines. In a comment about her use of bright colors, Coppedge is quoted in saying:
"…People used to think me queer when I was a little girl because I saw deep purples and reds and violets in a field of snow. I used to be hurt over it until I gave up trying to understand people and concentrated on my love and understanding of landscapes…"
Be sure to view Coppedge's work in Alderfer's upcoming Fine and Decorative Arts Auction on March 10th.
Written by Hayley Schaffer
---