Seller Spotlight | The Parks Collection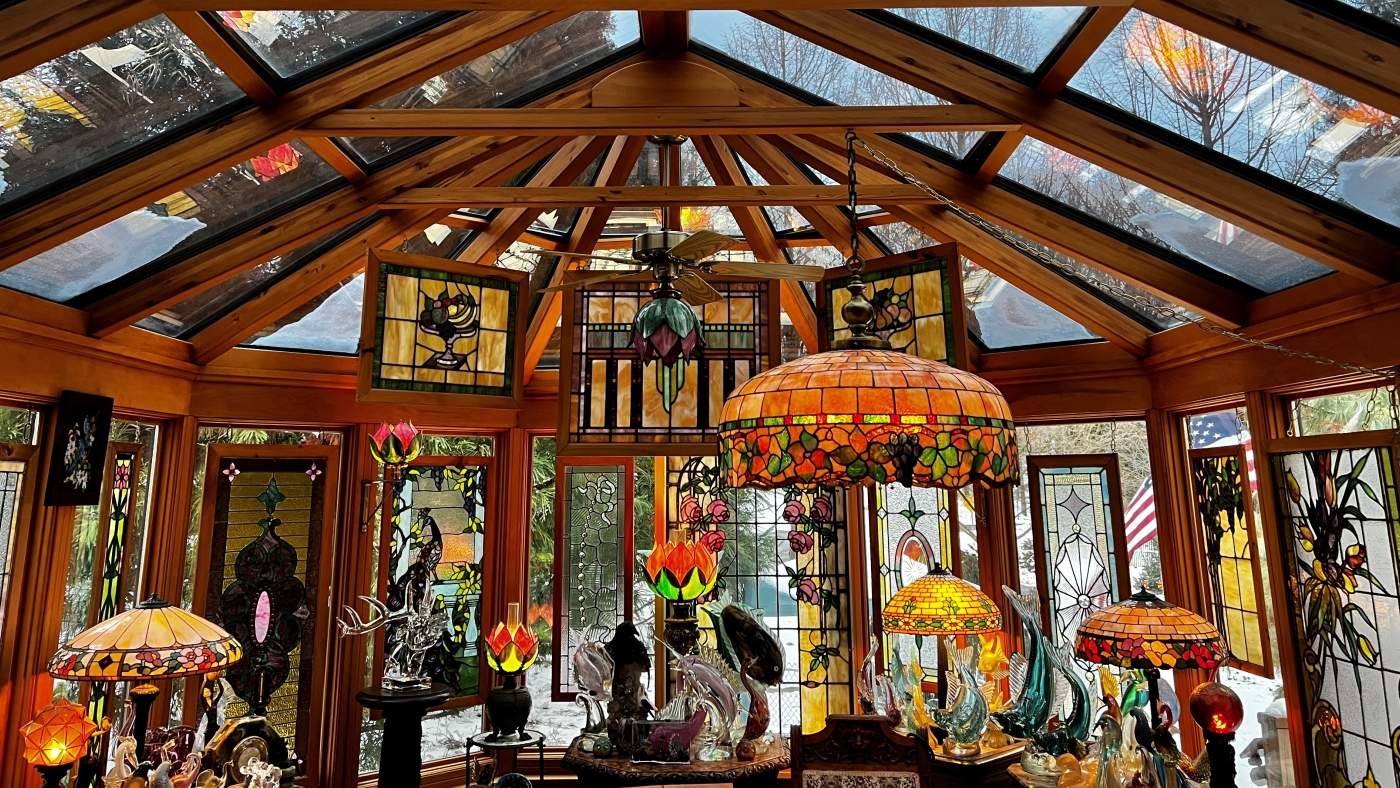 The story behind an item has the power to increase its value. Questions such as "where did this come from?" and "who was the owner?" are frequently asked in the auction industry. It's these stories that give an item cherished provenance. Oftentimes, provenance is hard to come by. The little notes tacked to the back of paintings or the hand written receipt from a local antique store crumpled inside a Murano vase give clues to who the owner was or where the item was made. However, it's a rare treasure when we get the opportunity to sit with the owners themselves and hear first-hand how they cultivated their collections.
Bob and Peg Parks were eager to offer that opportunity as we packed their treasures to be brought back for auction. The couple shared accounts of how they acquired some of the beautiful pieces in their home which, curated together, created a breathtaking exhibit worthy of a museum.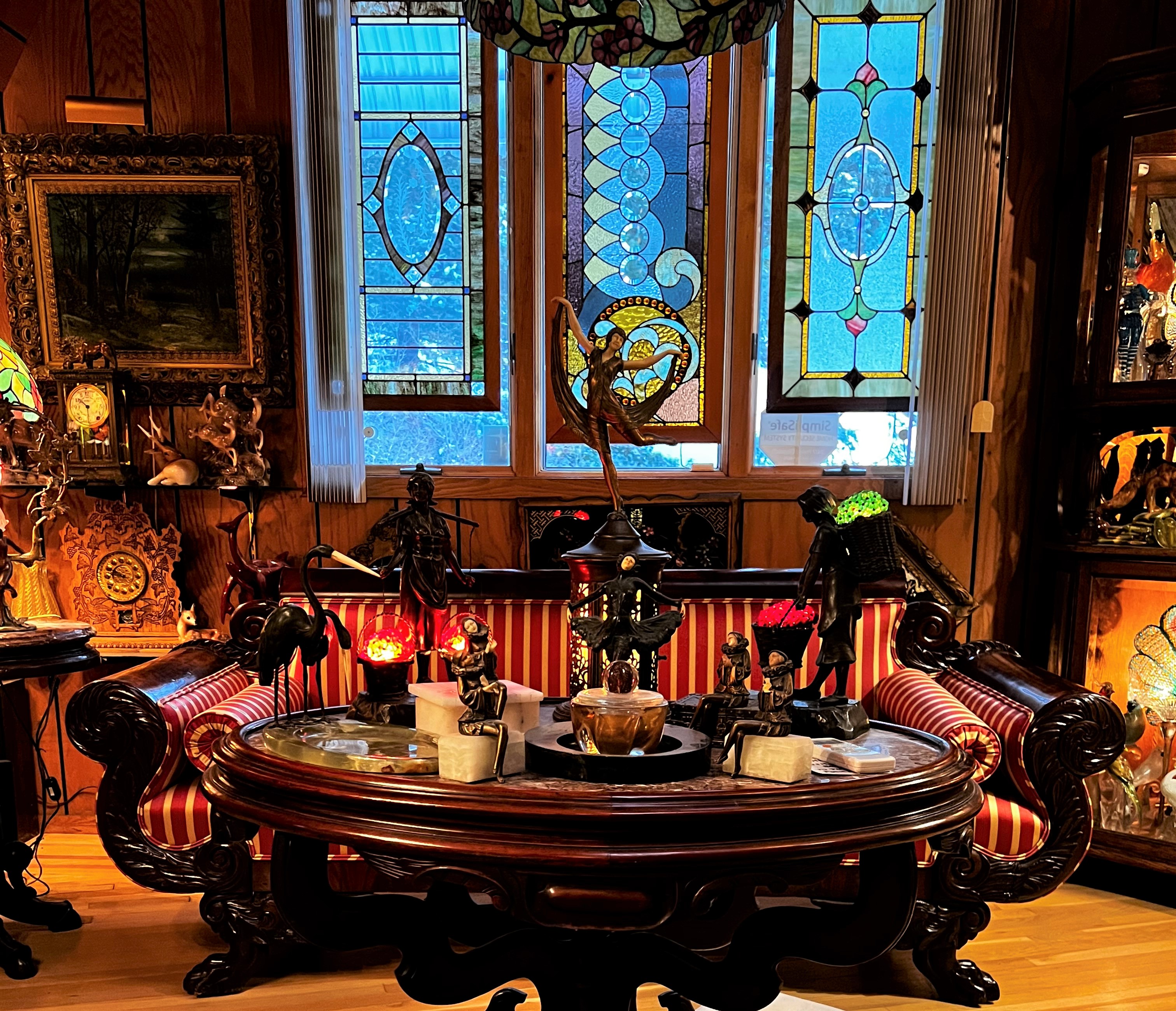 Bob and Peg met one day when Peg was working the purse counter at a department store. Bob stood outside, working up his courage to introduce himself. He walked through the doors and walked right past the counter because, as he says, his "nerves stayed outside." After another attempt, he was able to muster his courage and ask Peg on a date for that weekend, which she promptly declined. As Bob was walking away, Peg had a change of heart and said "but I'm free next week," and the two have been together ever since. They were married on Valentine's Day in 1959 and celebrated 63 years of marriage this year.
Bob, a retired electrician, has a talent for re-wiring lamps and illuminating pieces. Even as we packed items for auction, Bob was working on a lamp at his dining table. He explained that he was drawn to "whatever he could light up." This is evident in the prominent displays of Murano glass and slag glass lamps shimmering throughout their home. He even wired his China cabinets and carefully placed items so they would radiate at a flick of a switch.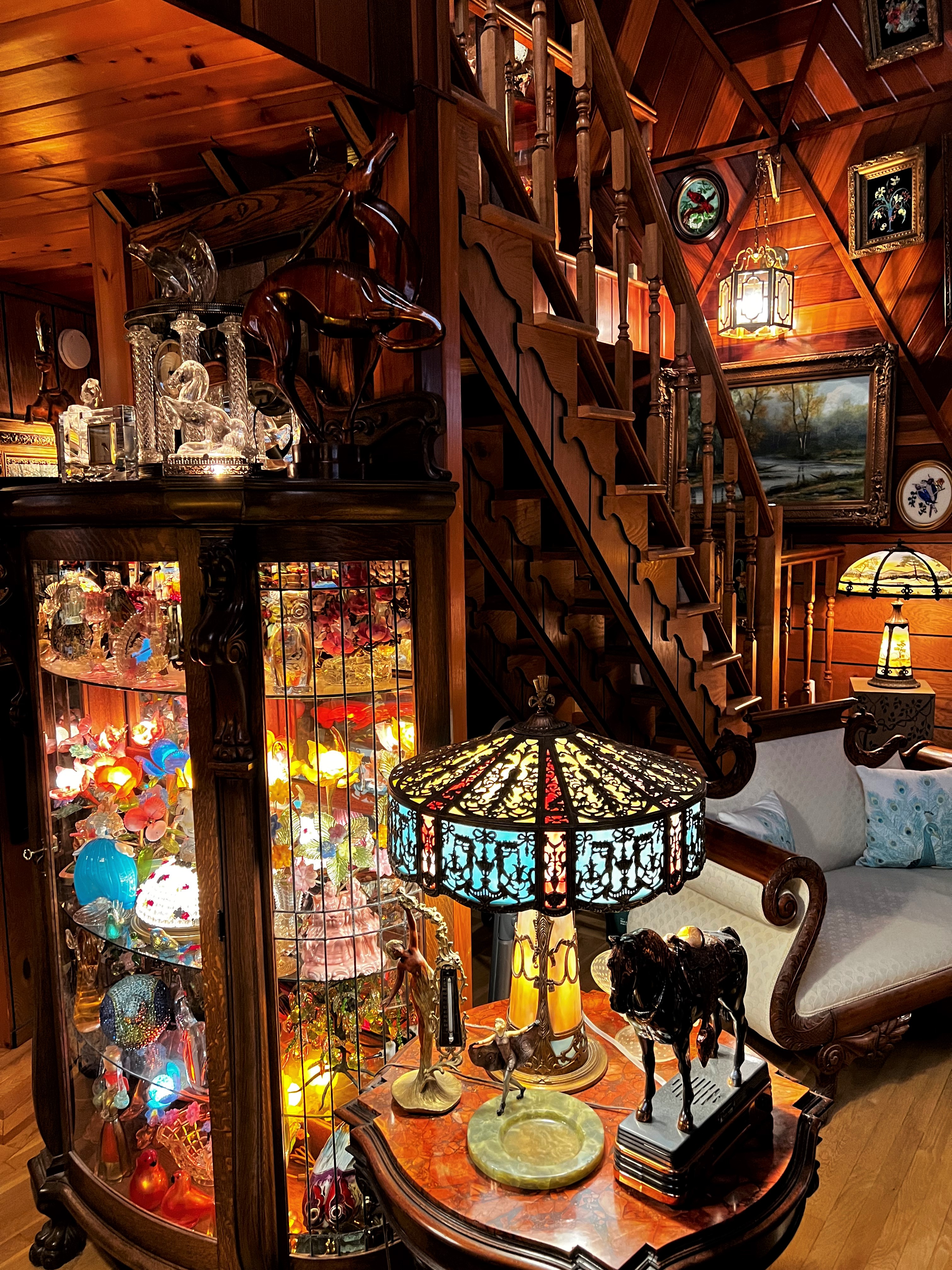 The Parks didn't start collecting right away. Perusing antique markets and auction houses was just a weekend activity for them at first. However, what started as an afternoon activity soon became a hobby that they were both passionate about. They traveled all over Berks and Montgomery counties to flea markets, antique malls, auction houses, and antique shows always seeking out their next treasure.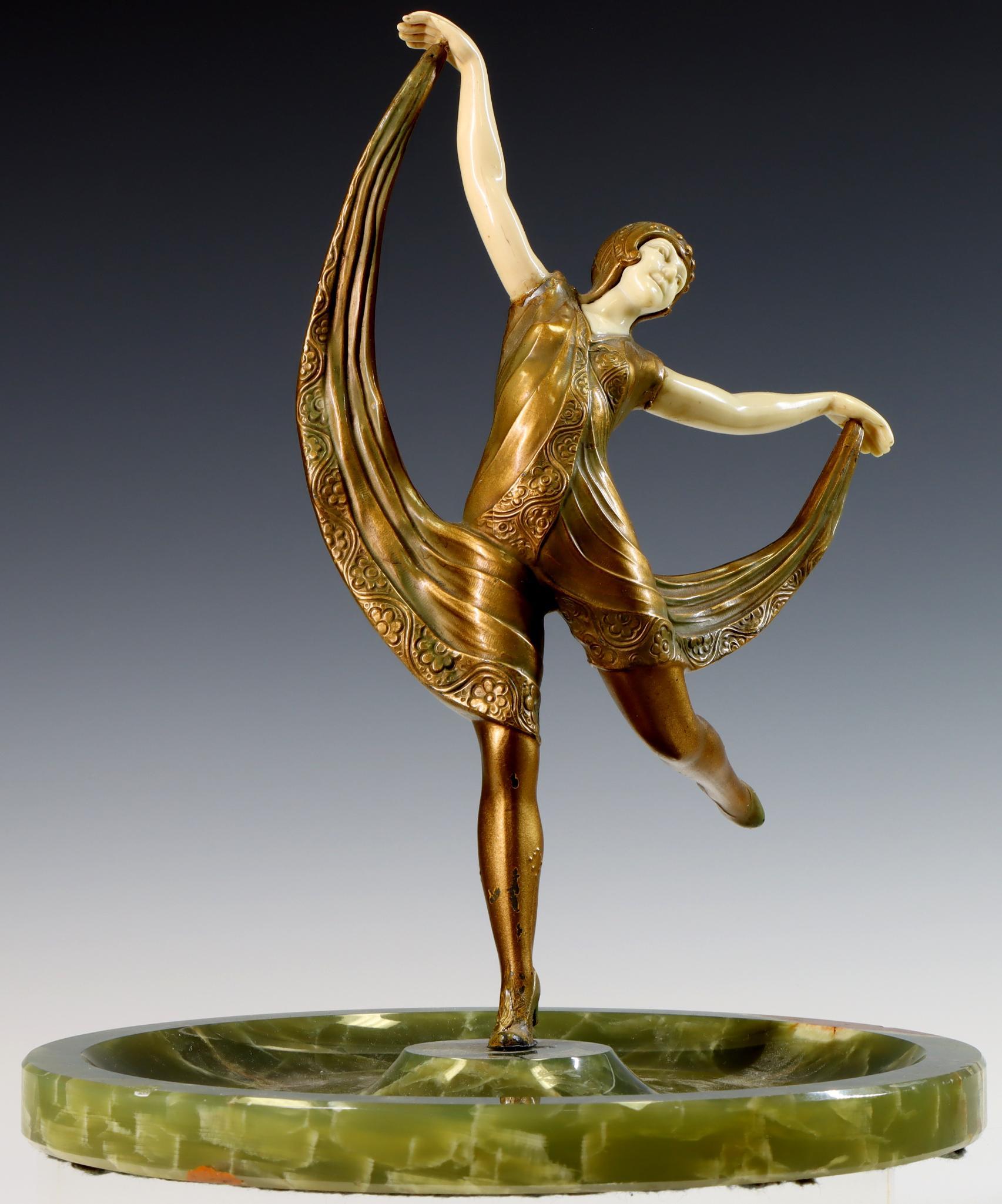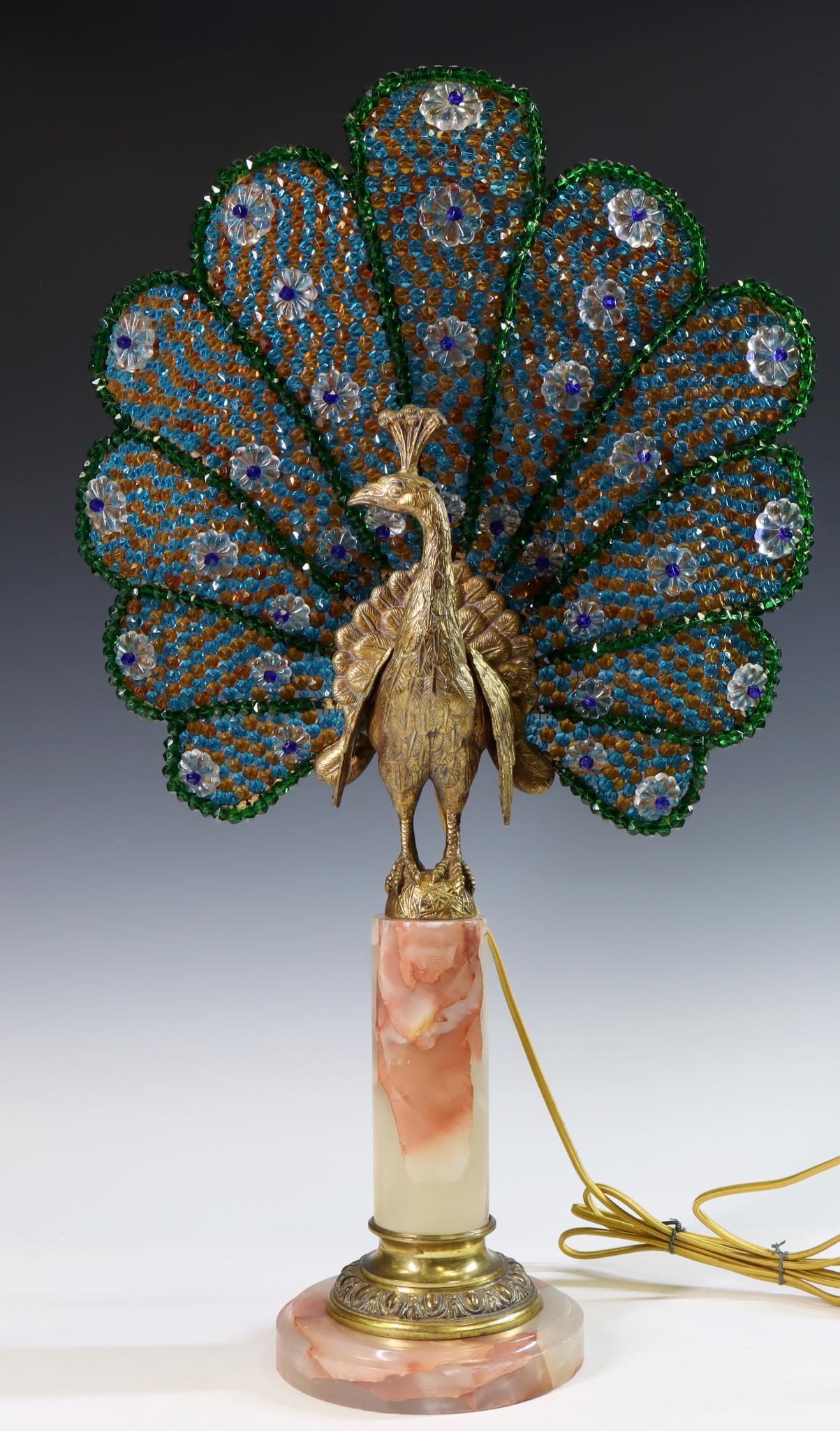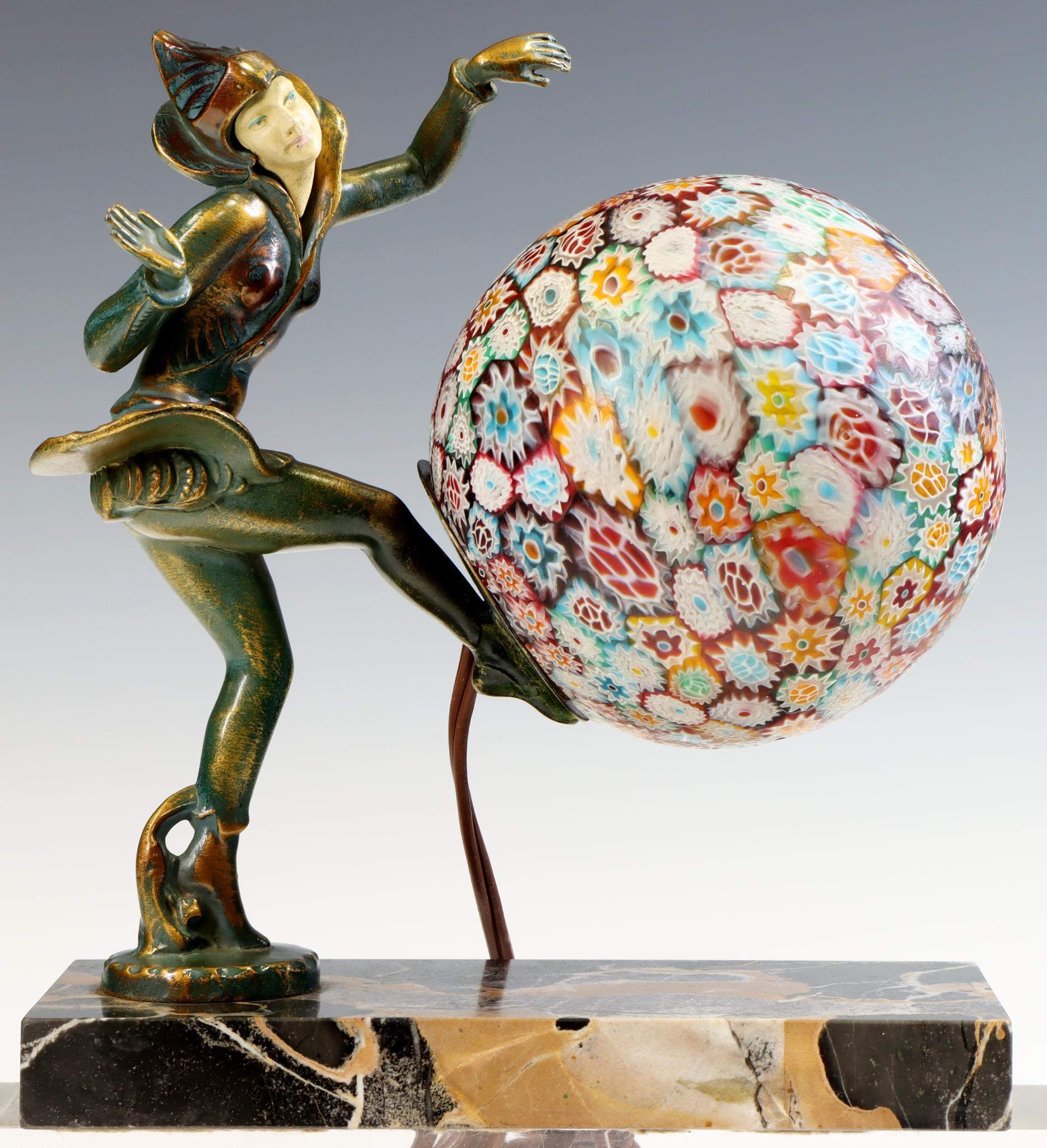 The Parks' love of illumination and colorful art glass sparked their interest in Art Deco bronzes, Millefiori figural lamps, and Peacock Lamps. These unique pieces came into popularity during the early 1900's when the Art Deco movement was just underway. The Society of Decorative Artists was founded in 1901 which gave official authorship rights to the artists who created the beautiful bronzes, lamps, and clocks that we still collect today. Names such as Josef Lorenzl, Ignacio Gallo, and René Lalique are a few who helped shape the spirit of the roaring 20's by bringing decorative arts into people's homes. The peacock lamp reflects that flashy, free-spirited era with its intricately beaded sparkling plumage.
Vintage Television Lamps were one of the first commodities they started acquiring. After church one Sunday, they took a drive up to Collectors Cove Antique and Farmers Market in Sciota, PA and spotted two television lamps. They brought them home and quickly grew their assortment of TV lamps. Bob studied more of the background of these unique lamps and soon had a table at Adamstown where he displayed and sold some of the lamps. Bob is a wealth of knowledge and enjoyed discussing the origins of his lamps with young shoppers at Adamstown.
TV lamps came into popularity in the 1940's when televisions were becoming a common staple in peoples' homes. However, worries arose that sitting in a dark room and watching the light from a television would be harmful to a person's eyes, so TV lamps were invented. They were made in all kinds of shapes and styles and would sit on top of the TV console.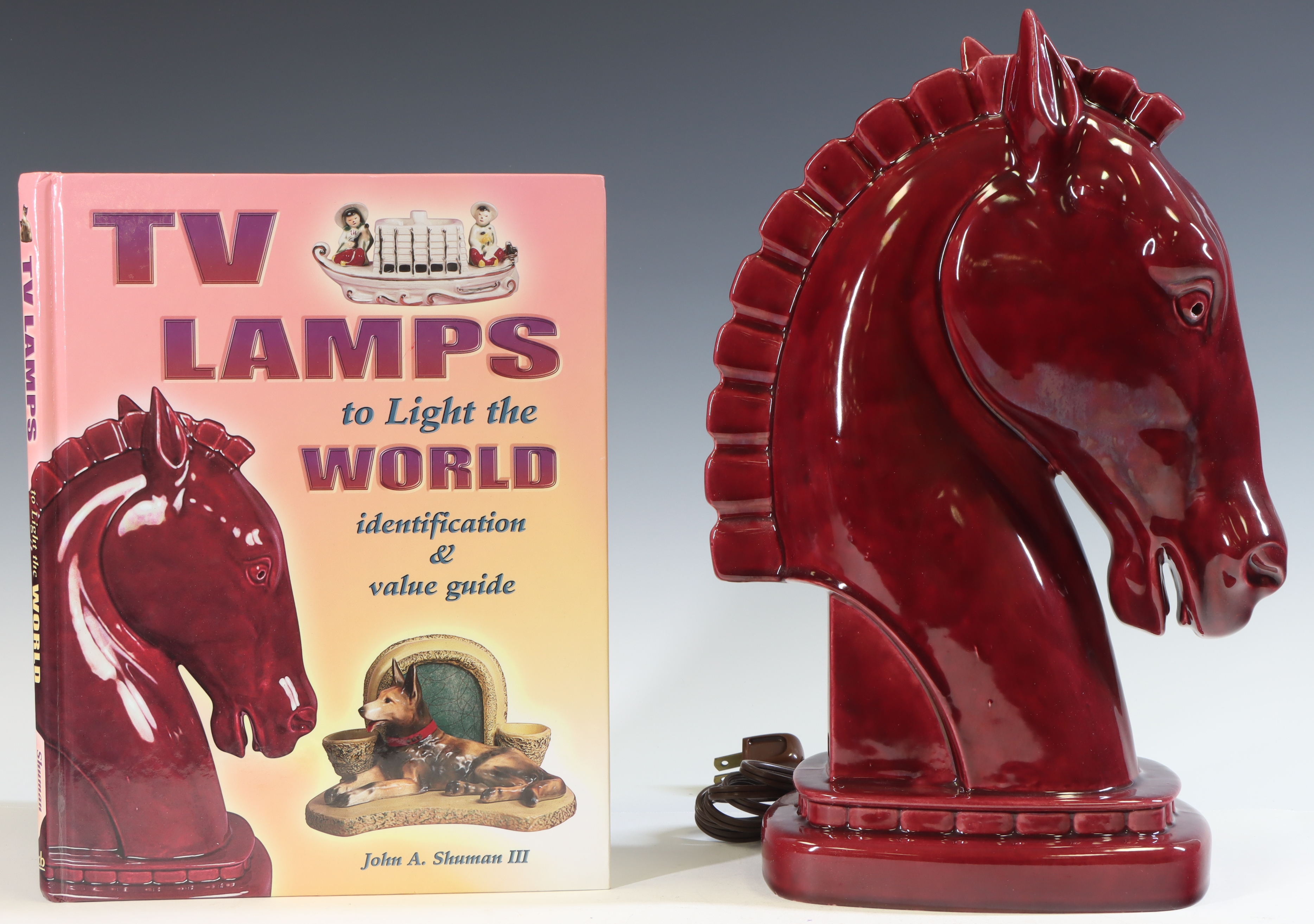 One day, a man approached Bob at his table and introduced himself as John Shuman. He asked if Bob would be interested in him writing a book on his TV lamps. Bob and Peg agreed and Shuman spent two days at their house, photographing all of the TV lamps in their collection. There are still copies of the book, TV Lamps to Light the World, available for purchase today.
TV lamps eventually led the Parks to other commodities. Bradley Hubbard Slag glass lamps, peacock lamps, Art Deco bronzes, and Murano glass. Peg especially loved the gold flakes that added so much light to the various pieces of Murano. The Parks became so renowned for collecting Murano that whenever Peg walked into the antique mall at Renninger's Antique and Farmers' Market, shop owners would announce "Here comes Mrs. Murano!"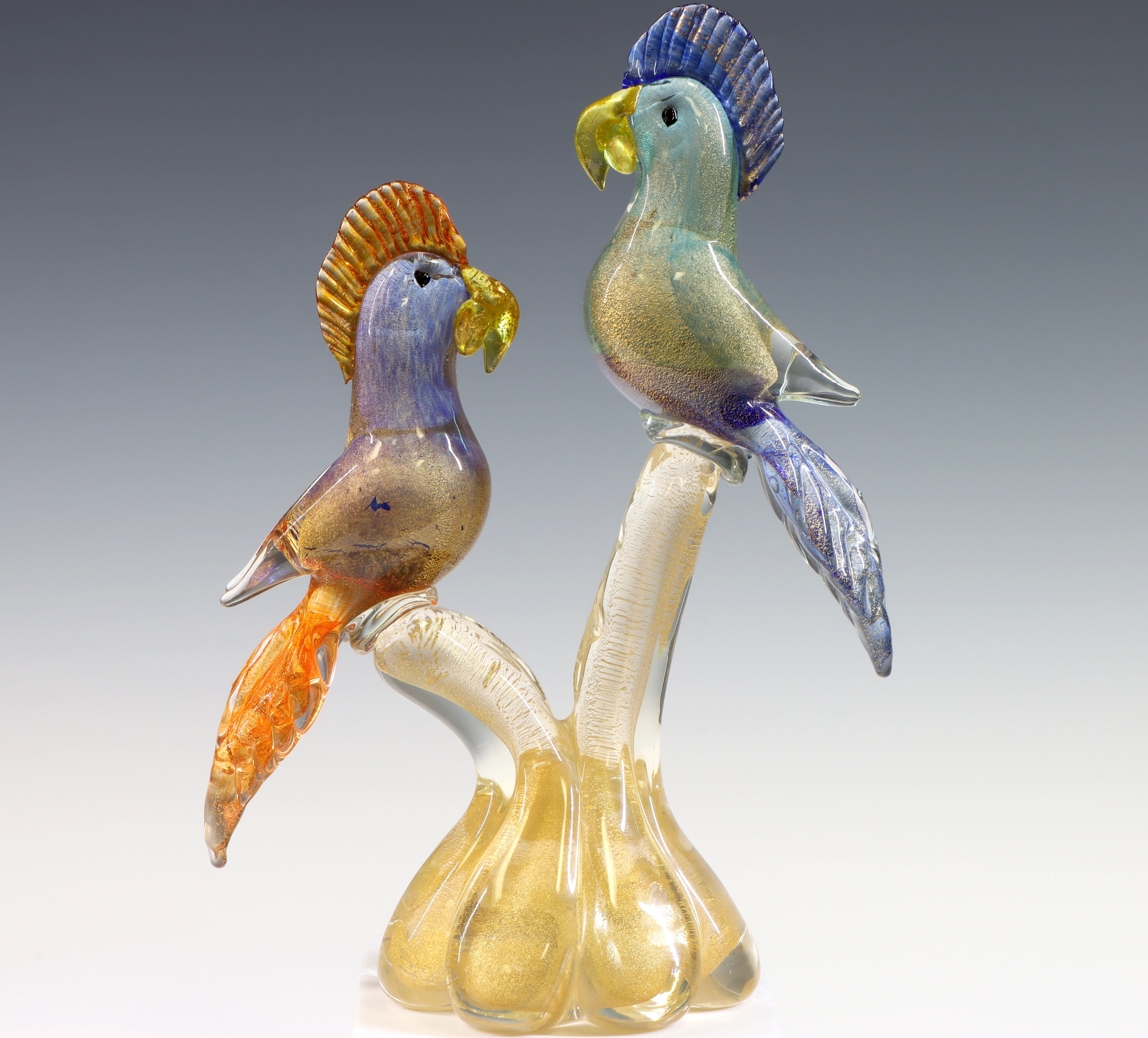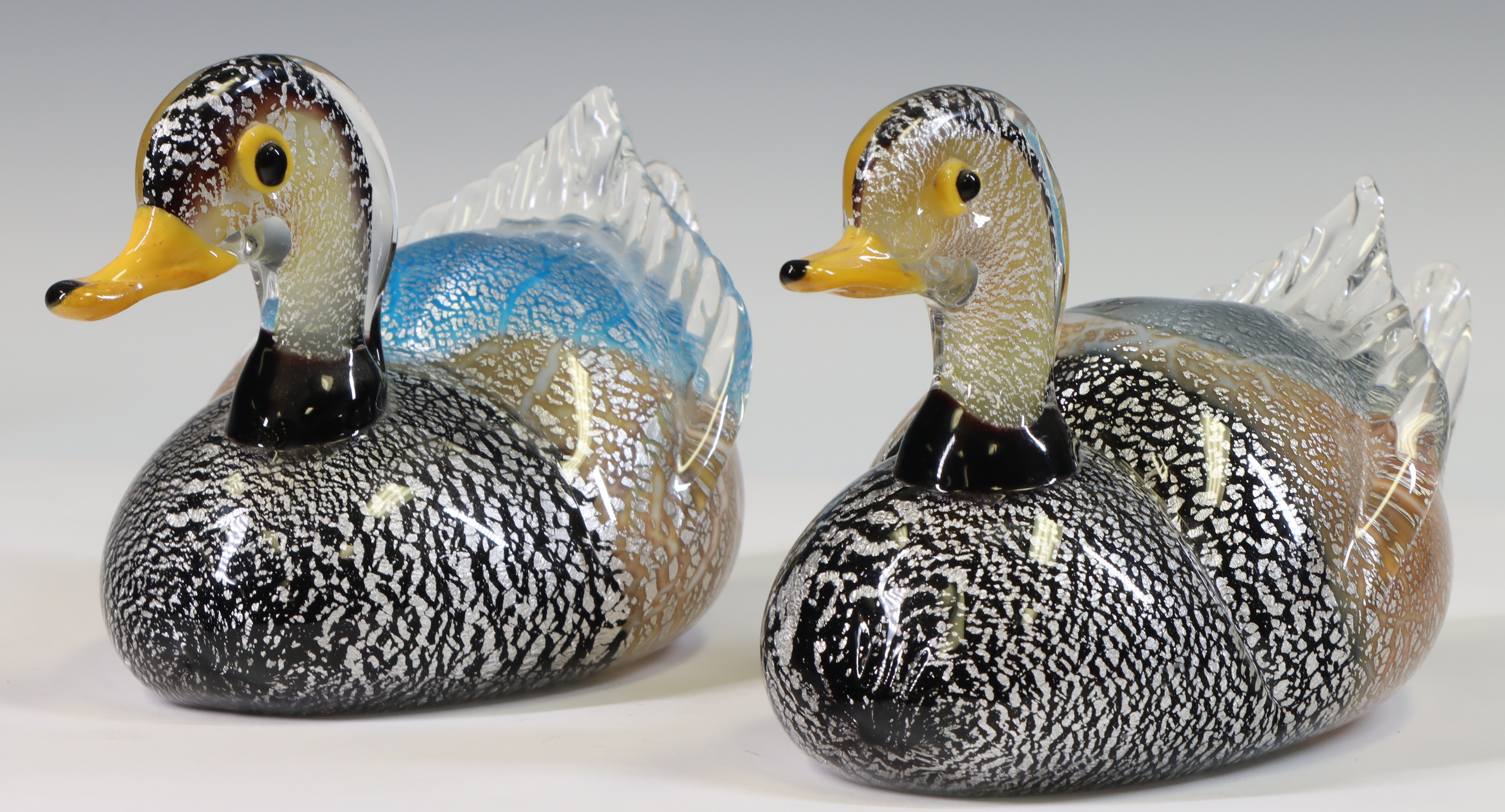 The Parks appreciated fine craftsmanship and could spot beautiful pieces from afar. While perusing Adamstown one weekend, they spotted a large glass vase that Peg thought to be a Murano. The dealer admitted he knew nothing about it and after some price negotiation, the Parks took the vase home. The vase had been damaged which caused it to not stand safely. They had a friend epoxy a cut-glass bowl to the bottom of the vase to provide a base, but it never looked right to them.
A few months went by and while looking through a different antique mall, they spotted an art glass bowl that bore some resemblance to their vase. The owner told them the bowl was made in Boyertown at an art glass gallery and gave them the address. Bob and Peg loaded up their vase and drove to the gallery soon after. As they were carrying the vase into the studio, the owner saw it and called his employees to see what was coming through the door. He related that several years prior he had made two of these vases as part of a special commission. He explained how it had taken six men to produce each forty-five pounds of hand-blown glass. The process included adding the fabulous iridescent colors that are in the spears that extend down the sides of the vase. No two vases are ever completely alike and these could never again be produced because the specific iridescent material used is no longer available. The original artist and owner of the studio, Taylor Backes, removed the epoxied cut-glass bowl and brought the vase back to its original glory by reproducing a base for it.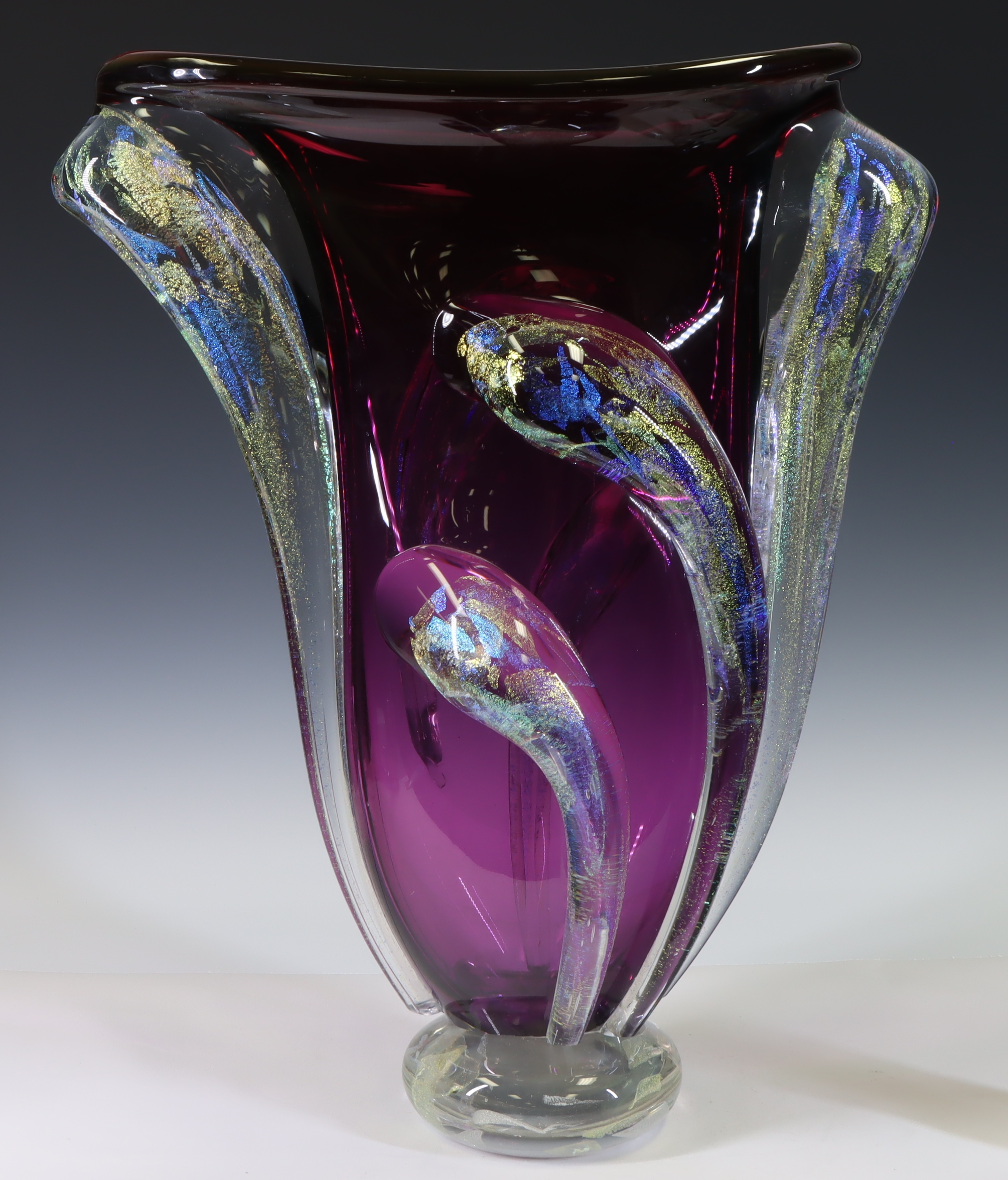 Tinsel paintings are one of the unique commodities in the Parks' collection. According to the American Folk Art Museum in New York City,
"Tinsel paintings are reverse paintings on glass with smooth or crumpled metallic foil applied behind translucent and transparent areas; when viewed in candlelight or gaslight, the effect was one of shimmering highlights."
Sticking true to Bob's passion for illumination, this form of art was an antiquated way for people to add light into their parlors during the mid-1800's. The artform was taught to young girls and considered a refined skill for them to accomplish. Today, tinsel paintings are considered a part of America's rich folk-art history. Bob and Peg collected a range of tinsel paintings and had them displayed throughout their home. The effect paired nicely with their other shimmering pieces of art glass and slag glass lamps.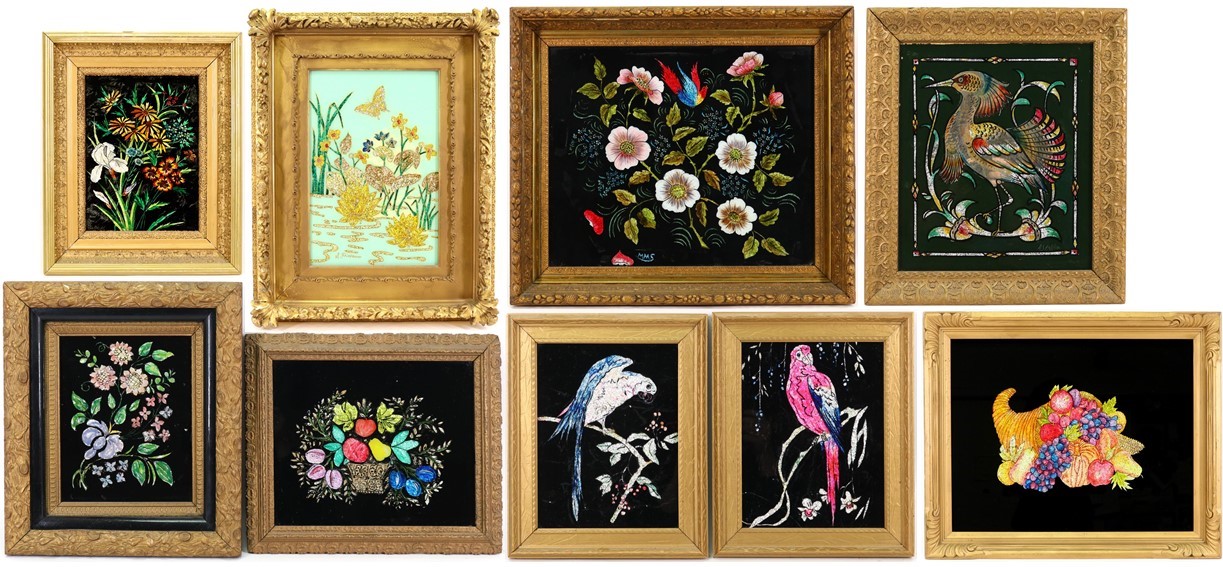 Artwork was also a favorite commodity for the Parks'. When asking Peg about the pieces they owned, she admitted that she has no background in painting or art but simply bought what she liked. The Senior Writer at Christie's advocates in an article for buyers to do exactly this. He states that "collectors shouldn't listen to what someone else tells them to buy. Collectors should listen with their eyes, and form their own judgements about works of art." For Peg, her love of nature and animals prompted her eye to gravitate towards the landscapes of Victor and Christopher Shearer as well as Melville Stark.
One day while browsing Adamstown, a painting caught Peg's eye that was sitting on the floor. The painting wasn't signed and it was very dirty, but Peg admired it regardless. Bob brought it home and while he was cleaning it up, found a label on the back of the frame for a frame shop in Reading that was no longer in business. Interested in learning more about the painting, Bob and Peg packed it up one day and traveled to the Reading Art Museum and asked to speak with the curator. The curator said he was almost certain the painting was done by Earl Lincoln Poole, one of the founders of the museum. He suggested they get a definite verification by Poole's wife who still lived across the street from the museum. She was in her eighties at the time, but was eager to see the painting. As soon as the Parks brought the painting into Mrs. Poole's home, she ran up to the painting and hugged it and exclaimed "you have a Poole!" Mrs. Poole wrote a verification for the back of the painting and told the Parks' that the painting was done at Lake Ontelaunee in Reading, Pa. Poole didn't do many oil paintings, according to Mrs. Poole, so this painting in particular was unique. She also said the painting had been selected in the early 1920's to be used for the cover of a hunting magazine.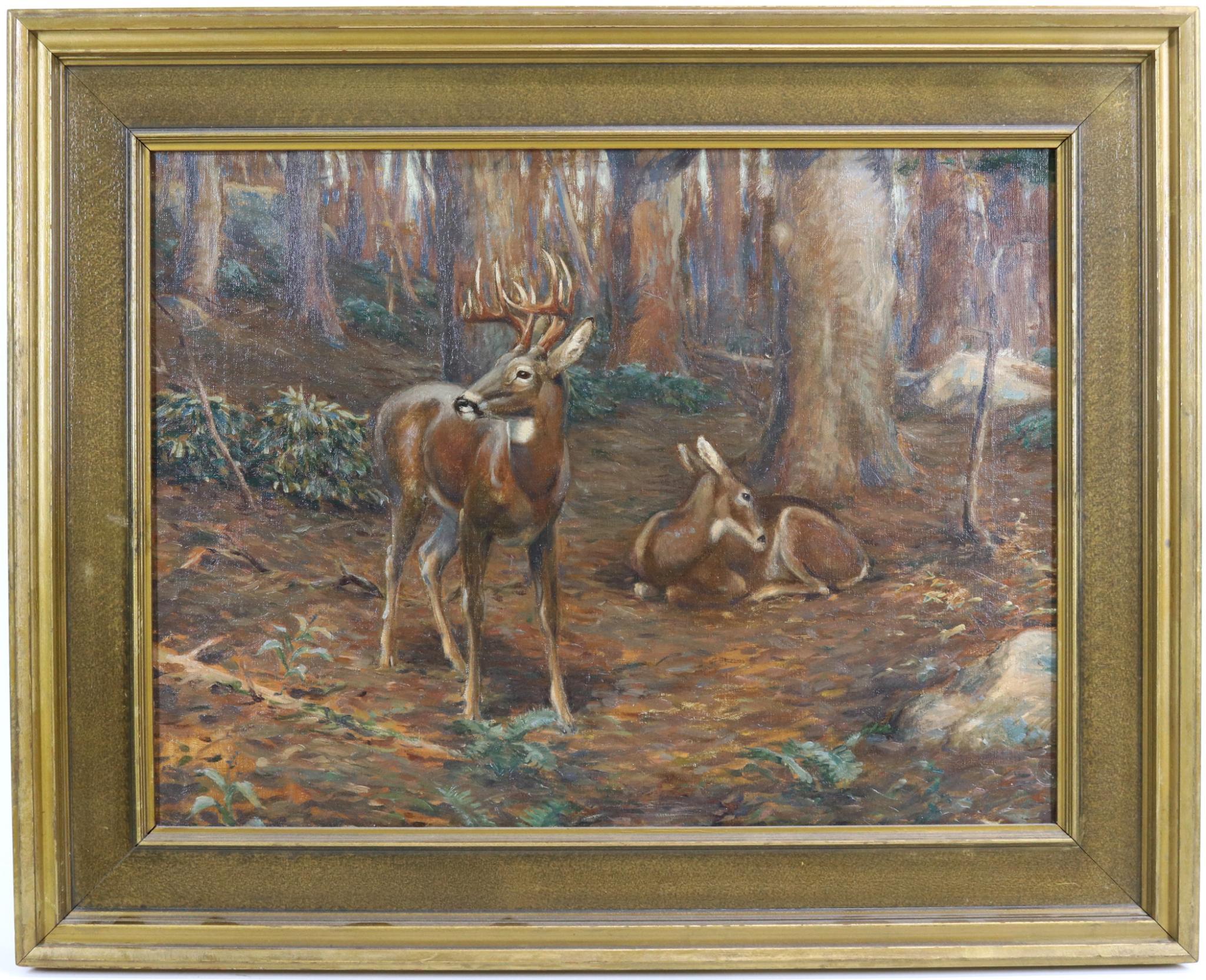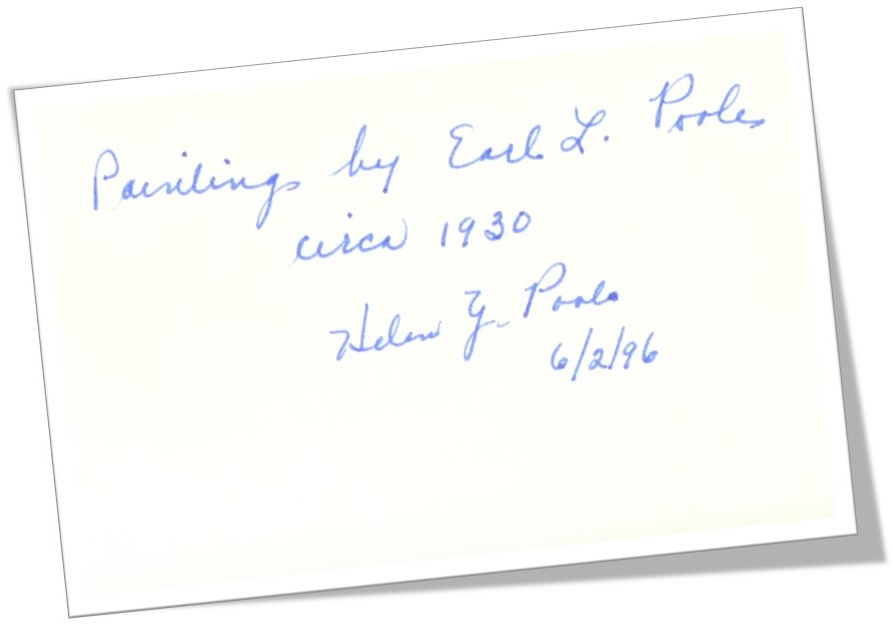 Peg's eye led her to this painting which turned out to be a brilliant find. Bob admitted he would have overlooked the painting because of its placement on the floor, lack of signature, and dirtiness. "But you can't always go by that" Bob says when reflecting back on Peg's discovery.
Another highlight in the Parks' auction is a Baccarat Crystal Stag Head. Bob gave an account of the day they acquired this magnificent piece:
"In 2017 I attended an auction in Ludwig's Corner, Pa. The Baccarat Stag Head was shown in the Antiques and Auction Newspaper and was my reason for attending the auction. This finely modeled crystal stag was displayed in a prominent location on a table directly in front of the auctioneers' podium. My hopes of getting it faded upon seeing it but when it came up my bid was the highest and it was ours. The auctioneer said that I got the prize of the auction. We displayed it in our sunroom on an antique heavily carved pedestal. We feel very fortunate to have added this treasure to our collection."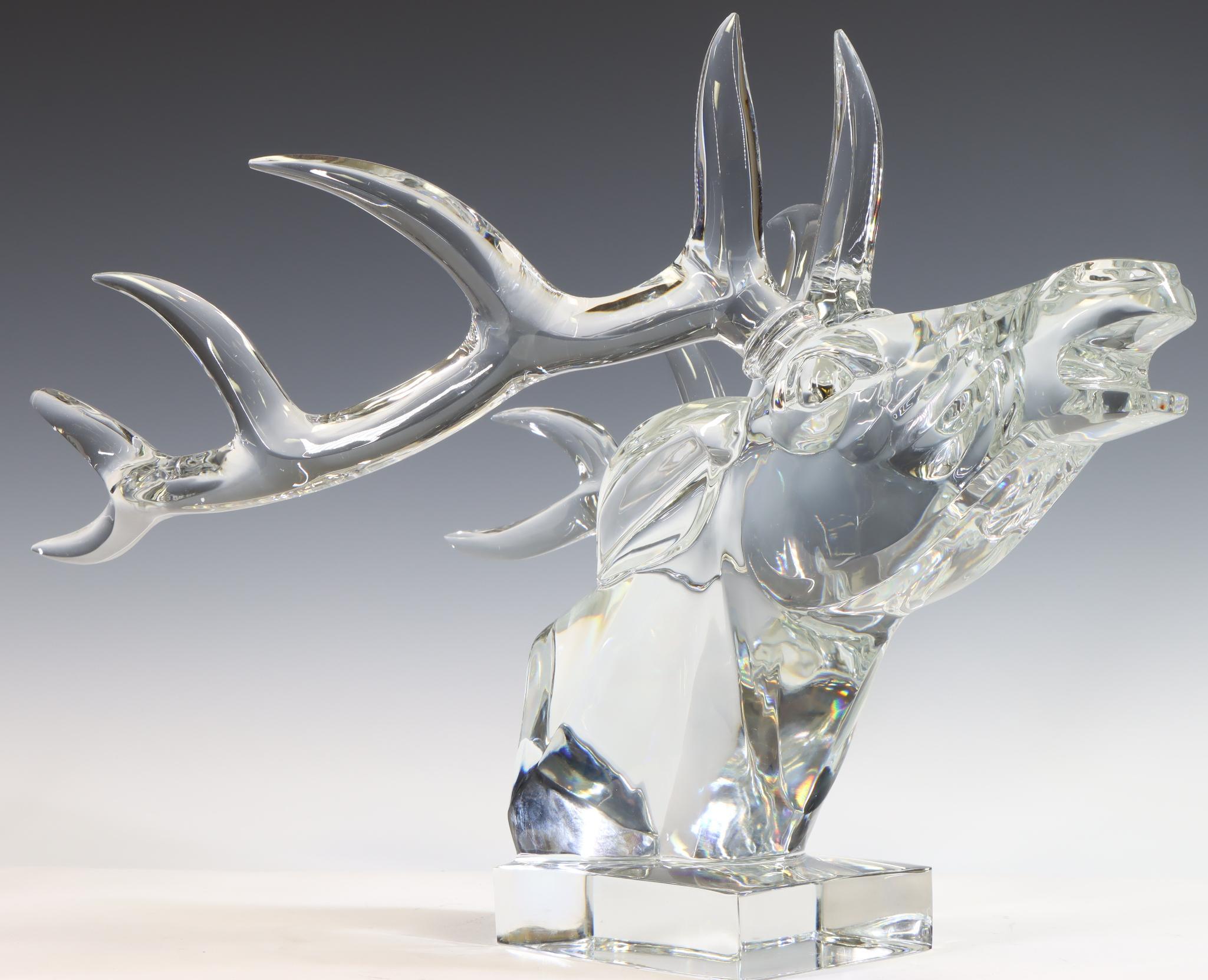 Bob and Peg enjoyed the heyday of antique buying when antique malls and flea markets were gold mines waiting to be discovered. They displayed their findings in their dome home, lovingly dusting and caring for each piece, preserving the adventures they had together. Alderfer's is honored to present this single owner auction from two life-long collectors who personally selected each piece in their collection. Join us in celebrating this couple's legacy as we proudly present their life's work in a two-part auction. Part 1 will include over 300 lots of Murano glass, Art Deco desk trays, lamps, clocks, slag glass lamps, art, and furniture. Highlights include the Baccarat Crystal Stag Head, Bradley and Hubbard Slag Glass Lamps, paintings by Christopher High Shearer, Melville Stark, and Victor Shearer. The Parks Collection: Part 1 will be sold online, April 27th beginning at 10:00 AM. Part 2 will be sold in May.
Written by Hayley Schaffer
---