The Golden Years of Ocean Liners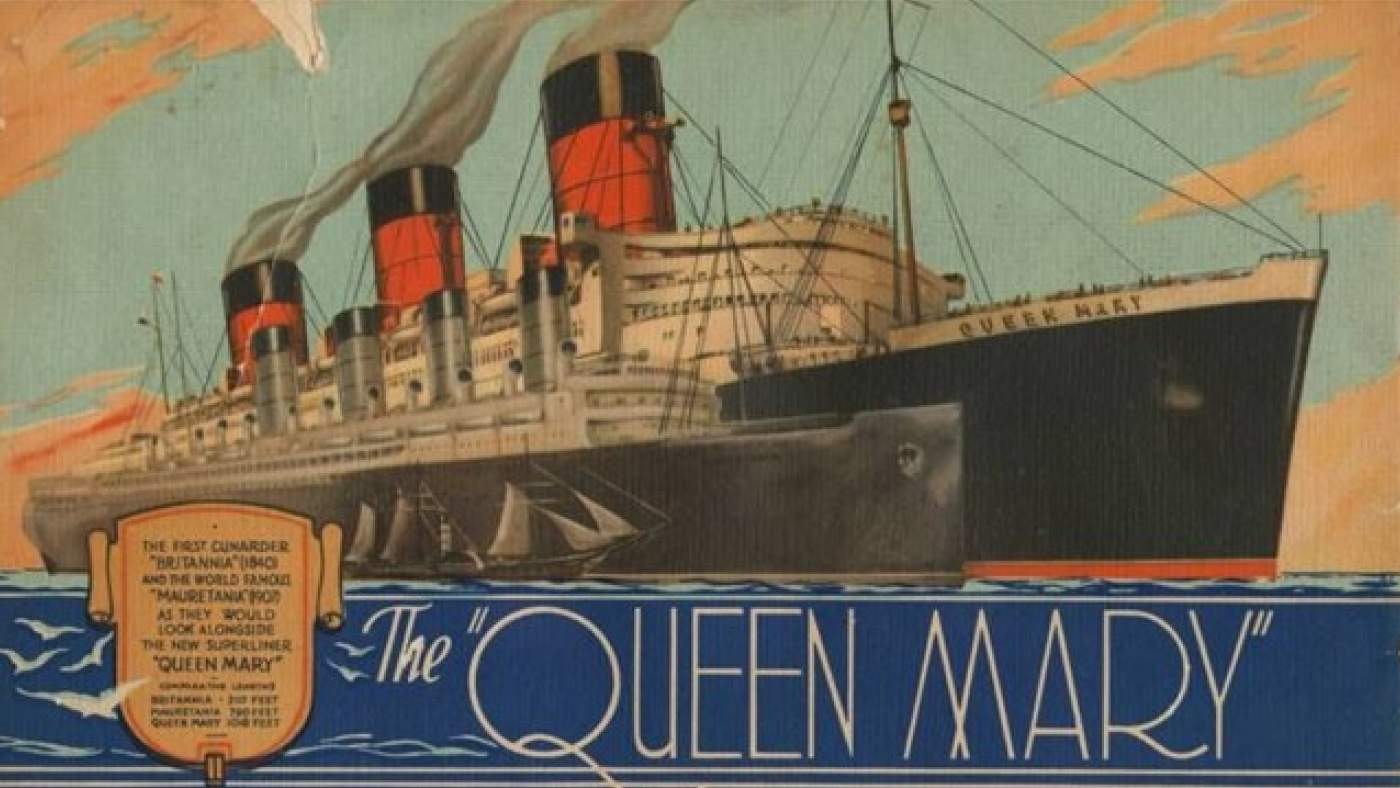 Fascination with luxury ocean liner travel has been a pastime for many through the decades. From their impressive size to their aesthetics, admirers from all over the world collect and research the history of these grand hotels of the ocean. They allowed their guests to be immersed in opulence, to experience a truly cosmopolitan lifestyle.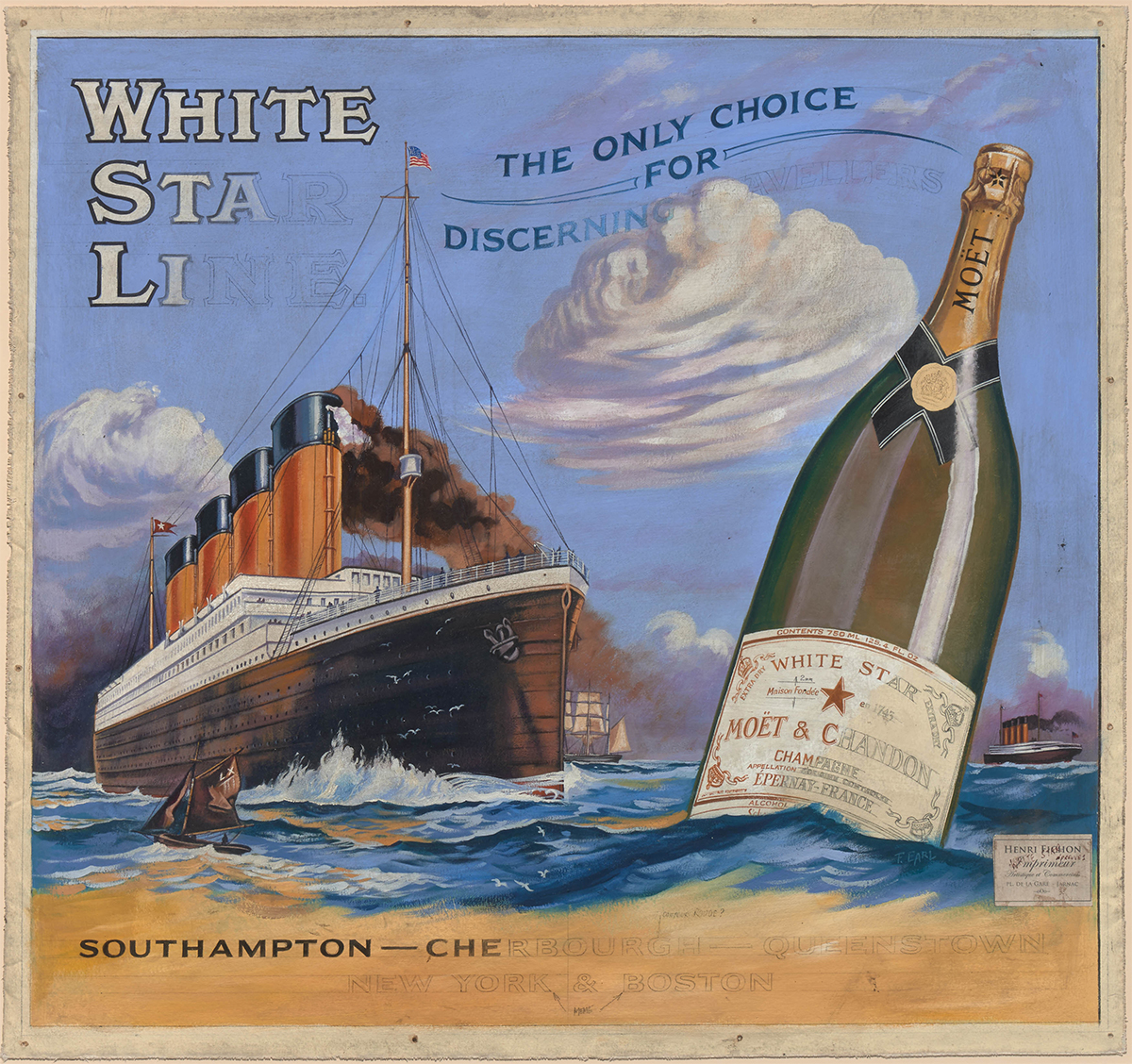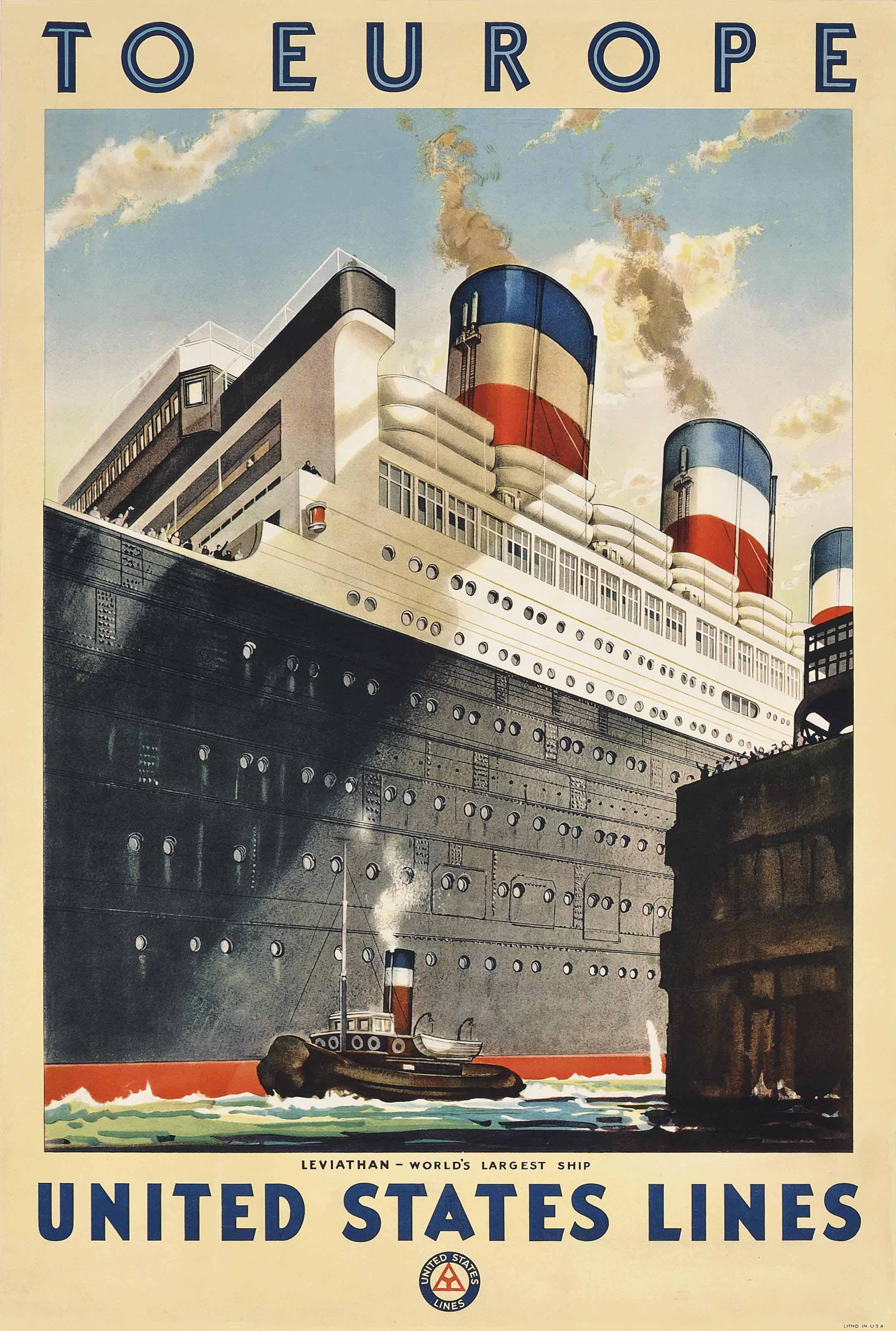 Advertising for White Star and United States Companies, Smithsonian Libraries
This type of travel was the epitome of extravagance for most of the passengers. One just needs to view classic films, such as, The Lady Eve (1941), An Affair to Remember (1957), Now, Voyager (1942), Stowaway (1936) and Romance on the High Seas (1948, to get the sense of ocean travel splendor.
Though this mode of transatlantic travel was grand for some, we must keep in mind that 80 percent of the passengers were not a part of the first-class luxury. Third class passengers carried the financial load of the journey, this was where ocean liner companies gained a majority of their profit.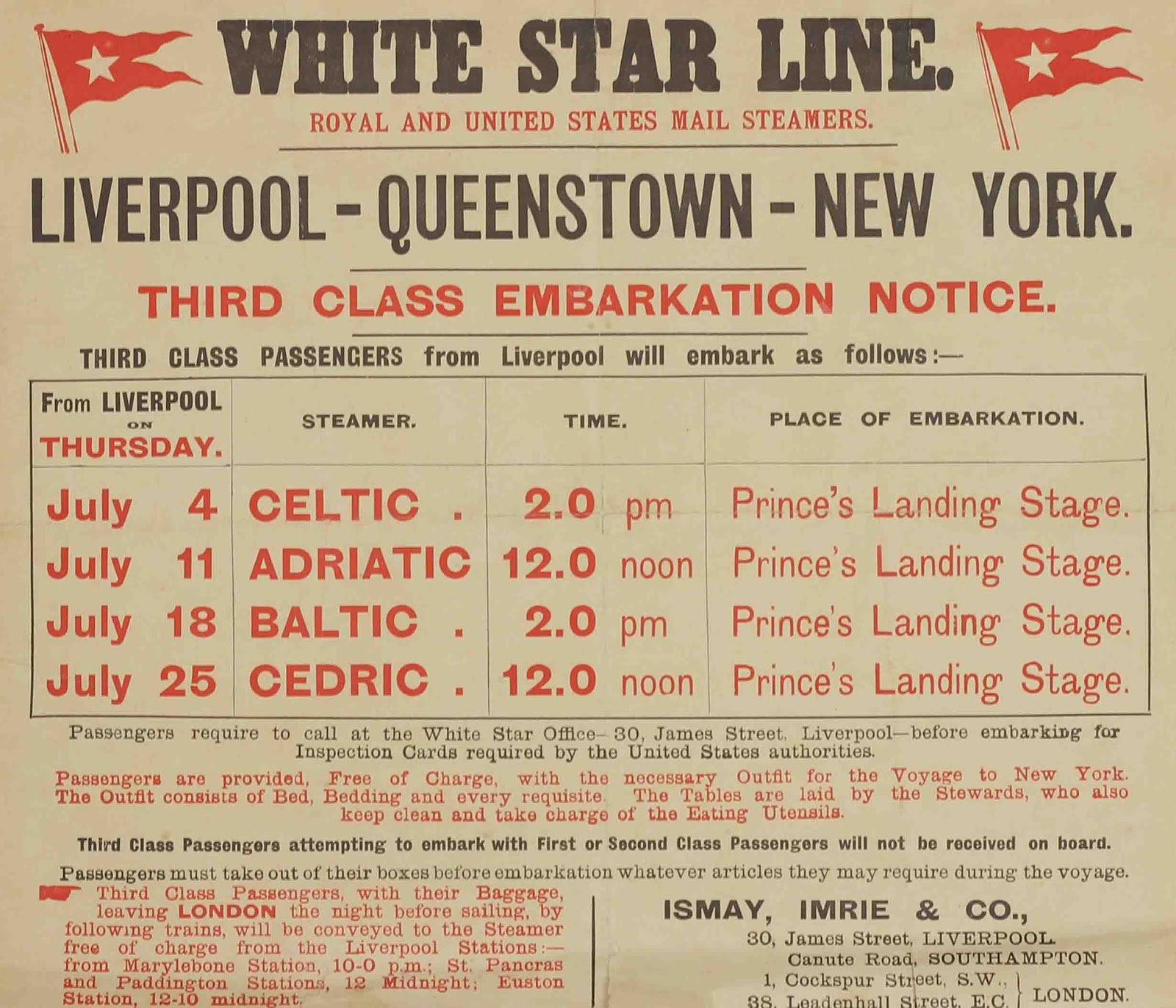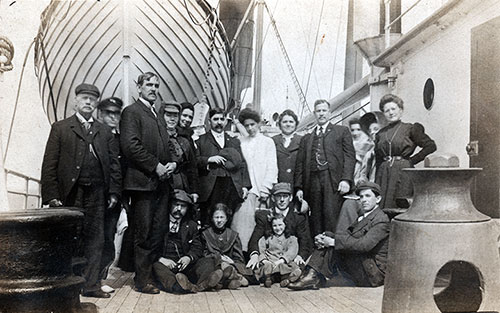 White Star Lines Third Class images, photo credit Glenvick Archives
When we talk about ocean liner travel, we are not referring to cruise lines. Ocean liners are the debonair ancestors to the cruise ships of today. The difference between ocean liners and cruise ships is speed. Ocean liners were built for record breaking travel, and they sat lower in the water than modern cruise ships. They had duel purpose, to transport passengers and/or cargo. Their voyages were to one destination and not meant for multiple ports.
The Gilded Age of transatlantic travel began in 1897 with the launching of the Kaiser Wilhelm der Gross. The first luxury ocean liner would have four sister ships built between the years of 1903-1907. The Kaiser Wilhelm was the largest ocean liner of that period. She was the first to have luxury sleeping quarters that included parlors and bath accommodations. She was the predecessor for all the mega-ocean liners to come.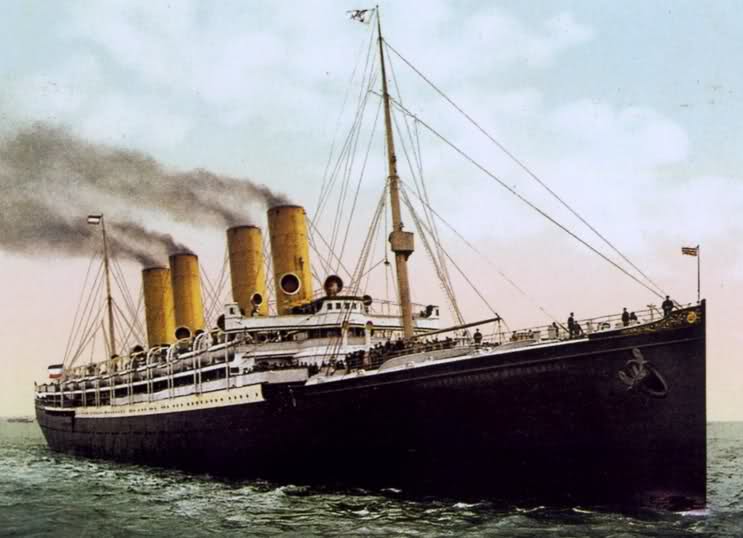 Postcard of the Kaiser Wilhelm der Grosse, private collection
Ocean liners played an important part in the history of the 20th century, allowing millions to have the opportunity to explore the world. Massive immigration would not have been possible without them, they were a major factor in the growth of the population of the United States. This form of travel also opened new possibilities for global commerce and communications.
Ocean liners were showpieces and many shipbuilding companies competed for their noted opulence. Companies including White Star, Cunard Line, Hamburg-America, Holland-America and French Line had interiors that were as impressive as their exteriors, with decorated public spaces that seemed fit for a palace.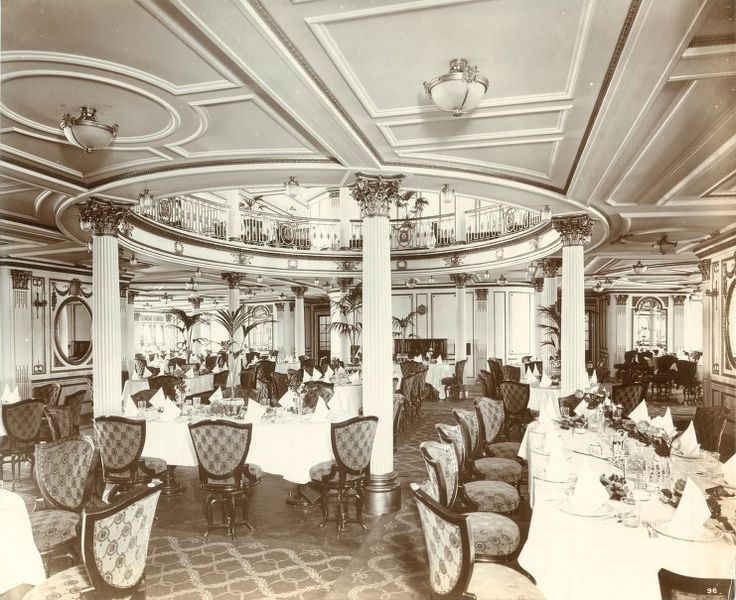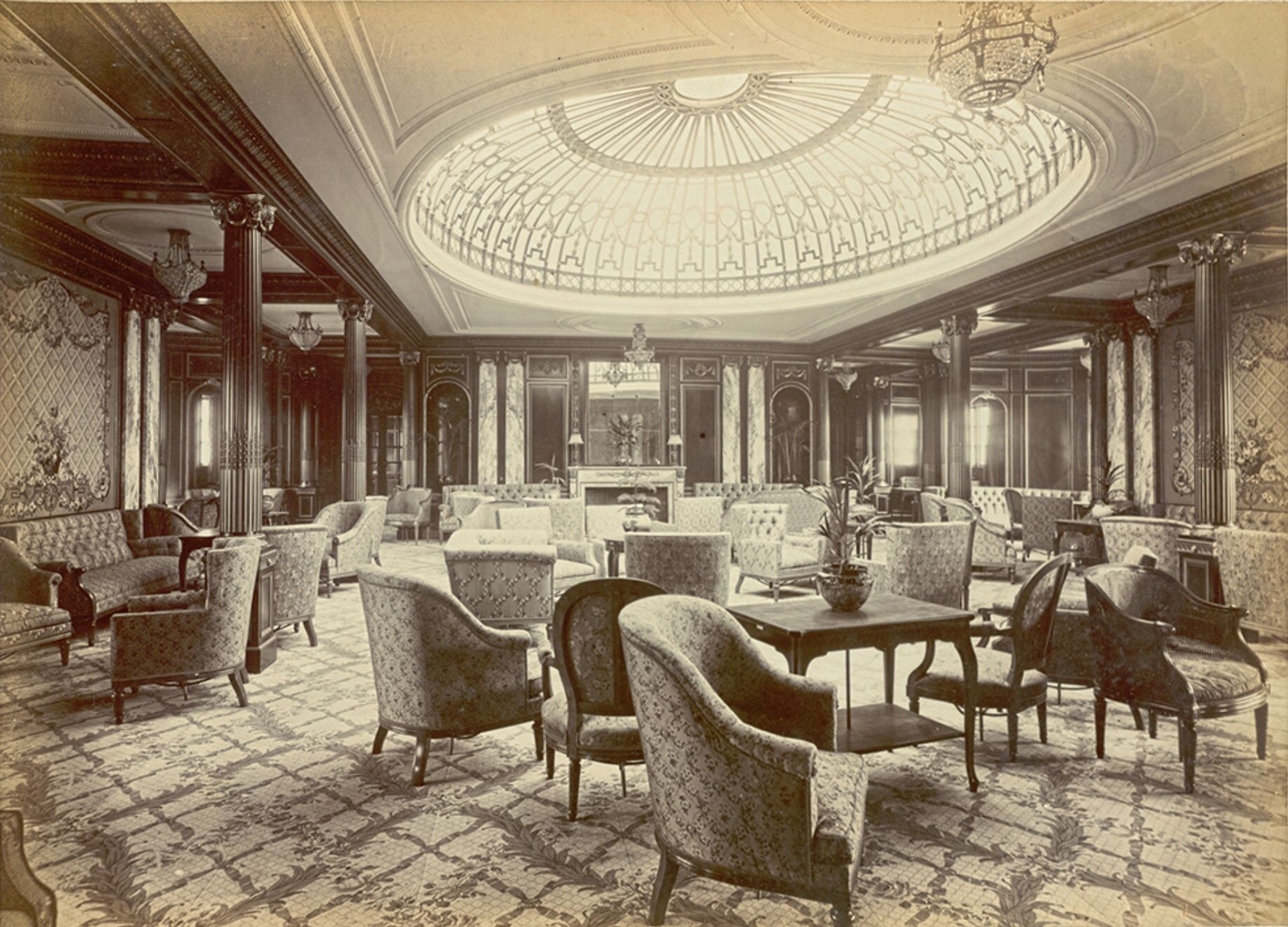 Interior images of the RMS Lusitania, photo credit, Ocean Liners Magazine
In addition to promoting luxury, shipping companies would put great emphasis in their advertising to promote ocean liners as a very safe form of travel. Unfortunately, there were many ocean liner disasters that proved this was not always the case. Case in point, the maritime disaster of White Star Line's RMS Titanic on April 14, 1912, where over 1,500 lives were lost.
Post-World War I, transatlantic travel exited the Gilded Age and entered the Golden Age. The Gilded Age ocean liners design focused on the look of Renaissance palaces and 19th Century grand hotels, dabbling in design elements from Neo-Classical to the Baroque.
In 1927 the Ile de France ocean liner launched; this was the official full turn into a new type of ocean liner style. The Exposition Internationale des Arts Decoratifs et Industriels Modernes in Paris in 1925 was the inspiration for these new stylistic changes. The Ile de France featured modernist chandeliers by Lalique, and a dining room designed by the famed interior designer, Pierre Patout. The futuristic style included Art Deco and machine-age Streamline. The new aesthetic used linear and geometric shapes, sleek glamour with a strong accent on the decorative arts.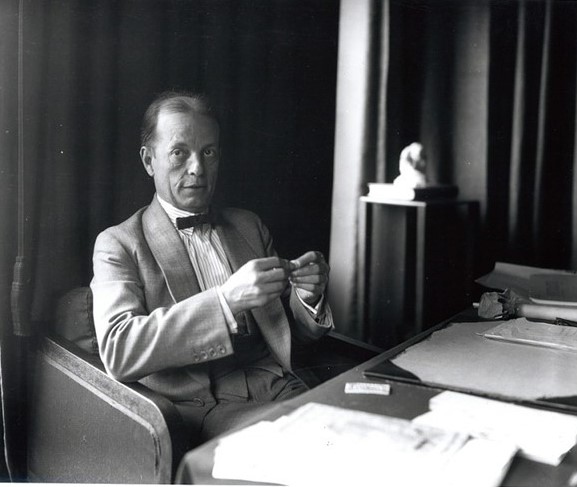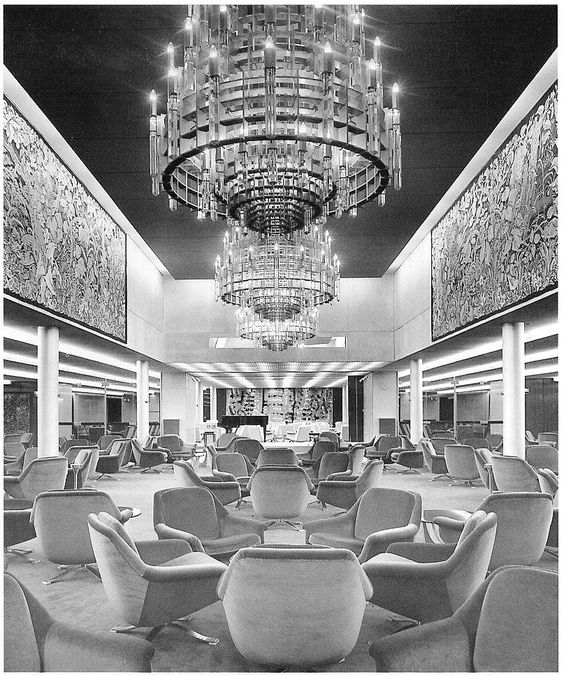 Pierre Patout and Tea Salon of the Ile de France Ocean Liner, photo credit Smithsonian Libraries
The 1930's ushered in the transformation of the ocean liner. Ocean liners inspired the design in the resorts, hotels, bus stations, movie theaters, automobiles, and appliances of the day, all of them taking note of the Art Deco design phenomenon. This transformation could be witnessed on ships such as the S.S. Champlain (1931), S.S. Normandie (1935), RMS Queen Mary (1934), S.S. Antilles (1953), S.S. United States (1952) and so many more.
By the mid-20th century, the early ocean liners that were not lost at sea were scrapped. No pre-WWI ocean liners survived, the one that held on the longest was the RMS Aquitania, she was scrapped in 1950.
During WWII many ocean liners were converted into troopships. This meant the ships had many of their furnishings and art moved into storage on land to be reinstalled after the war. The ocean liners had the room and the speed needed to get soldiers to destinations efficiently. They were armed with weapons and camoflauged. Ships that survived the war were stripped of their guns and returned to passenger service after some major refurbishment.
Ocean liners were even known to those who did not even partake in transatlantic travel. The Queen Mary, Queen Elizabeth and a lengthy list of other ocean liners had presence in mainstream society. One did not have to read a newspaper or magazines to be captivated by the shipping companies. Until the dawn of the commercial jet service, ocean liners were the way to see the world. Vibrant advertising posters and movie newsreels lured the average citizen into the hype of ocean liner travel. Disasters at sea were a major media event, making headlines and becoming major stories for weeks. In addition, books and movies assisted in increasing the popularity of ocean liners in the public eye.
To many who lived near the waterways or ports of call to the great ocean liners, a ship's arrival or departure was a very big deal. Those that had the opportunity to be passengers have fond memories of their voyage. This fascination with ocean liner travel has many people, whether they were just dockside onlookers or past passengers, holding on to personal mementos to remind them of this grand time in travel history.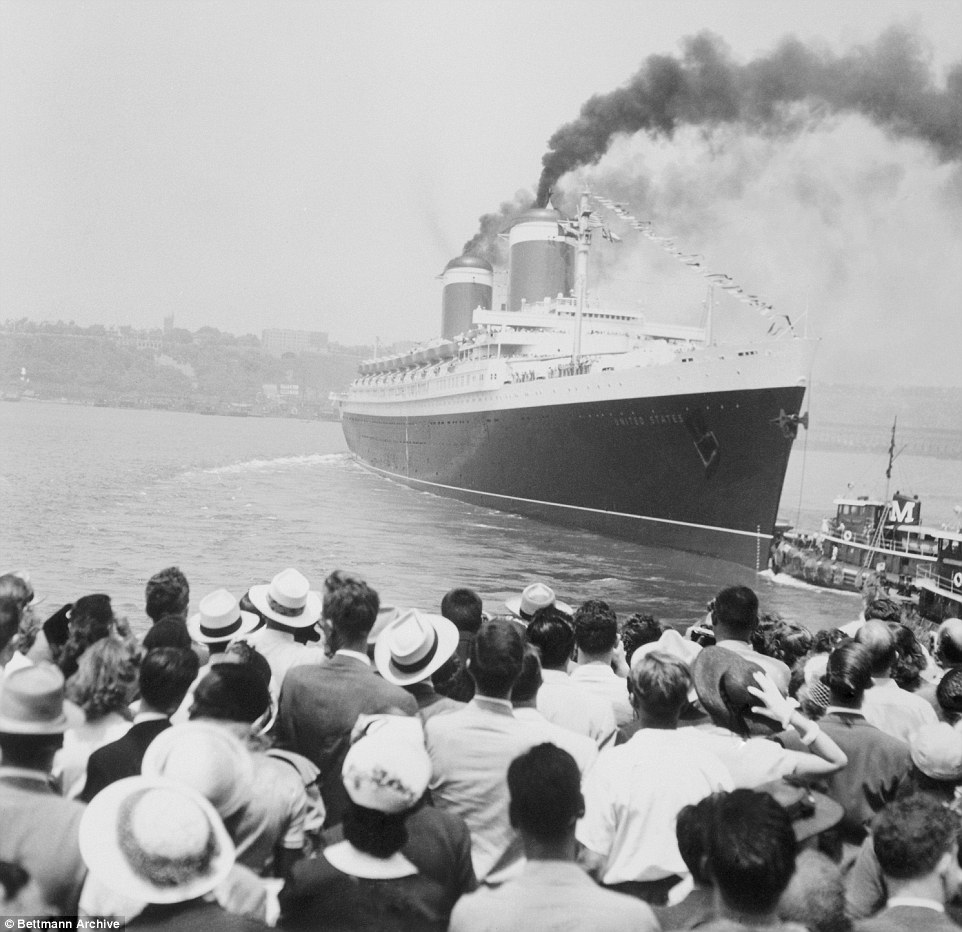 Departure of the S.S. United States, year unknown, photo credit, S.S. United States Conservancy
Collecting ocean liner memorabilia has become a pastime for many who wish to reclaim these moments in time or to possess a piece of ocean liner history. In Alderfer Auction's Fine Arts Auction on June 9, 2022, we have ocean liner history items that can become a part of your history collection. The auction includes the following:
A signed first edition (1940, number 440 of 500) of the self-published book, The Sinking of the SS Titanic by John. B Thayer, a survivor of the Titanic tragedy. John "Jack" Thayer, at age 17, was a 1st class passenger with his parents on the Titanic. His father did not survive.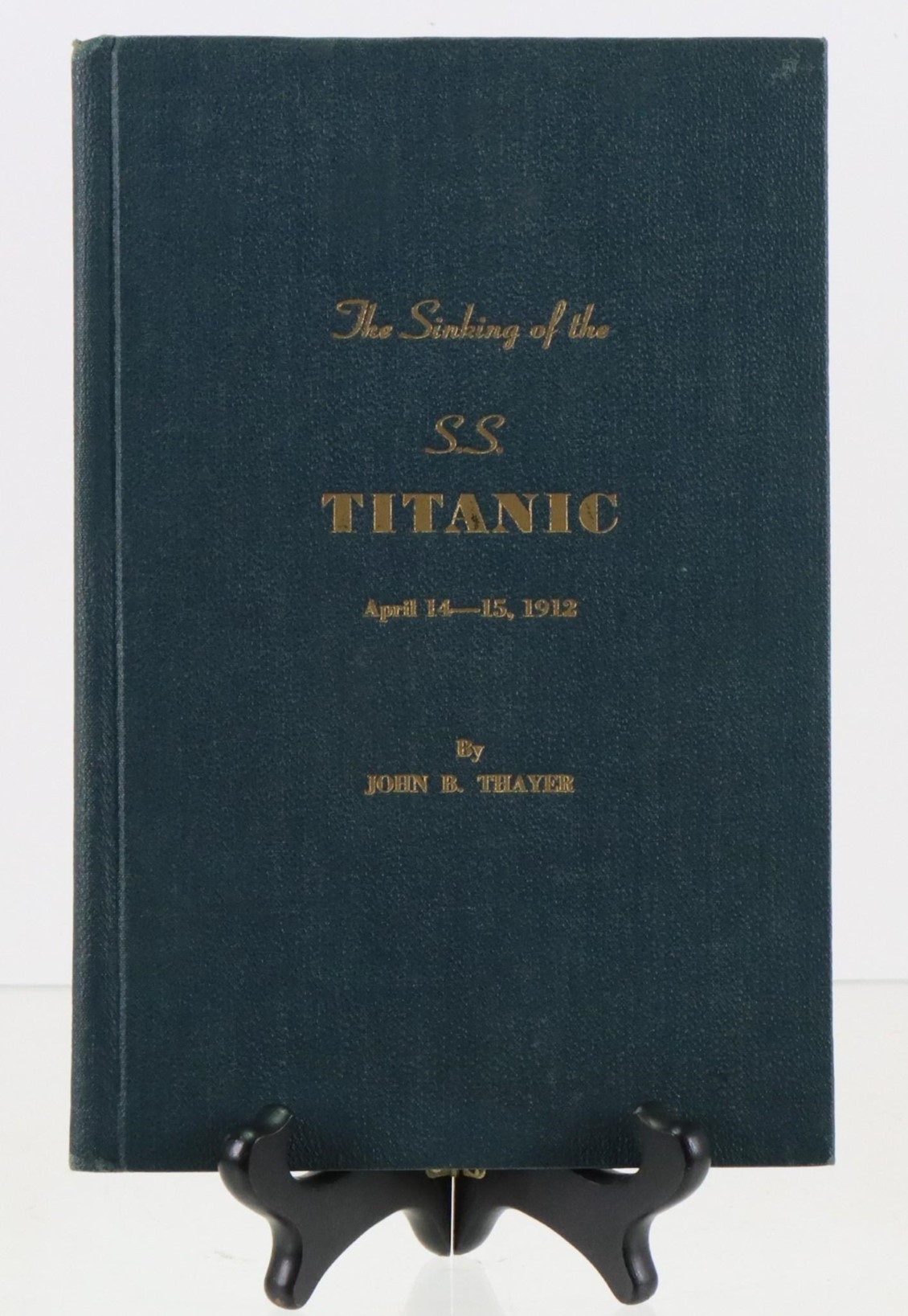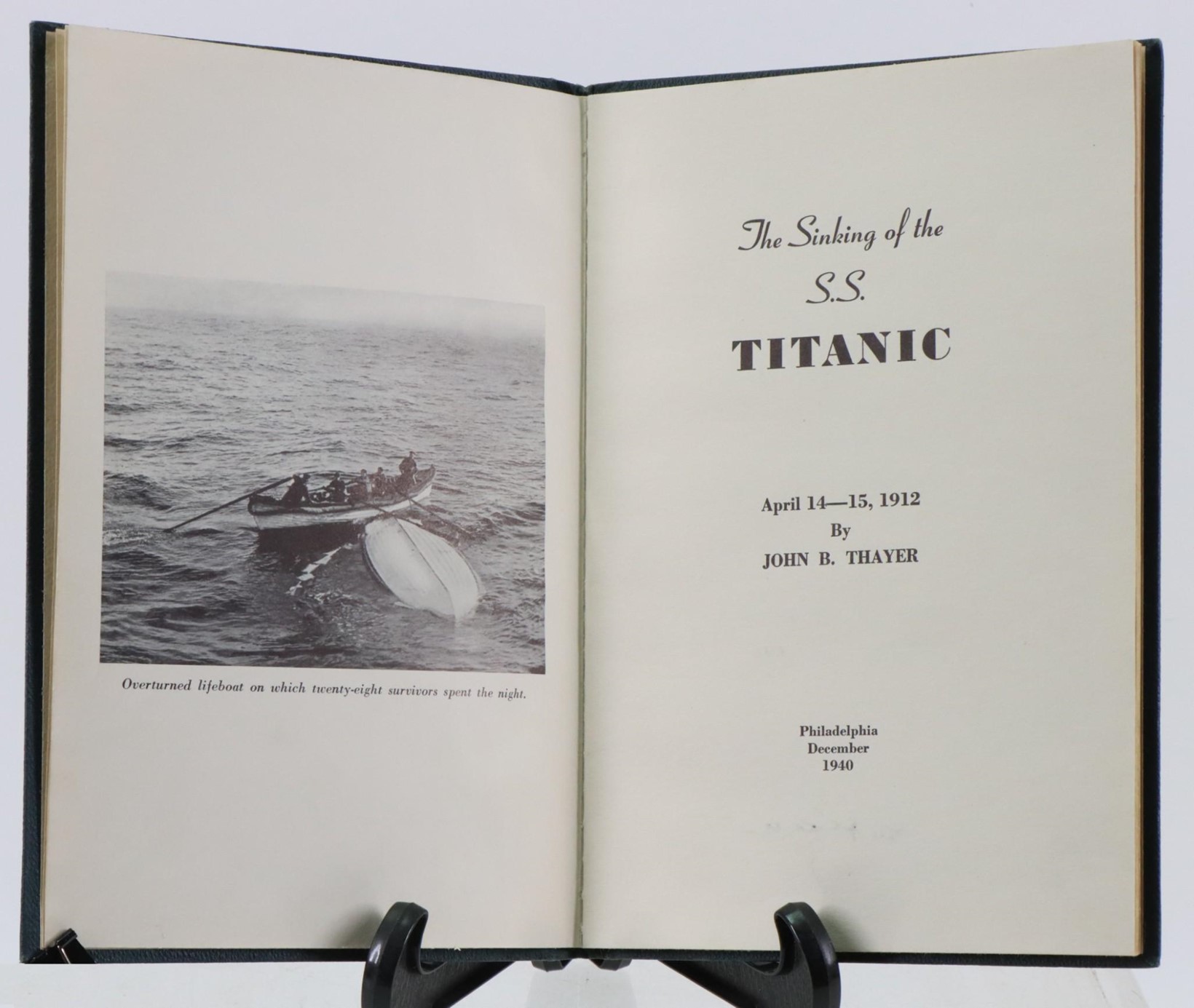 A White Star Line maritime swallowtail red burgee flag with a 5-pointed star.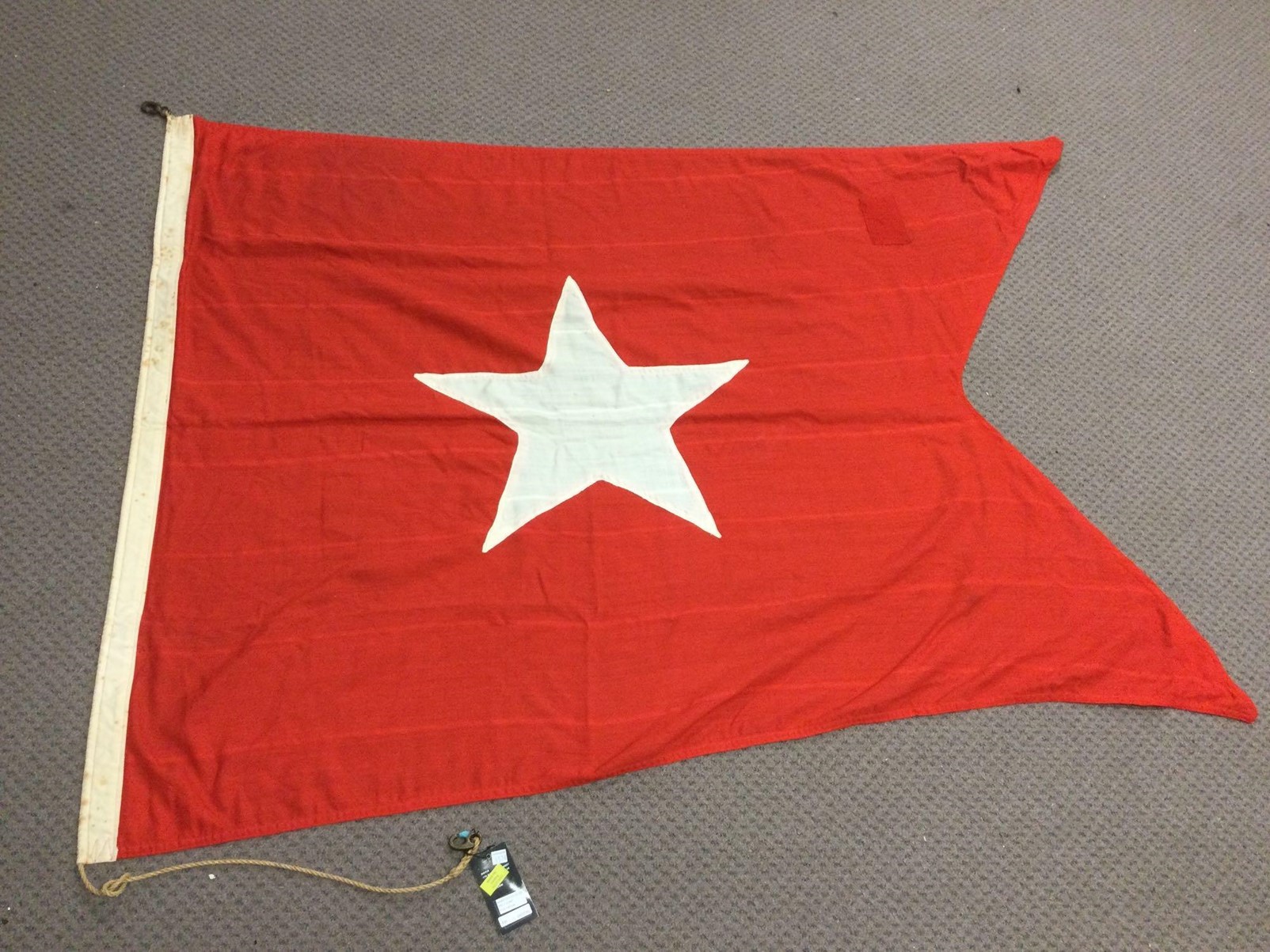 Art Deco cabin telephone from the French ocean liner S.S. Normandie. Materials are Bakelite and chrome.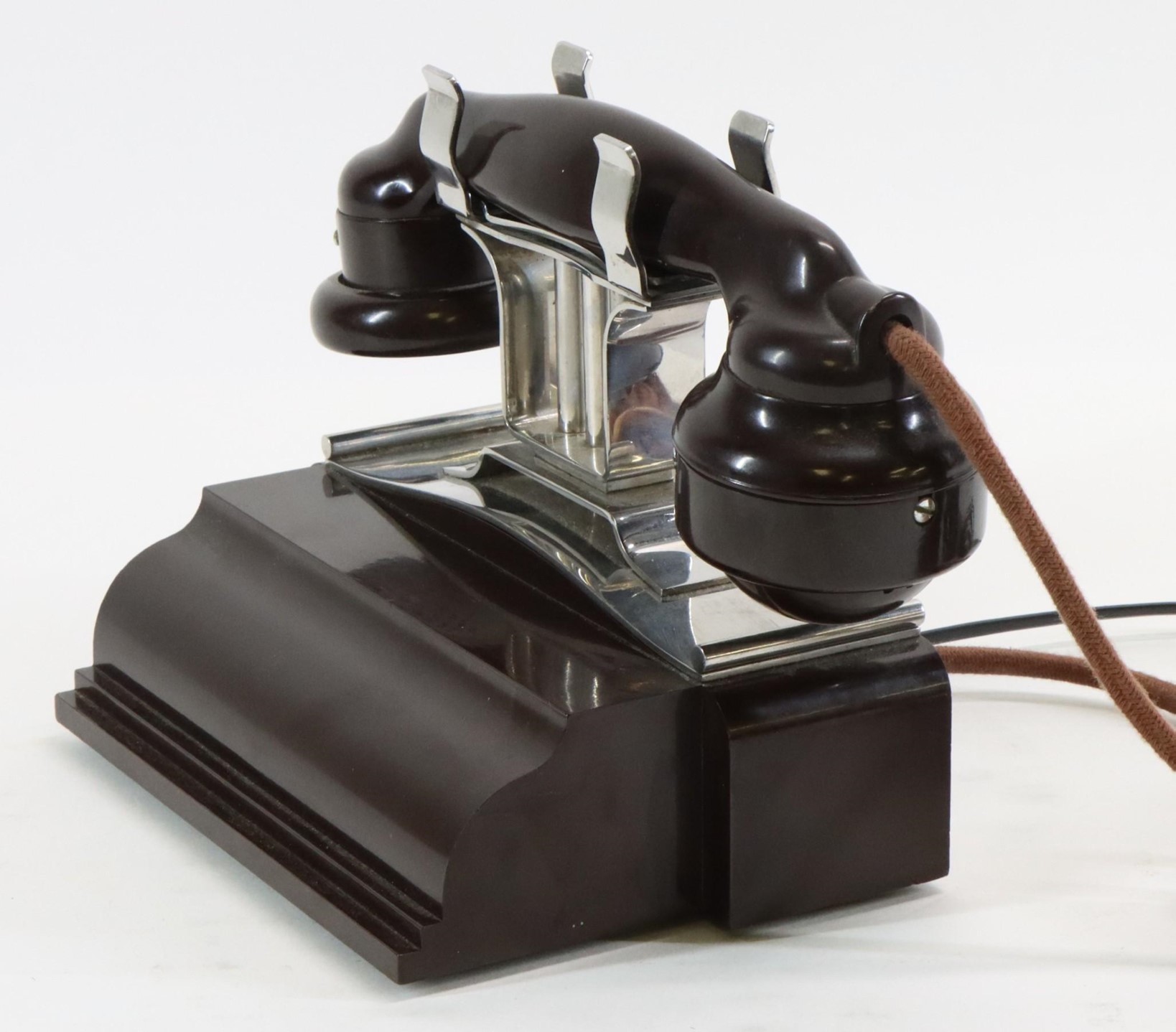 Pierre Patout, 1st class Art Deco dining chairs from the French ocean liner S.S. Normandie.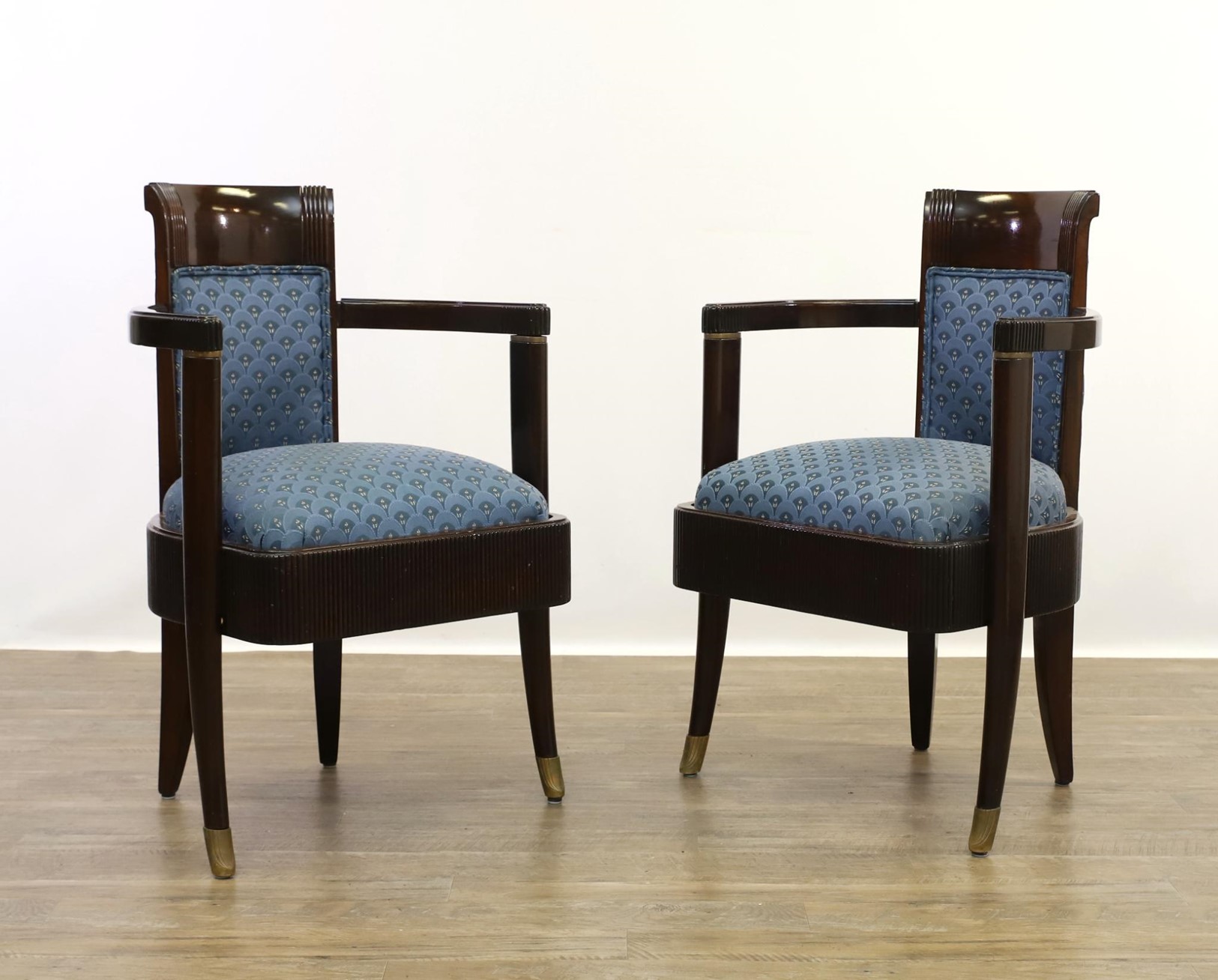 Ocean liner deck chair and passenger cabin vanity and sink.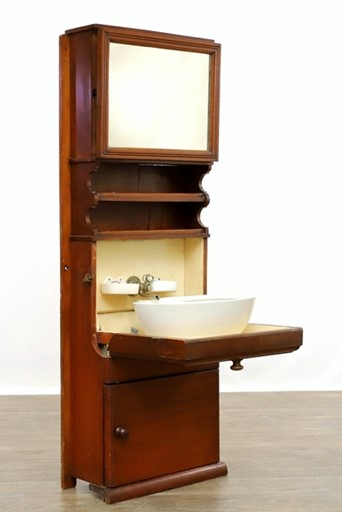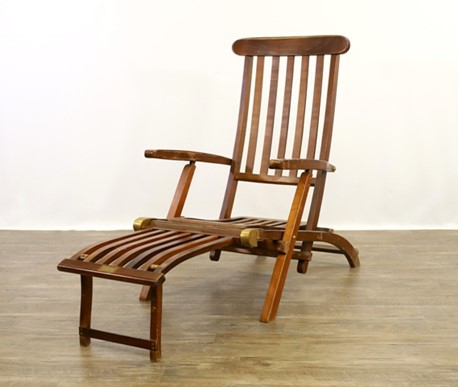 Louis Vuitton steamer trunk with Cunard Line travel stickers.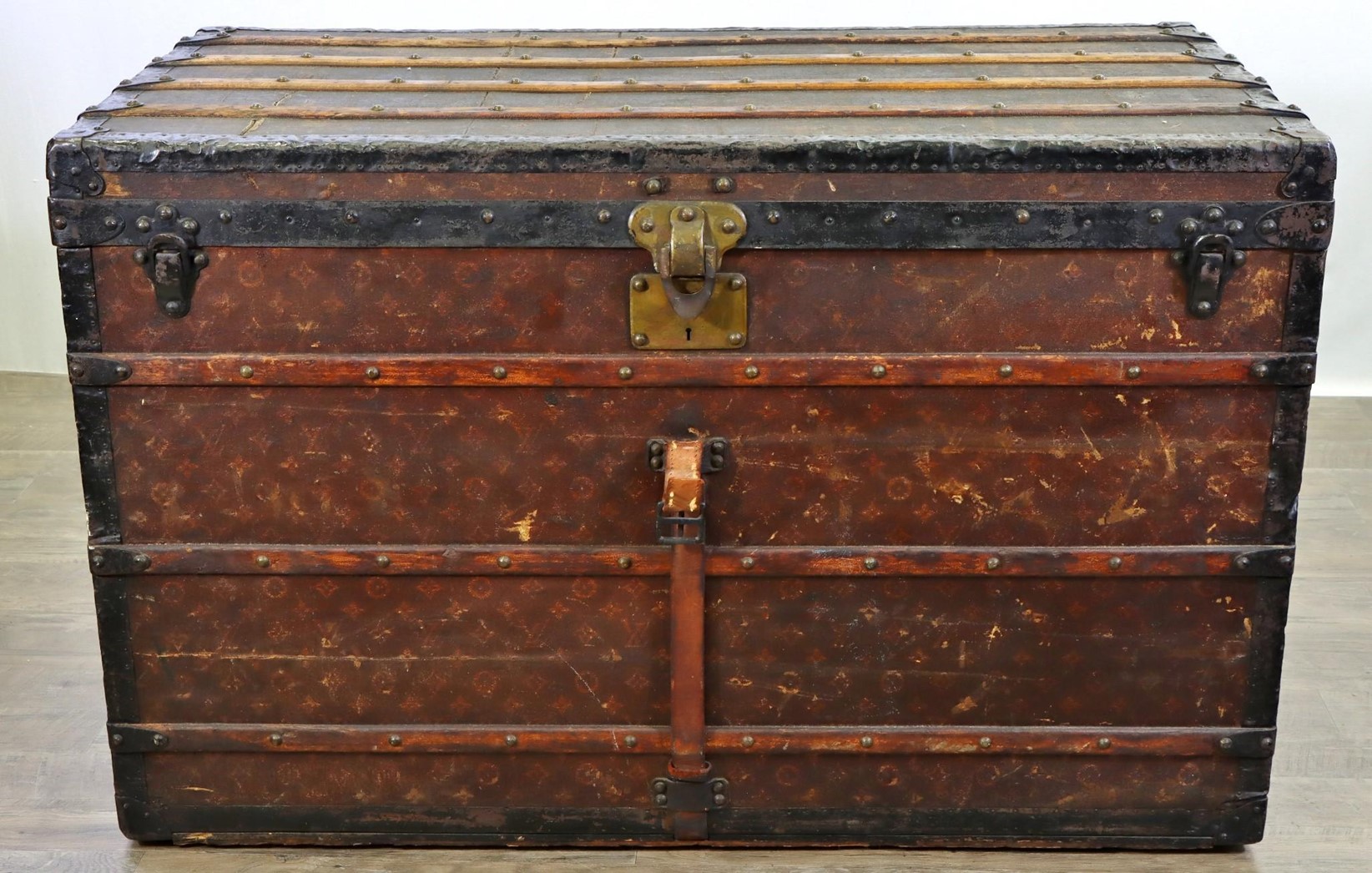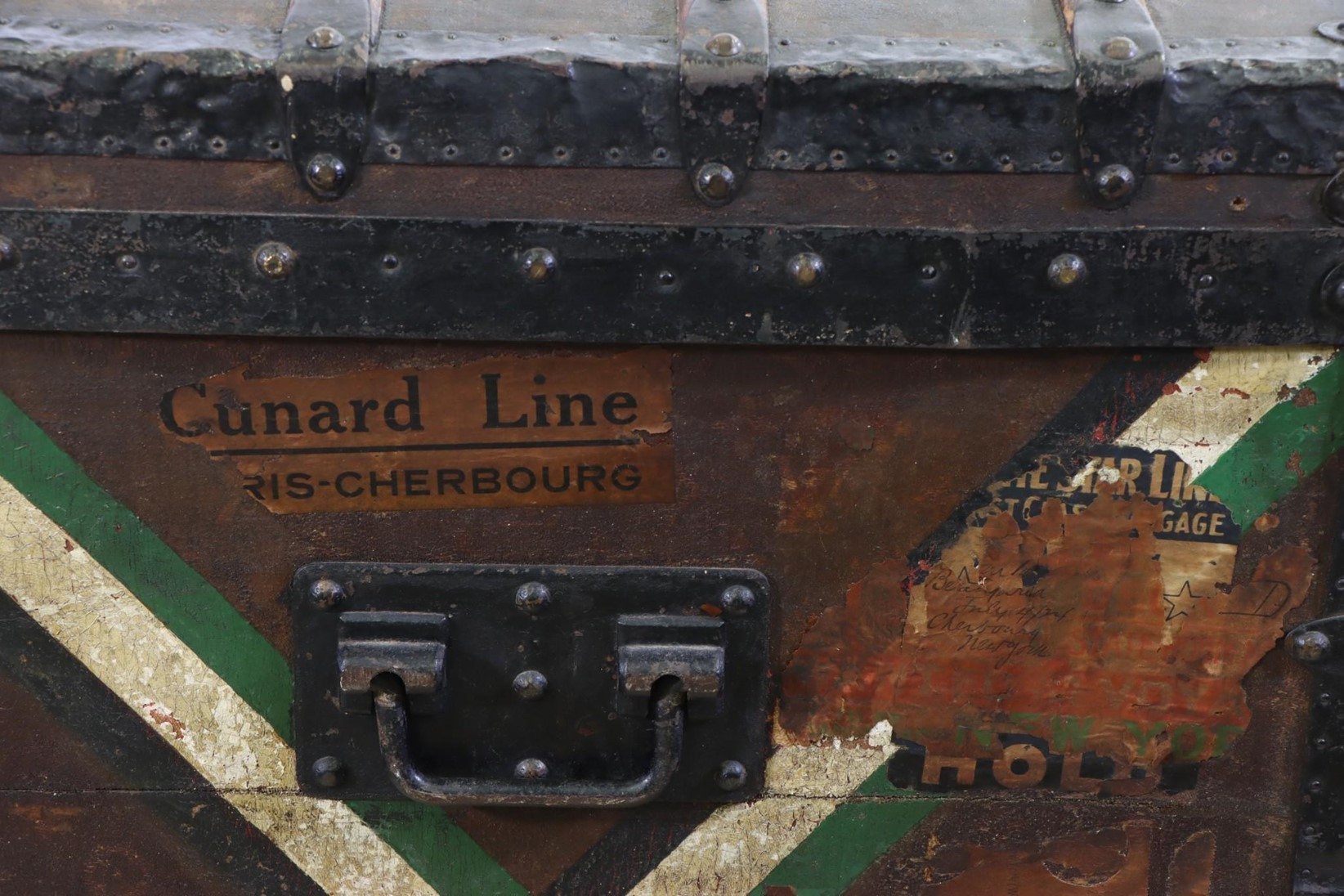 After WWII ocean liners were still in service and the only way to travel until commercial air service came into play. As the years went by, cruise lines and air travel were the preferred way to jetset around the world. Ocean liners began to fade into history. Some still exist today as museums, including the Queen Mary and Queen Elizabeth II. Many maritime museums, such as the Mariner's Museum in Newport News, Virginia have extensive ocean liner artifacts and exhibits.The S.S. United States has been sitting in Philadelphia harbor for decades, slowly rusting. However, the S.S. United States Conservancy is working to raise funding to convert it into a museum and public space. Those that have an affinity and love for ocean liner history are working to make that dream a reality.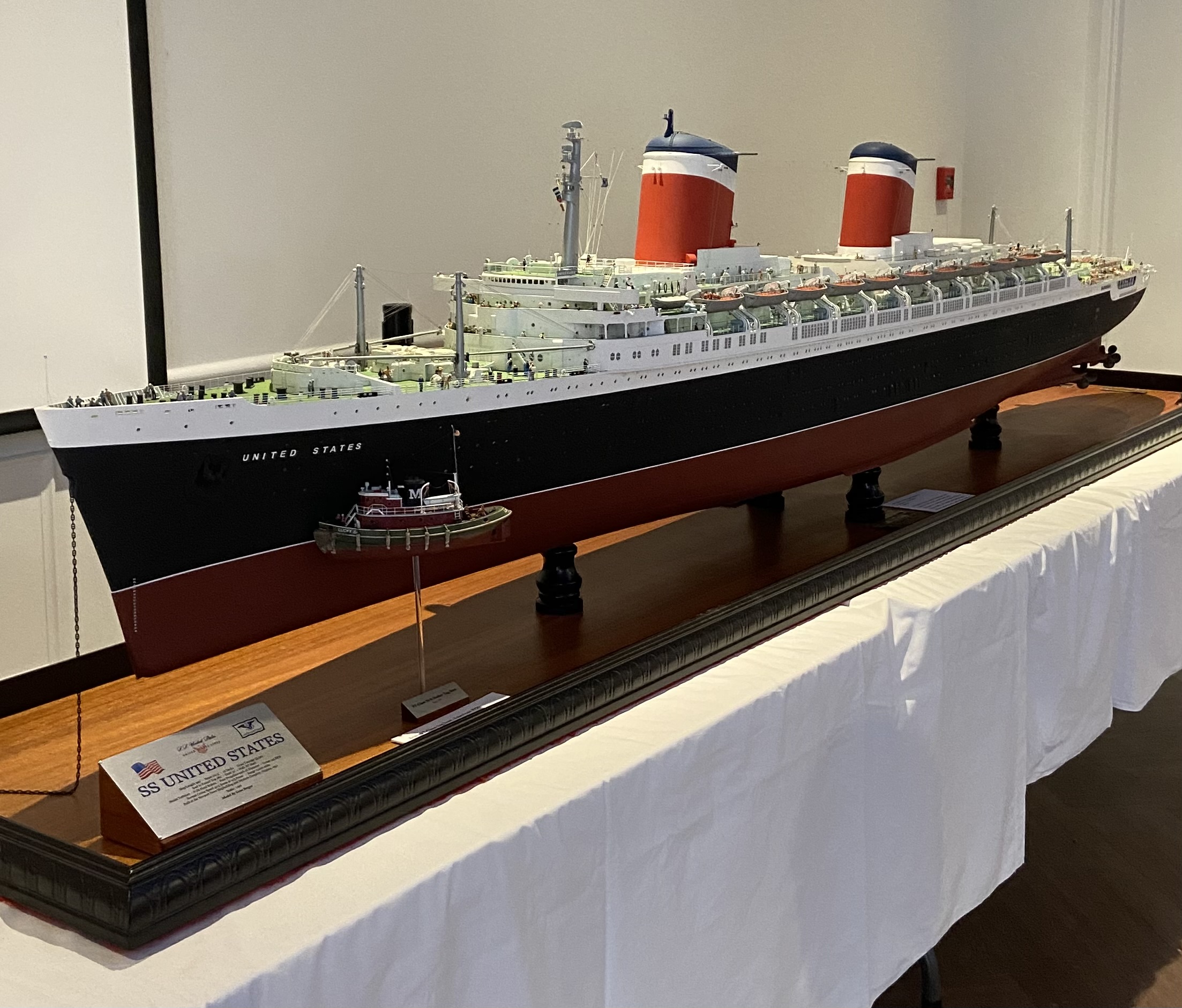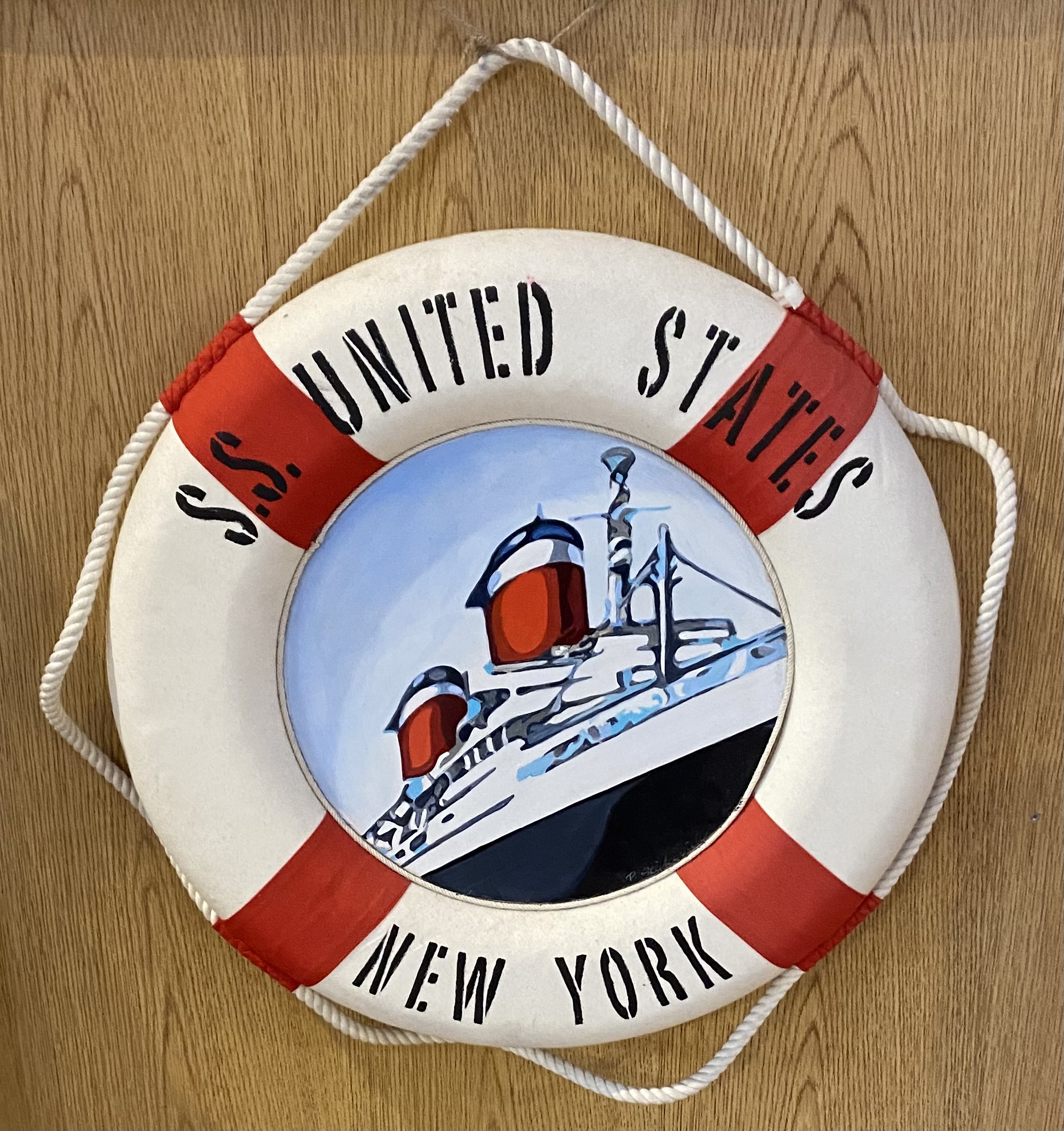 Mariner's Museum, Newport News, VA, photo credit, private collection
Your knowledge of ocean liners past may stem from feature films, books or even just researching on the internet. Their rich history deserves the attention. These floating palaces influenced immigration, world events and design in ways that we are still discovering today.
written by Melissa A. Jay
---