The Baum School of Art Holds Tribute Exhibition Attended by Brent Souder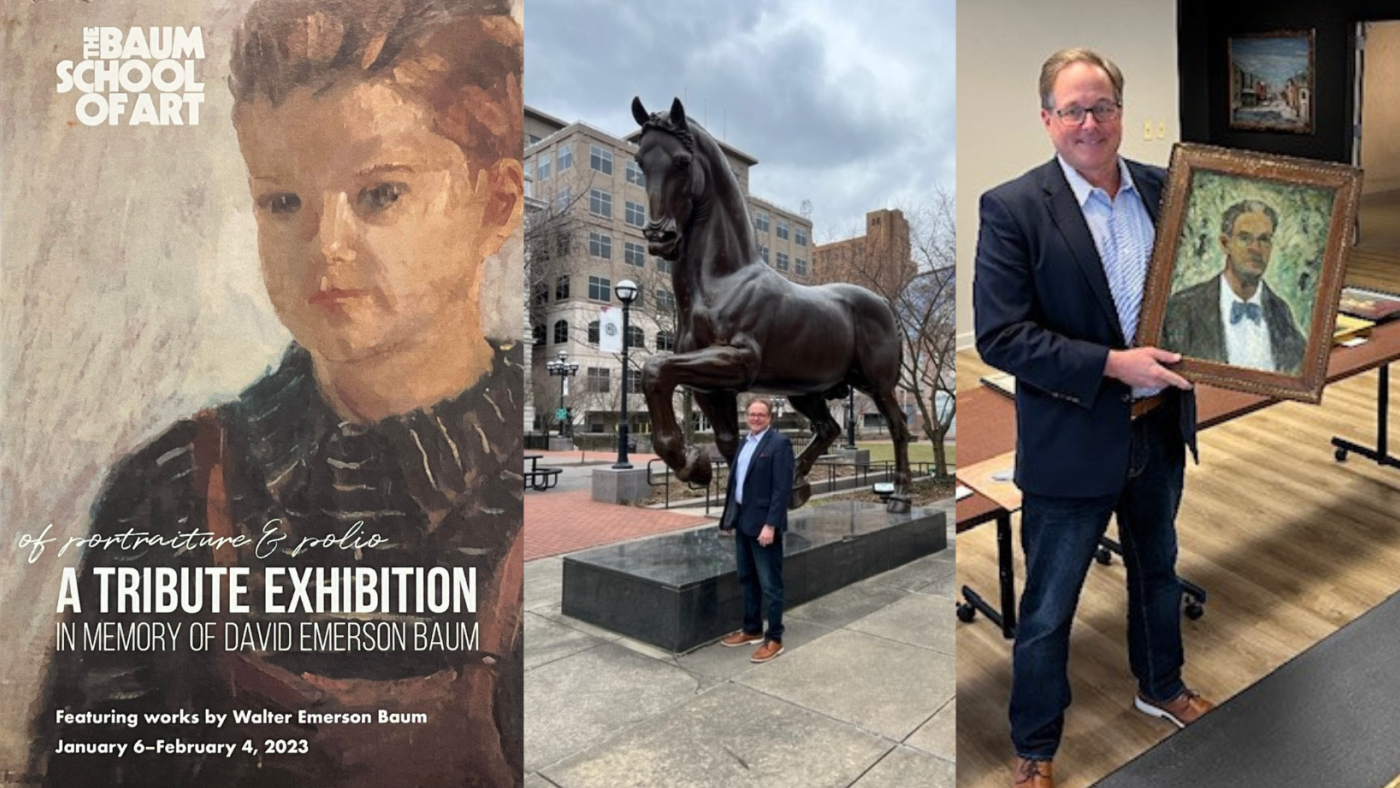 The Baum School of Art Hosts a Tribute Exhibition in Memory of David Emerson Baum
Baum School of Art: A History
The Baum School of Art is a community non-profit visual arts school located in downtown Allentown named after Walter Emerson Baum (December 14, 1884 – July 12, 1956). Baum was an American artist and educator active in the Bucks and Lehigh County areas of Pennsylvania in the United States.The school was established in the summer of 1926, when artist Walter Emerson Baum was recruited by Blanche Lucas to provide art instruction to art teachers of the Allentown School District. It now is responsible for providing over 275 classes, workshops and community outreach programs, where they pride themselves on the idea that everyone should have the opportunity to create art.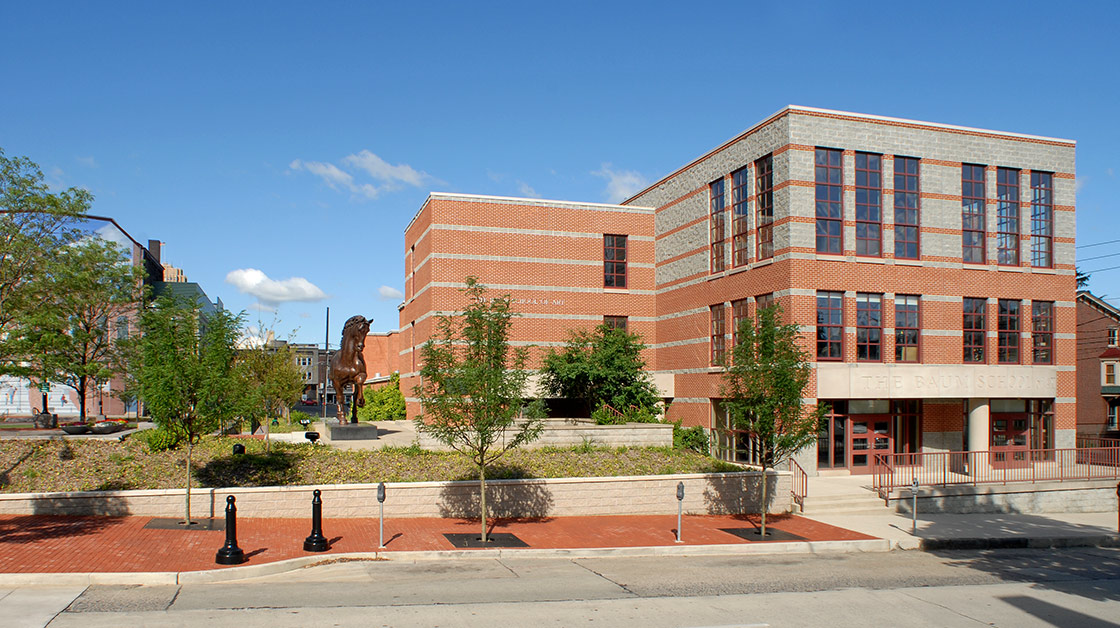 According to their site: "Our mission is to enrich lives through arts education and we achieve our mission through our tuition classes for children, teens, and adults, and our many community outreach programs. In 2021-2022 we served over 2,500 students in art, design, and fashion. Our programs are open to anyone who wishes to study art—we celebrate diversity and welcome all community members, regardless of gender, social status, race, or beliefs." Alderfer Auction currently has the record for sale of works & has sold more works of art by Baum than any other auction company. Our company's appraiser, Brent Souder, recently took a trip to the Baum School of Art during their special event "of portatirure & polio" in a tribute exhibition in memory of David Emerson Baum, Walter's grandson.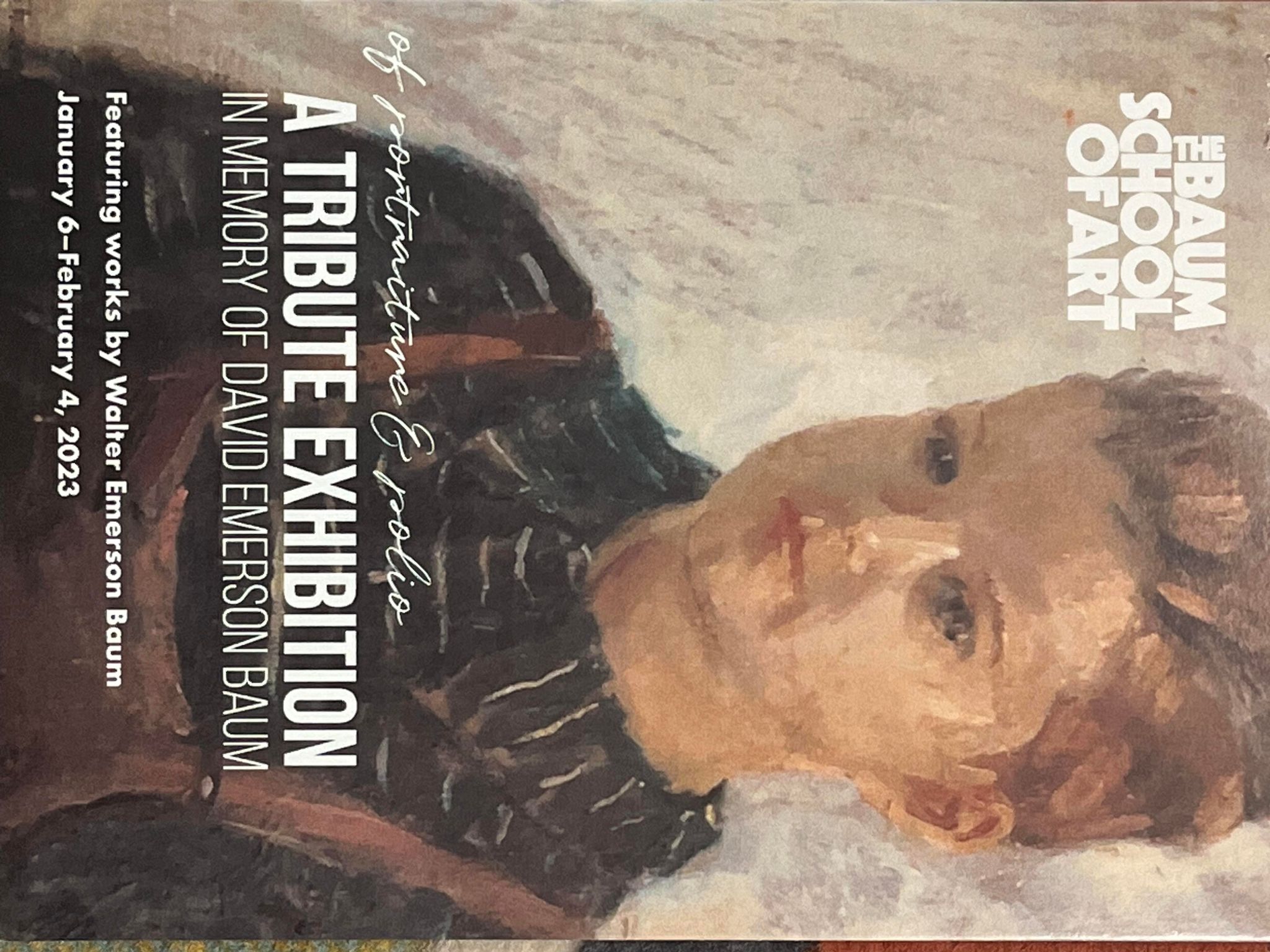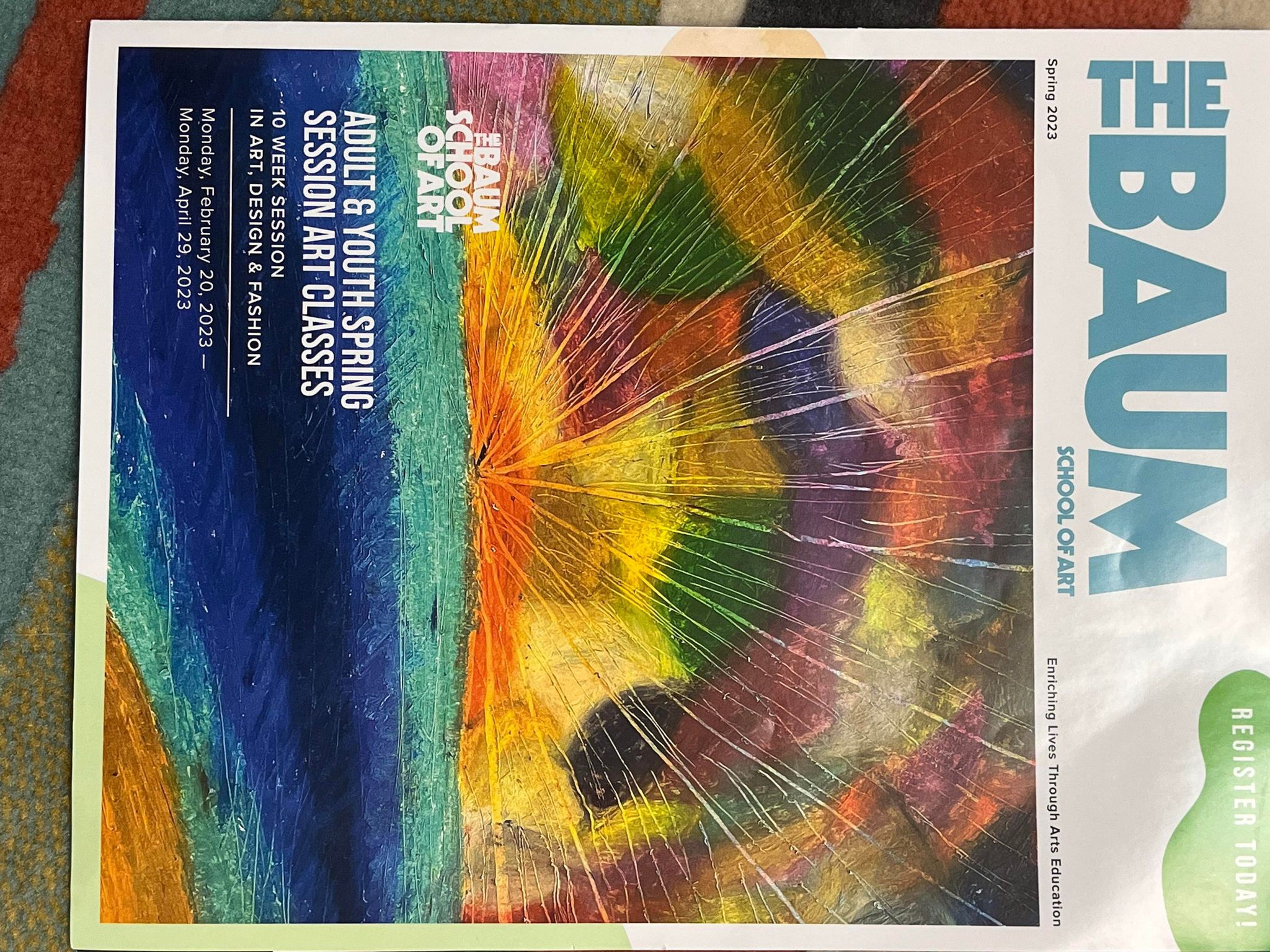 About the Exhibition: In Memory of David Emerson Baum
This exhibition honors the late David Emerson Baum, grandson of the school's founder, Walter Emerson Baum. These portraits of David span the first two decades of his life and were lovingly painted by Walter. David treasured them as they chronicled a special time in his life with his grandfather. David was a polio survivor, and although this crippling disease forever affected him and limited his mobility, he transcended his disability and never allowed polio to define him. Walter supported David as he came to terms with his physical challenges, and the two enjoyed each other's company. Their adventures continued throughout David's youth until the time of Walter's passing in 1956. Included in this exhibition is Walter's personal "Trego" easel, along with an evocative, unfinished portrait of David that Walter was working on at the time of his death. Walter and David's legacies are forever entwined at The Baum School of Art. David's legacy joins that of his grandfather's, with the establishment of a memorial scholarship fund in his name. As the Baum School approaches its 100th Anniversary, future generations will be encouraged to transcend barriers and reach their full potential in the arts through the David Emerson Baum Memorial Scholarship Fund. - Baum School of Art
Alderfer Auction's History with Selling Walter Baum's Work
Senior Fine Art Appraiser, Sales Director and Auctioneer, H. Brent Souder, is shown holding a self-portrait by Walter Baum. Souder was called to appraise the works prior to the show traveling to other museums. With 37 years of experience this is not the first time he has appraised works by Baum. Souder and the Alderfer Auction have sold and appraised over 900 works during his career. Establishing the record sale price at auction for $97,750 to a New York City collector.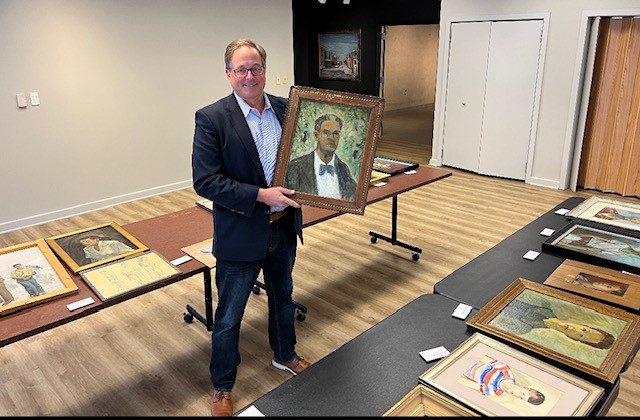 Based in Montgomery and Bucks Co. Alderfer has established a reputation as the premier seller of works by Walter E Baum. A native of Sellersville Pa, Baums popularity continues worldwide with his impressionist landscapes of Lehigh, Bucks and Montgomery Counties.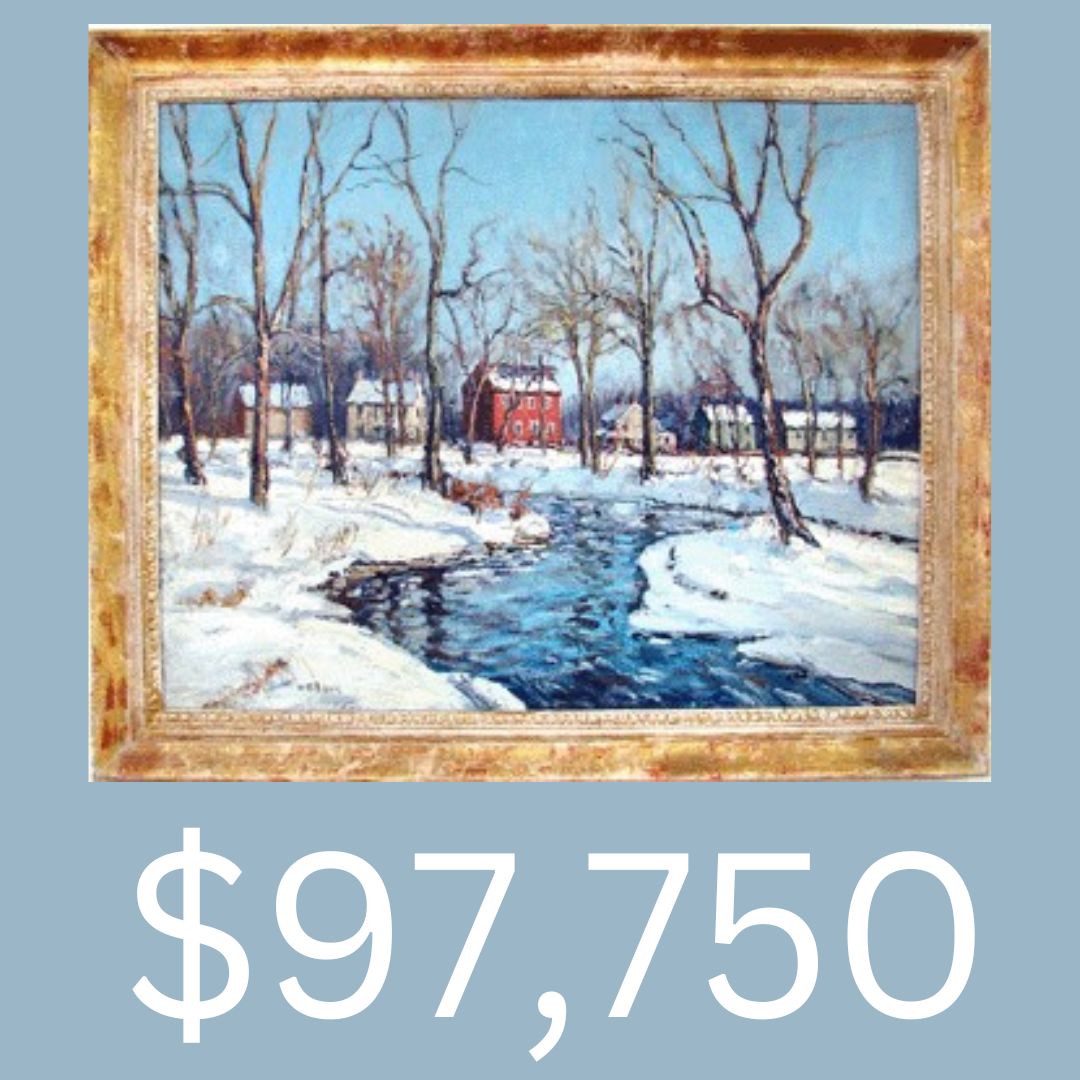 Upcoming Free Valuations
Do you have a piece of Fine Art or Antique that you'd like assistance with?
Give us a call at 215-393-3000 or email us at fineart@alderferauction.com.
We are seeking Fine Art & Decor, Silver, Jewelry, Historical and Militaria and Firearms for our next public FREE Valuation Event with our specialists on February 22nd, 2023 from 4-7PM by appointment only at our Hatfield Location.
Please schedule your appointment and pre-send photos at preview@alderferauction.com. Limit 2 items.
The next Open Valuation Event will be in April 2023 at our Doylestown Location. Please check back for details.

Corporate: Hatfield 501 Fairgrounds Road, Hatfield, PA 19440Doylestown: 584 W. Swamp Road, Doylestown, PA 18901215.393.3000 alderferauction.com Members of NAA & PAA: Designations CAI, MPPA & CES.
Certified CSA, USPAP Compliant. AY002260.
---