Pair of Rare Presentation Colt Model 1851 Navy Revolvers to be Sold at Alderfer Auction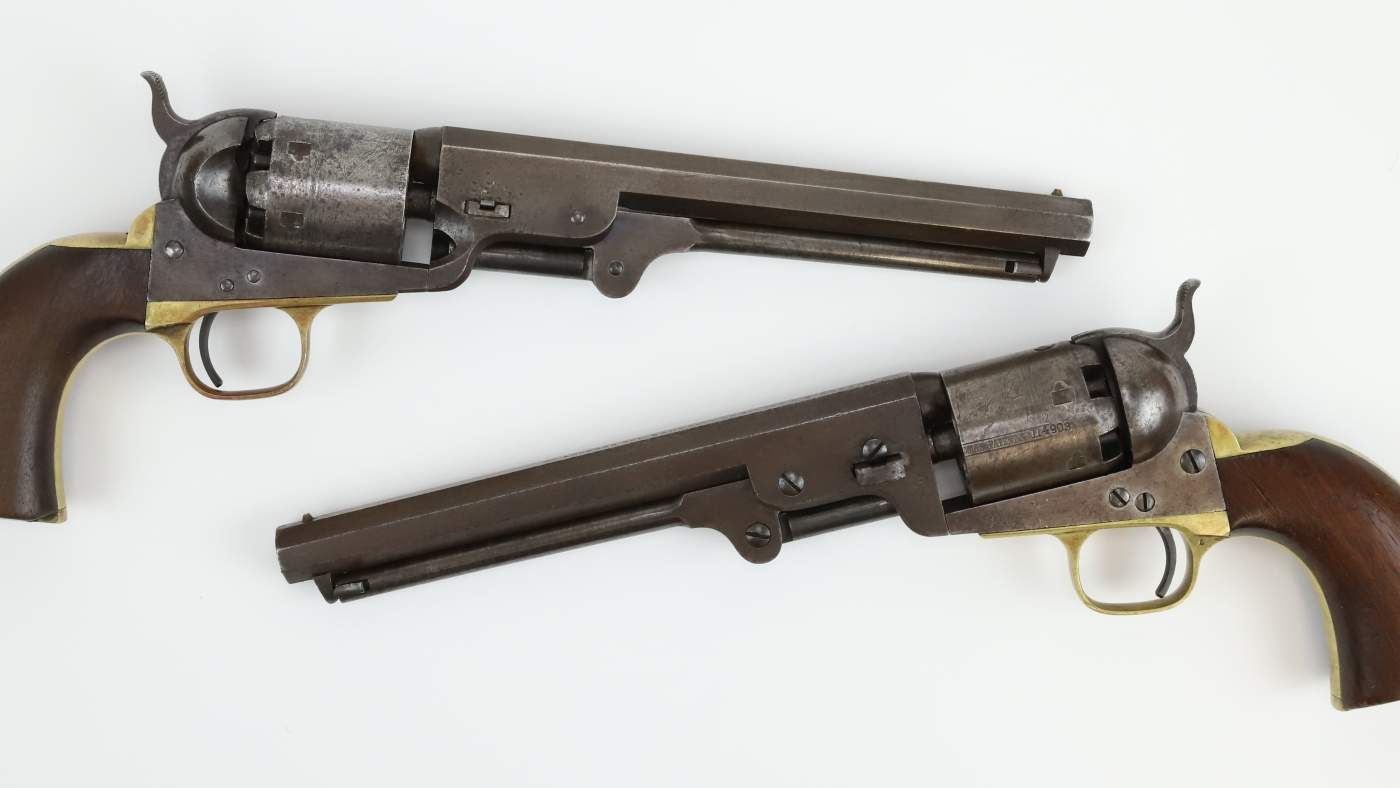 Pair of Rare Presentation Colt Model 1851 Navy Revolvers to be Sold at Alderfer Auction
The Gary Wolfer Collection of Colt and other 19th Century fine firearms are to be auctioned on August 18th at Alderfer Auction Online Firearms Event.
The pair of presentation Colt Model 1851 Navy Revolvers that are being offered in this auction were presented to Colonel Williams on October 22nd, 1861 by his friends from Philadelphia. The following day, October 23, 1861 Williams' regiment was presented with their flags, and as the flags would traverse the battlefields with the men of the regiment, the pistols housed in the accompanying saddle pommel holsters, would accompany Williams as he led the regiment on many hard-fought battlefields. They would return home with him after his service, treasured relics of an important time in American history.
David Henry Williams (1819-1891) Led an interesting life prior to the American Civil War. Born in central New York he moved west to Detroit at the age of 18, to pursue a career as a railroad surveyor. Nearly ten years later, Williams joined the military as an enlisted man with forces bound for Mexico where his service remains much of a mystery. After the Mexican War Williams moved to the Pittsburg area and resumed his work with the ever-expanding railroad industry. In 1861, his county called and he was appointed Colonel of the 31st Pennsylvania Infantry. As many regiments were then enlisting, Pennsylvania had regular and reserve regiments. The 2nd Pennsylvania Reserves was designated the 31st Pennsylvania resulting in Williams' regiment to be re-designated the 82nd Pennsylvania Infantry regiment. Leading this regiment in 1862, Williams and his men were heavily engaged during the Peninsular Campaign, as well as, the battles of Seven Pines, Malvern Hill and other battles. For his actions, Williams was appointed a brigadier general on November 29, 1862, however, this appointment was never confirmed by Congress and expired before it could be voted upon. In early 1863, David Williams resigned from the army and returned to his home near Pittsburg to continue his civilian work as a railroad engineer. This was short lived however as Williams' health declined soon after, which prevented him from actively participating in the hard-physical work that was required of an engineer employed by a railroad company. Williams decided to become a writer for both newspapers and magazines, an effort that he became quite successful doing. He died in Pittsburg at the age of 72.
Other prestigious firearms from this collection include: Brass framed 1860 Henry repeating rifle serial #1109 in excellent condition; Model 1886 Winchester repeating rifle; pair of presentation Colt model 1851 Navy revolvers housed in their original pommel holsters presented to Colonel David Henry Williams of the 31st/82nd Pennsylvania Infantry on October 22nd, 1861. It also has the Presentation Colt model 1851 Navy revolver presented to Captain Joseph Ellis of the 19th/72nd Pennsylvania Infantry; Colt 2nd model Dragoon revolver; Colt 3rd model Dragoon revolver; factory engraved Colt 1849 pocket revolver; cased Colt 1849 pocket revolver (London). Cased Colt Model 1855 Root side-hammer revolver. Cased Colt Model 1862 Police revolver. Colt Single-Action Army revolver. Other Colt Army, Navy, Root, Dragoon and pocket revolvers in excellent and fine condition. Philadelphia Deringer (Peanut) single shot pistol.
Alderfer Auction has over 60, 19th Century carbines including Over 60, 19th Sharps (box-lock and slant breech), Spencer, Evans, Remington, Triplett & Scott, Jenks Navy Carbines, Sharps & Hankins Model 1862 (Both Navy and Army varieties), Muzzy, Trapdoor carbines (Model 1873 and 1884), Whitney Howard Thunderbolt, Gwyn & Campbell (Type I & II), Joslyn (1st and 2nd models), Maynard (1st and 2nd models), Ballard, E.G. Lamson & Co. Frank Wesson 2 trigger, Hall model 1836, Poultney & Trimble, Hall & North 1843, and many others. Many of the carbines are in excellent to fine condition.
US Swords round-out this 19th Century Collection, with Model 1850 Staff & Field Officers swords, Early 19th century Artillery officer saber, Early 19th century eagle head swords, Civil War cavalry sword with belt rig, Militia officer's sword, American Civil War belt plates and belt rigs. In addition, high quality 20th Century revolvers, pistols, military firearms, shotguns, rifles and antiques give the auction depth and expansive appeal.
At 8:00 PM EDT on August 18th, the Firearm Accessories & Ammo will provide a selection of ammunition, gun parts, accessories and gun safes, gun racks and related items.
The One-Day, Two-Auction Online Only Event of 19th & 20th Century Firearms is August 18th. The 19th & 20th Century Firearms will start to close at 12:00 PM EDT; and the Firearm Accessories and Ammo Auction will start to close at 8:00 PM EDT. View full catalog and bid at www.alderferauction.com.
---