Art History 101: Pennsylvania Impressionism & A Few of the Movements Stars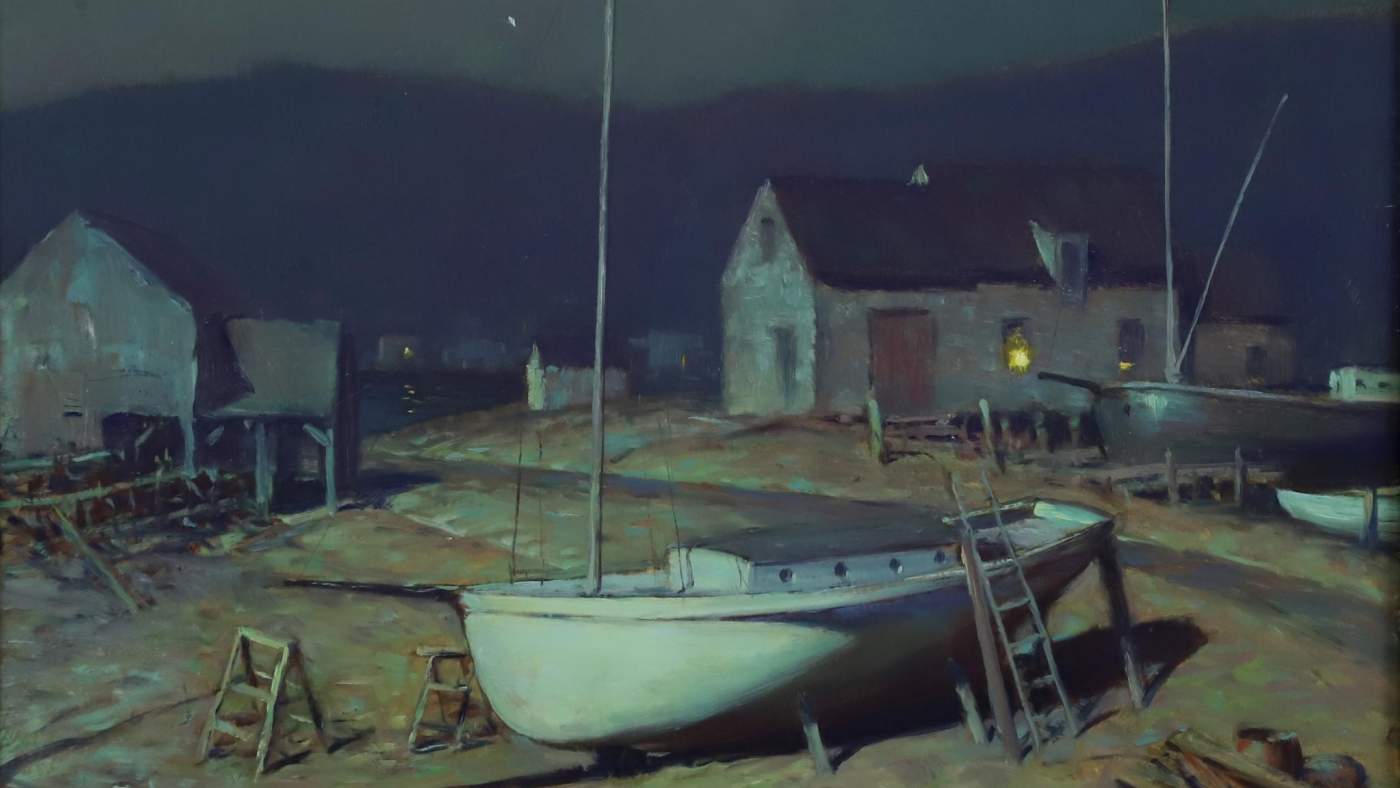 Alderfer Auction has deep roots of over 60 years in Bucks County and Pennsylvania Impressionist movement. Alderfer auction still holds the record for such fine artwork on AskArt for Walter E. Baum at $97,750.00 & for Geaorge Sotter at $264,500.00. The works created by the painters of that school and the demand for such masterpieces have never waned.
The movement began in the first half of the 20th century when landscape painter William Langson Lathrop moved to the town of New Hope in 1898 and founded a summer school for art. The beauty of Bucks county provided the ideal setting for creative inspiration bubbling up from the scenic views spanning as far as the eye could see. One by one fellow artists began to relocate themselves to the area and as more came in art groups were formed with various driving ideologies & artistic themes. One of these groups was termed the impressionists. The impressionists were painters that did not stay within the constraining box of main stream art that dictated artists to paint in a manner of traditional realism. Instead they created art by exploring the possibilities of their mediums & their imaginations. Like the French Impressionists, these artists focused on the quality of color, light, and the time of day. Practicing another French art innovation, the impressionists primarily painted in plein air, or out of doors. Painting in this way helped them to correctly capture movement & to be completely immersed in the subject they were painting.
The movement is often referred to as the "New Hope School" because artists in Bucks county & in New Hope especially, produced the most well known works. This can de deceiving though, as many works were painted outside of the town of New Hope. One of the well known artists of the time & a man whose work we feature continually in our Fine Art auctions is Walter E. Baum. He worked not only as an artist, but as a teacher & educator forming the Baum School of Art & the Allentown Art Museum. Because of Baum the influence of the movement expanded out of Bucks county & into the Lehigh Valley, specifically to the Allentown area. It is within this region that the movement continued to thrive well into the 1940's & 1950's. Art historians regard this group of the Pennsylvania Impressionists as the Baum Circle. You can find a number of pieces by Walter E. Baum in our Collector's day two auction: Fine Art, Décor & Furnishings.
The Pennsylvania Impressionist movement is one of the most important American Impressionist movements & it produced many iconic figures such as George Sotter & Henry Snell. It is said of the impressionists that they did not so much have a unified style, but that they cultivated the emergence of many distinctive artistic voices. However there is an underlying theme of practice with this style of art making which includes the use of thick brushwork & a continual focus on landscapes. Many of the movements painters studied at the Pennsylvania Academy of the Fine Arts & some would go on to be instructors at that iconic institution. Pennsylvania Impressionism hit its high point in 1915 when leaders such as its founder, William Langson Lathrop were achieving national fame & their practices were becoming the stuff of legend. It was at this time that Lathrop received a gold medal at the Panama-Pacific International Exposition of that year in San Francisco. It is important to note that as the movement grew in popularity & its artists flourished it was not only men rising to the forefront, but women took the spotlight as well. The best known women from the time were referred to as the "Last Ten." This group consisted of Fern Coppedge and M. Elizabeth Price from New Hope, as well as Nancy Maybin Ferguson, Emma Fordyce MacRae, Eleanor Abrams, Constance Cochrane and Theresa Bernstein. These women went on not only to exhibit as a group from 1917 to 1945, but to help bring more women into the movement.
Pennsylvania Impressionism married the style & ideology of French Impressionism with American Impressionism. Though it remained more "American" then other impressionist movements happening throughout America at that time. It stayed rooted in its focus of landscapes & retained the careful draftsmanship that most of its practitioners had learned at the Pennsylvania Academy of the Fine Arts. It is a hybrid of French & American ideas & not so much a full adoption of European ideas of the time. Through its artistic practices it helped Americans gradually become familiar with many of the new artistic ideas coming from Europe in the late nineteenth & twentieth centuries.
Beyond Walter E. Baum, we have three other prominent Pennsylvania Impressionists works featured in our Collectors day two auction. First we have two paintings by George Sotter. Born in Pittsburgh, PA in 1879 George Sotter began his artistic career as a stained-glass worker and transitioned into one of the most prolific artists of the Pennsylvania Impressionist movement. While living & attending school in Pittsburgh, Sotter studied the smoke of the Steel Mill stacks, taking in the nuances of the movement & turned that fascination towards higher billows – clouds. This became a signature specialty of his, along with his night scenes that shine with his other features of note: candle lit windows, shining moonlight and stars. Sotter studied & exhibited at the Pennsylvania Academy of the Fine Arts and went on to work with the New Hope School of artists. Sotter died at Holicong, Pennsylvania in 1953. Both paintings available in this auction are of his famed night scenes & were previously exhibited at the Michener Art Museum in Doylestown, PA.
In our current auction we have an oil on board, "Gloucester", SLR. Winter evening landscape of the fishing village on a quiet, starry night. The piece measures 16"h x 20"w and 19.5"h x 23.5"w framed. As well as another oil on board, "Fishing Village by Moonlight", SLR. Evening landscape of a fishing village, with the central focus being a dry docked sailing ship under repair amongst the other trappings of the village. The piece measures 22"h x 26"w and 30.5"h x 34"w framed.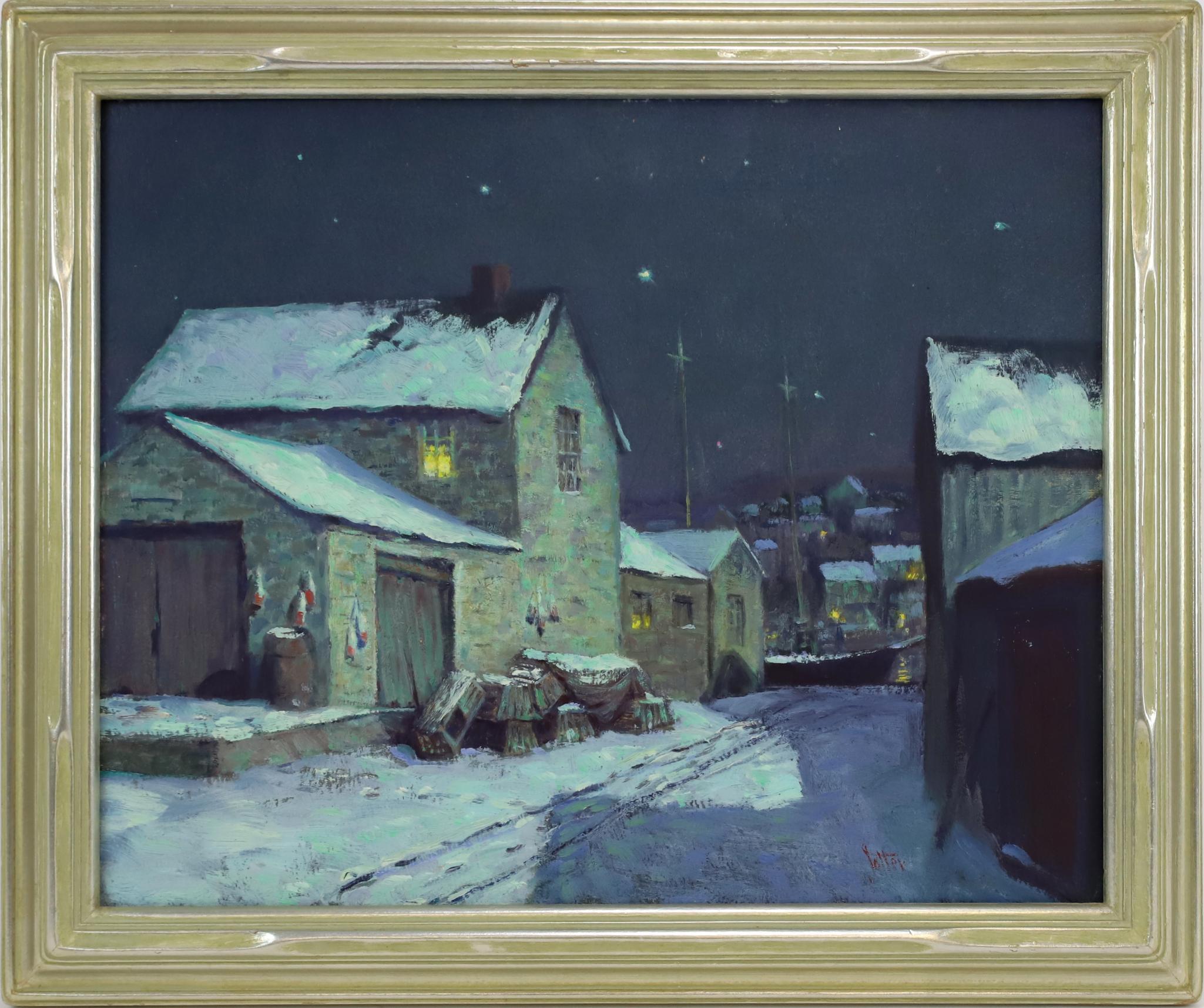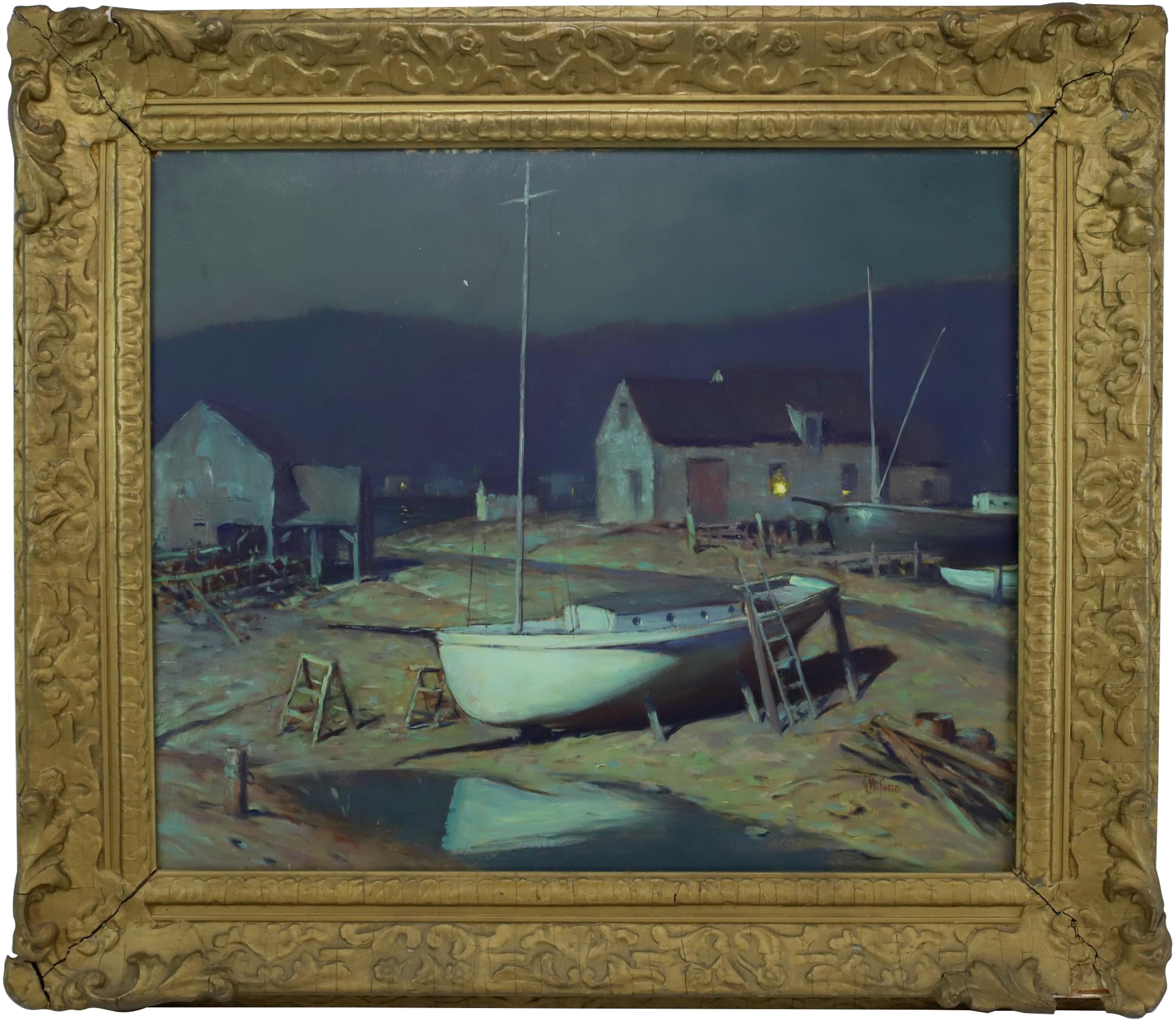 Charles Hargens was born in Hot Springs, South Dakota in 1893. He began drawing at the age of six and was a "successful" artist by age ten – selling drawings of neighbor's barns & houses for $25. Hargens would go on to attend the Pennsylvania Academy of the Fine Arts. Throughout his rich & long life – Hargens lived to be 103 years old, he knew great success as an illustrator creating book jackets, magazine illustrations and advertisements for the likes of Stetson Hat Company, Coca-Cola, The Saturday Evening Post and other famous publications of the time. Hargens moved to Carversville in Solebury Township, Bucks County, Pennsylvania, where he lived the rest of his life. In 1997 Alderfer Auction had the privilege of liquidating the estate of C. Hargens. He was a member of the Society of Illustrators, the Philadelphia Sketch Club and a Boy Scout Leader. His legacy lives on as an illustrator and Pennsylvania Impressionist painter with his many works. This iconic oil on canvas, "Washington Crossing, 1776", SLL. George Washington on the evening of his infamous crossing. Was previously exhibited at the Michener Art Museum. The piece measures 21"h x 40"w and 26"h x 45"w framed.
Finally, we have Henry Bayley Snell. Snell was born in 1858 in Richmond, England. He came to the United States at the age of 17 and began painting in the New Hope area of Bucks County Pennsylvania in 1900, moving there around 1926. He was a part of the New Hope Impressionist School & taught until 1943 at the Philadelphia School of Design for Women. Known for his landscapes Snell was a traveler who loved to paint the scenery of the places his expeditions took him. His best-known works branch out from the New Hope area to coastal scenes of Cornwall, England, Gloucester, Massachusetts, and Boothbay Harbor, Maine. In 1921 he co-founded the "Boothbay Studios" in Boothbay Harbor, Maine which operated as a summer school. Snell died at the age of 84 in 1943 in New Hope, Pennsylvania.
His featured painting is an oil on board, "Boothbay Harbor, Maine", unsigned. Dock landscape overlooking a harbor. On loan to the Michener Art Museum. The piece measures 27"h x 29"w and 29"h x 33.5"w framed.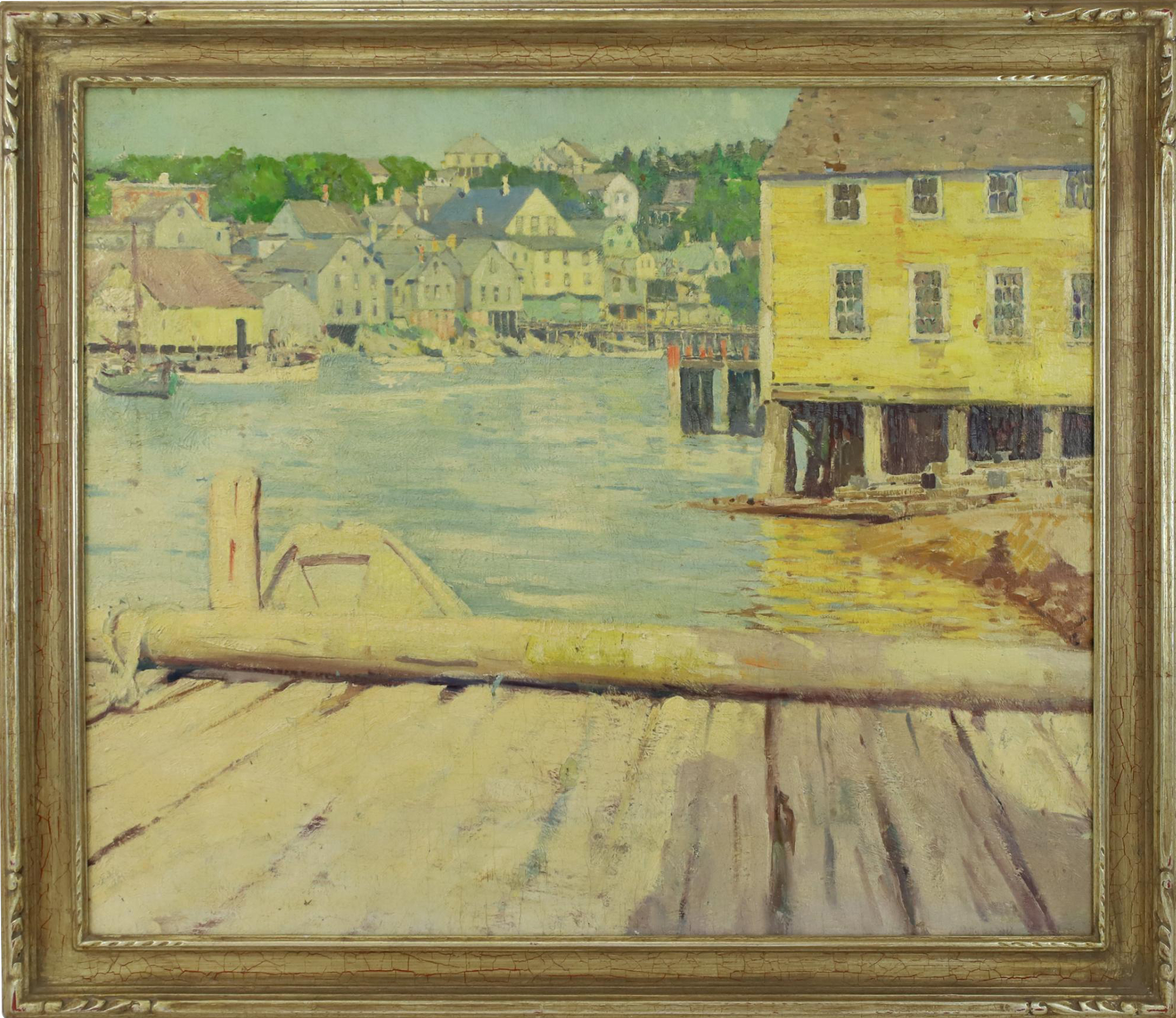 Alderfer has been built on impeccable personal, professional and community ethics. Our professionals have knowledge of fine art including Pennsylvania impressionists, decorative accessories, period furniture, jewelry, antiques, firearms, militaria, coins, stamps, dolls, books & ephemera, collector automobiles and many various collections. Bridging the past with today's technological world, Alderfer offers online bidding and worldwide marketing while maintaining its unrivaled local customer service. Please contact us to talk about consigning your Pennsylvania Impressionist pieces or any other item you may be looking to bring to auction.
---