Beautiful Rather Than Useful | How Do We Define 'Fine Art'?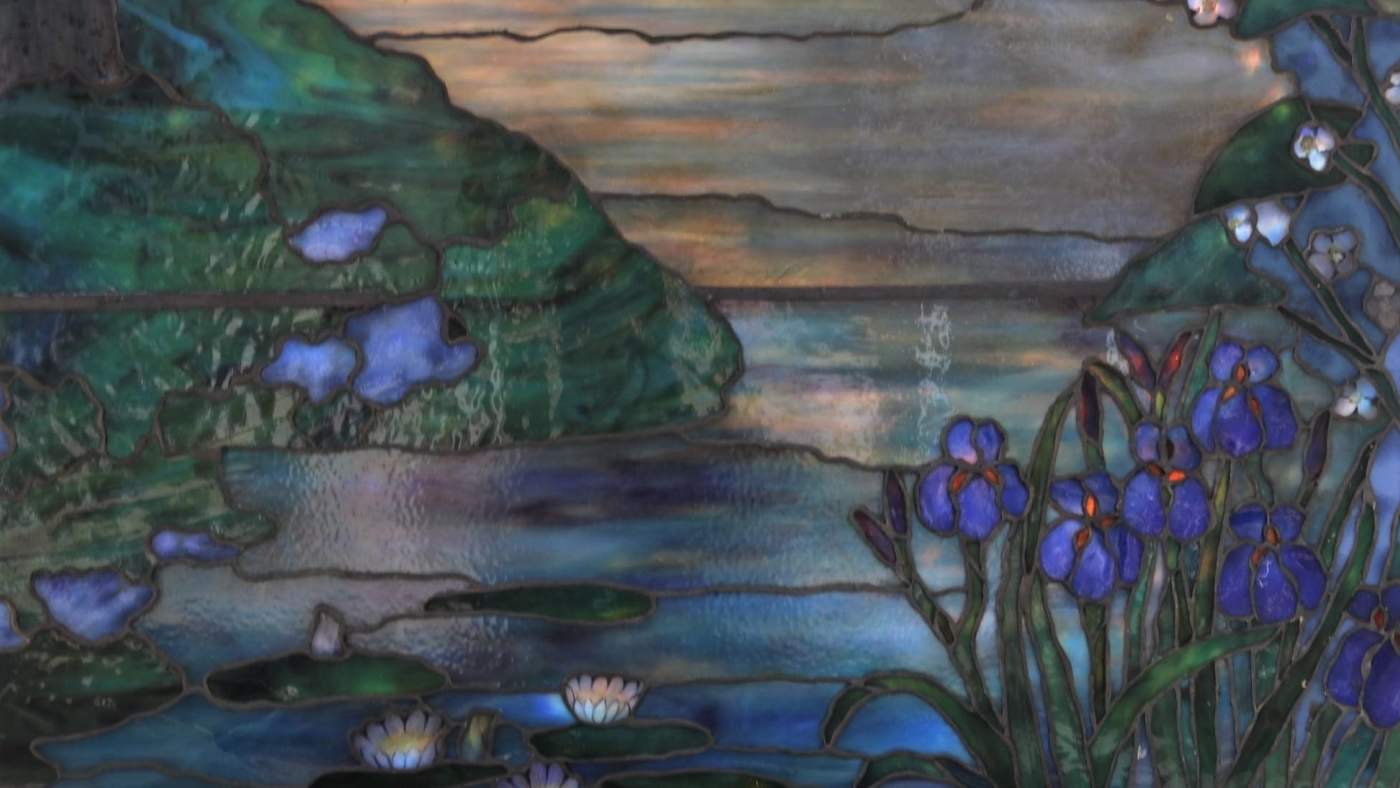 Detail view of Slag and stained-glass window, Sales Price: $117,000.00 Alderfer Auction
For over 25 years, Alderfer Auction has published a catalog of "Fine and Decorative Arts" offering a variety of beautiful artwork, fine porcelain, period furniture, and other decorative pieces. Our specialists work tirelessly to curate these auctions to fit our fine art criteria. But what constitutes a piece of artwork as "fine?" How does Alderfer's spot these high-end pieces for their catalog auctions?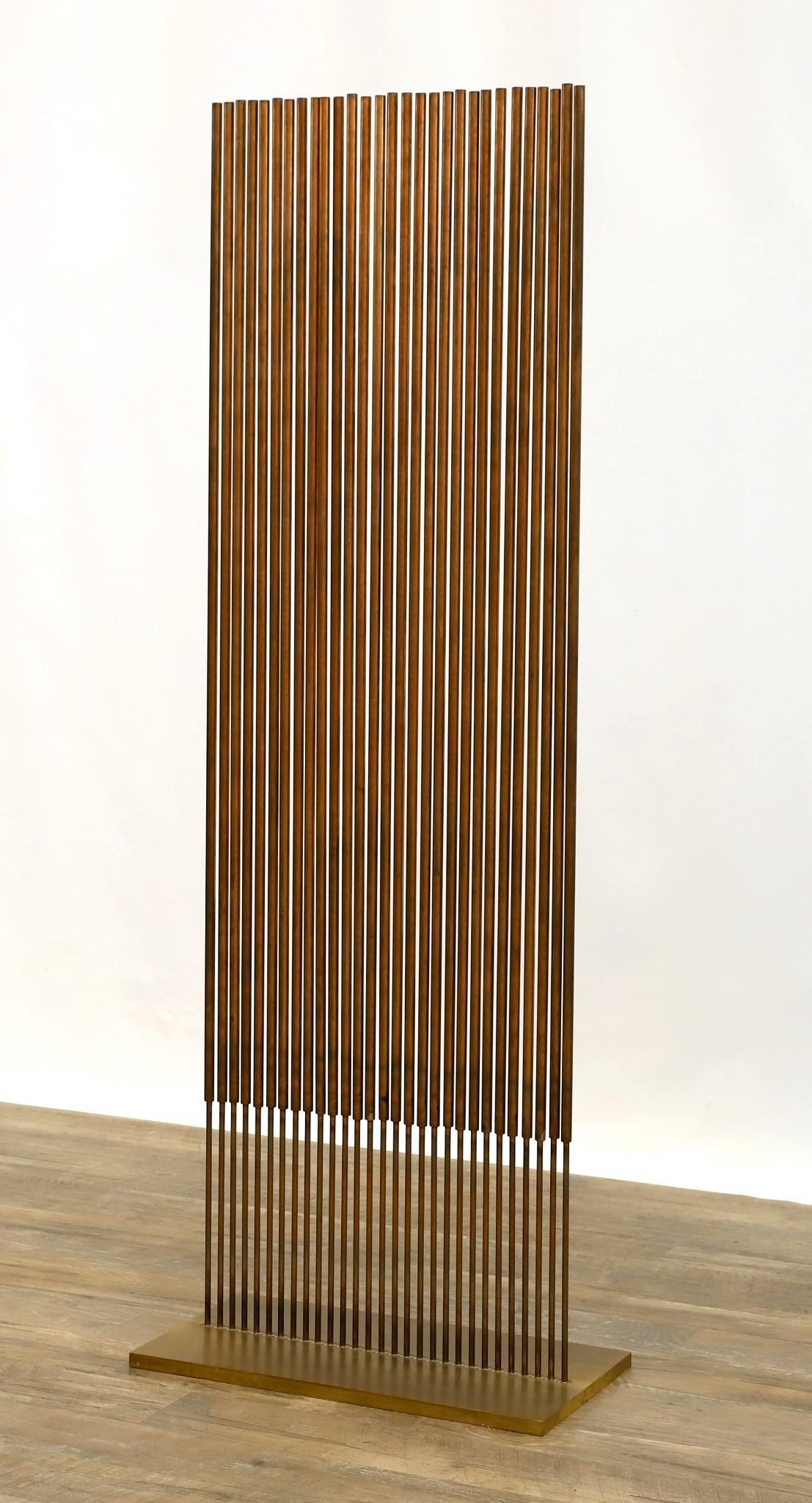 Harry Bertoia (1915-1978) Bronze, Beryllium and Copper, "Sonambient" Sculpture. Sales Price: $84,825.00 Alderfer Auction
The traditional explanation of fine art defined by Oxford Learner's Dictionaries is "Forms of art, especially painting, drawing, and sculpture, that are created to be beautiful rather than useful." If this is the case, there are hundreds of items that come through Alderfer's doors which could fall under this definition. However, how does one determine if a piece is going to be significantly more valuable than others? "Scarcity is important," says Christian Answini, Alderfer's Senior Fine Arts Specialist, "it's important to look at the quality of the piece as well as the artist."
Answini used the example of two Walter Emerson Baum paintings, a well-known Bucks County Impressionist that Alderfer's currently holds the auction record for. "I want to see that the artist spent a lot of time on a piece." Baum is a highly regarded artist but different works could translate to different values. For instance, we could have two different works by Baum but one shows a more interesting subject with more emotion and detail while the other could be a brief study by the artist, rather than a finished painting. These two works, even though they are from the same artist, will bring different hammer prices at auction.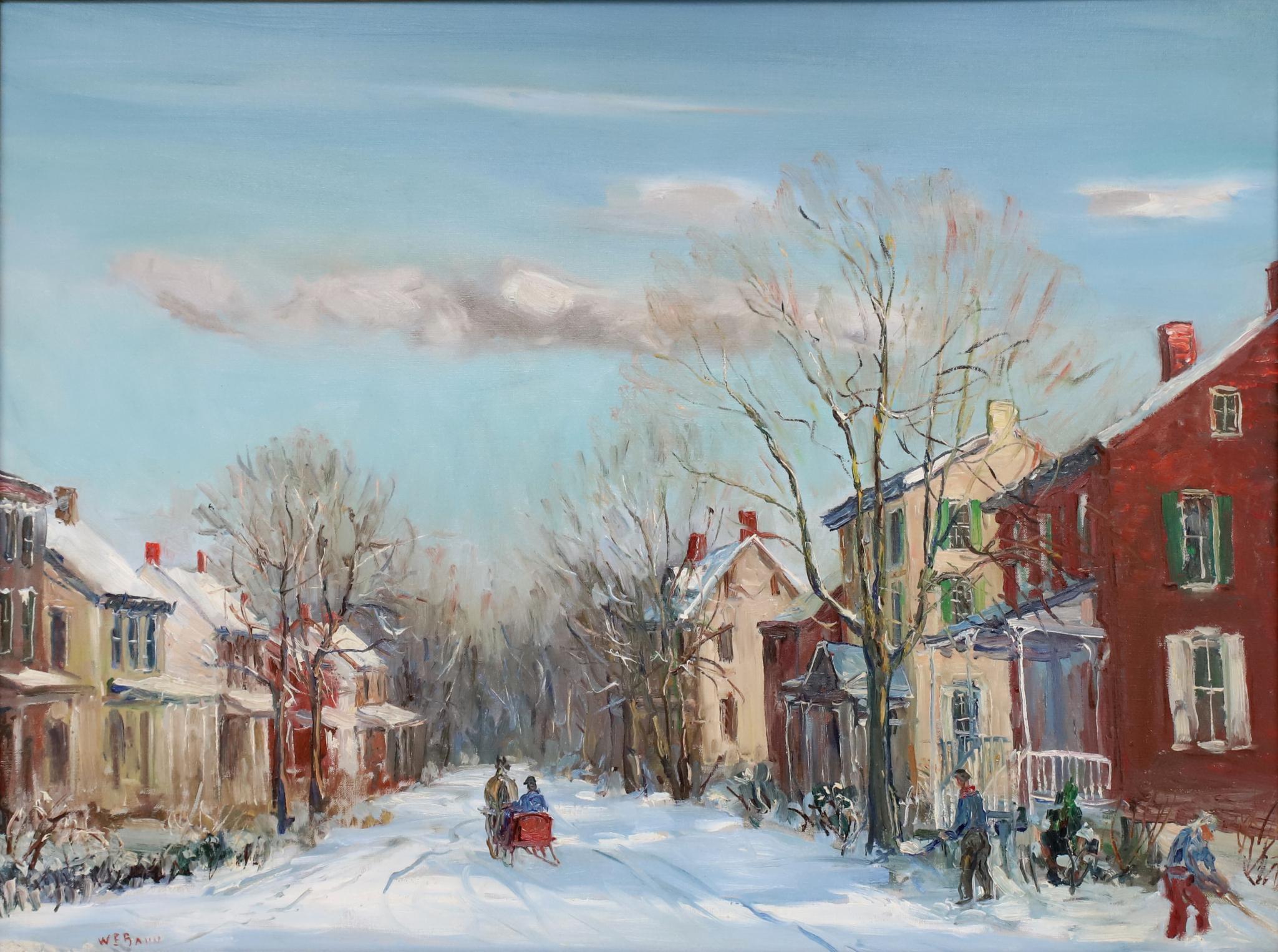 Walter Emerson Baum (1884 - 1956) Oil on canvas, "Christmastime." Sales Price: $27,000.00 Alderfer Auction
Brent Souder, Alderfer's Sales Director, Auctioneer, and Appraiser considers the question of fine art. He stresses the importance of knowing who the artist is. In his opinion, fine art could be any "artwork that is created by a trained or naturally gifted artist, one who is able to express themselves through imagination and aesthetic content." Past sales records are also something that both Answini and Souder stress as important factors. Souder states that the artist traditionally should have "established a pedigree of works through show and sale."
This idea of quality vs quantity translates to all commodities. Furniture in particular is valued for its condition, craftsmanship, and style. In recent years, there has been a rise in interest for 20th Century and Mid-Century Modern furniture, particularly pieces made by noted designers such as Paul McCobb, Ray Eames, George Nakashima, and Harry Bertoia to name just a few.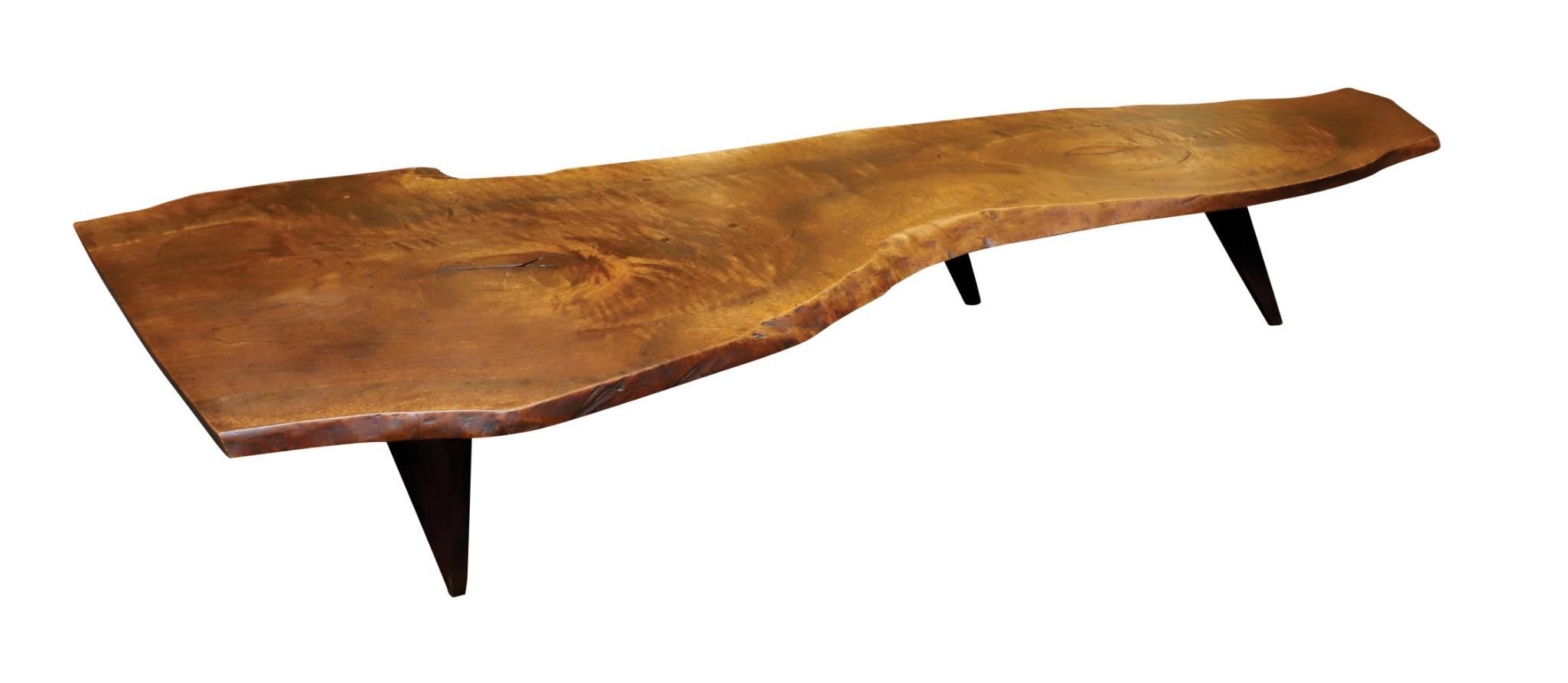 George Nakashima (1905-1990) Walnut Freeform Coffee Table, Sales Price: $18,720.00 Alderfer Auction
Changing interests in art and commodities is no surprise, however. Souder reflected on how Alderfer's has been including automobiles of distinction, luxury or rarity in their fine arts auctions.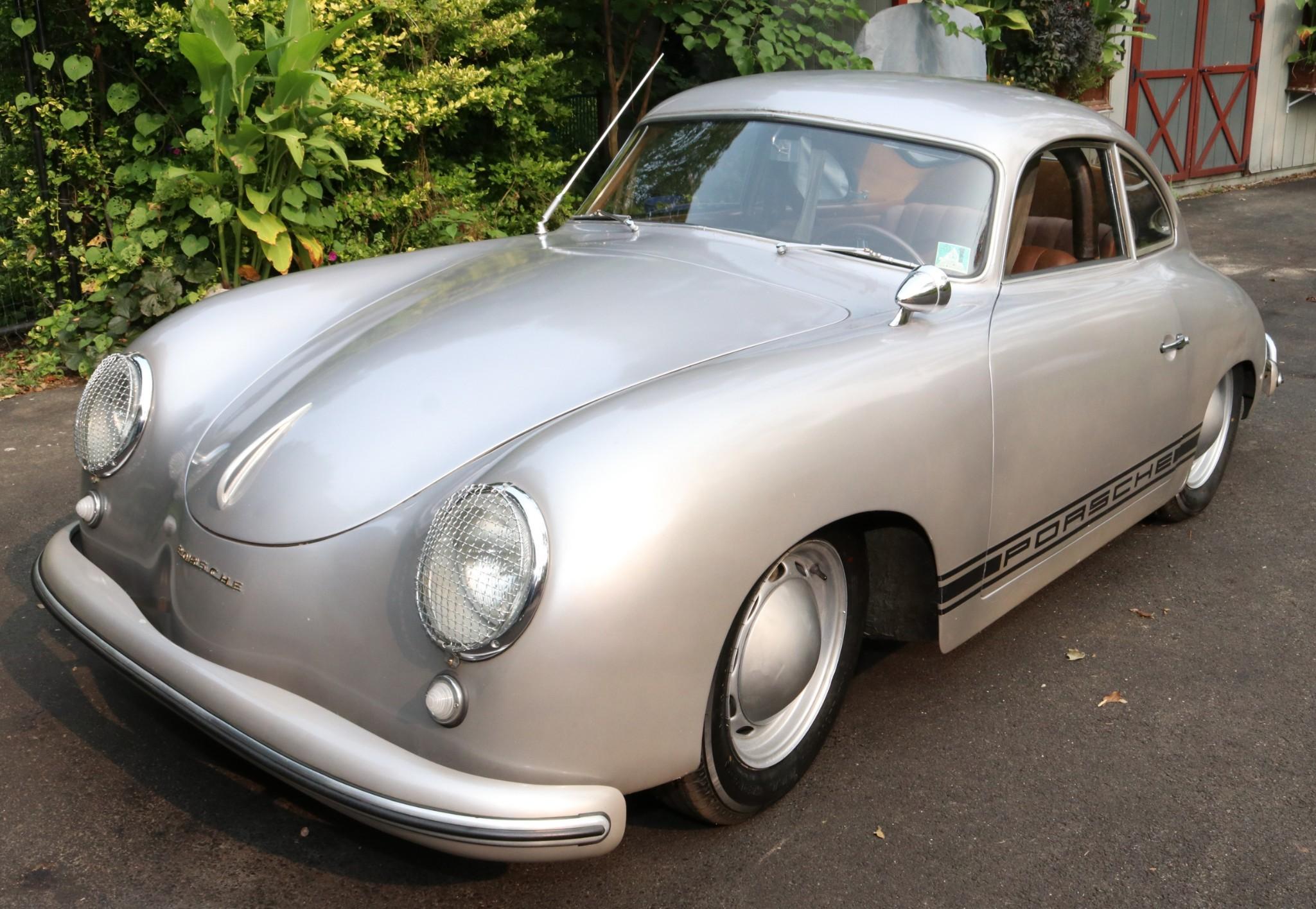 1953 Porsche 356 Pre-A, Sales Price: $117,600.00 Alderfer Auction
Answini commented on other rare items being sold at auctions worldwide which are further muddying the waters of 'fine art'. Sotheby's is presenting Kanye West's Sneakers, which are expected to break the previous sneaker record set by Michael Jordan's Nike's, which sold for $615,000 last year. In a statement made by Sotheby's on Instagram, they describe the sneakers as if they were a work of art with significant provenance:
"Kanye West 'Grammy Worn' Nike Air Yeezy 1 Prototypes, the iconic sneakers worn during the artist's memorable and emotional performance of 'Hey Mama' and 'Stronger' at the 50th Annual Grammy Awards in 2008. The pair introduced the Nike Yeezy to the world, redefining what a signature shoe could be. Created exclusively for Kanye, the Air Yeezy was an entirely new silhouette – designed for an artist rather than an athlete – and paved the way for many of the artist collaborations of today."

Kanye West 'Grammy Worn' Nike Air Yeezy 1 Prototypes, Image by Sotheby's
Can sneakers be 'fine art?' Souder claims for all fine art, (practical or not), that "art is decorative, it can be admired for the composition, the creator, the history, the story, or the investment." For most of the world, the story behind these sneakers is what makes them valuable. The argument could be made that these sneakers rose to fame because of technology and social media. What other items are gaining popularity because of social media and technology?
Answini discussed the recent sale at Christie's for an NFT (Non Fungible Token), a completely digital work of art created by Beeple (Mike Winkelmann). In an article published by Christie's, the auction house is clearly trailblazing into this new realm of digital art:
"Marking two industry firsts, Christie's is the first major auction house to offer a purely digital work with a unique NFT (Non-fungible token) — effectively a guarantee of its authenticity — and to accept cryptocurrency, in this case Ether, in addition to standard forms of payment for the singular lot."
The digital work realised $69,346,250.00. Evidently, the definition and sales of fine art is being transformed by the internet. More and more buyers and sellers are utilizing online sales and auctions. One of the popular international online auction platforms, Invaluable, has this statement under their 'Fine Art' category: "Fine art, a traditionally opaque and fragmented market, is now more transparent and democratic than ever before. As fine art sales soar, buyers and sellers are also becoming more familiar and comfortable with art sales' slow but steady digital migration."
Even though trends will ultimately change and the world of digital art is offering an entirely new perspective on buying and investing in art, fine pieces of artwork and design will always be with us. Souder anticipates that art is here to stay. "[art] can be cyclical, but art has always been created, collected, admired and invested in and that will never change!" When talking about art as an investment, Answini encourages anyone looking to diversify their income to consider fine art as an asset. "You can buy what's popular but I recommend buying what you like!"
In an article written by Kooness, the leading marketplace for art galleries, they conclude that "fine art does actually have one 'function'… and that's to exist and be appealing, alluring, splendid, dazzling, delightful, elegant, exquisite." Just because fine art has traditionally been considered beautiful rather than practical, there are practical implications to filling your home with beautiful and aesthetically pleasing works that bring joy to your life and others around you. Explore the possibilities with us as Alderfer's continues to offer quality 'fine art.'
Written by Hayley Schaffer
---