Artist Spotlight | Antonio & Giovanni Martino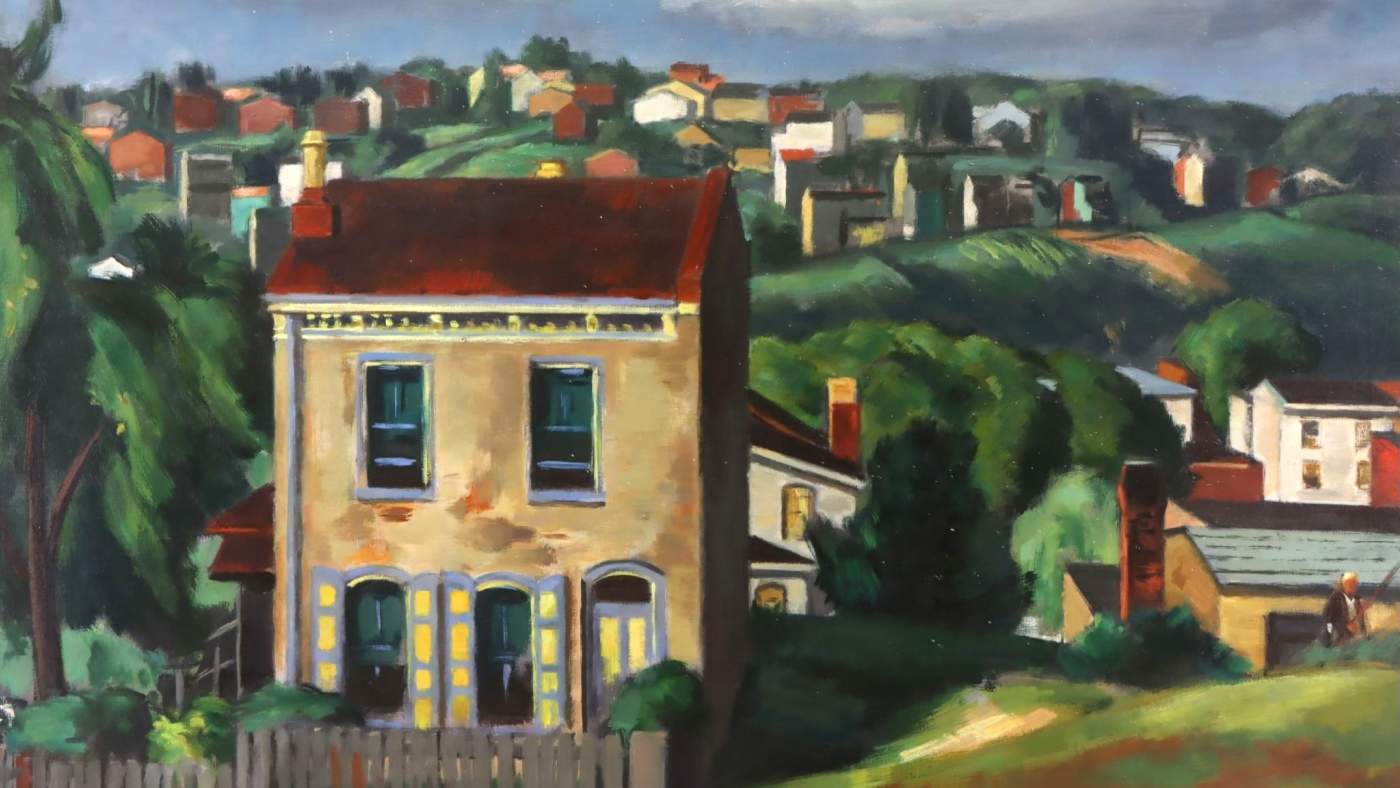 Artist Spotlight | Antonio & Giovanni Martino
In Alderfer's upcoming Fine and Decorative Arts Auction - Day 3, taking place on Thursday, September 29, 2022 at 10 a.m., there will be paintings by members of the same family, a tale of two brothers, Antonio Pietro Martino and Giovanni Martino.
The story begins with their parents, Carmine and Clementina, who immigrated to the United States in the late 1800's. They settled in South Philadelphia where they began raising their family of 7 sons and 2 daughters. Carmine was a stonecutter, an artist in his own right, who helped build both Bryn Athyn Cathedral and the Pitcairn Family's Glencairn Mansion in Bryn Athyn, Pennsylvania.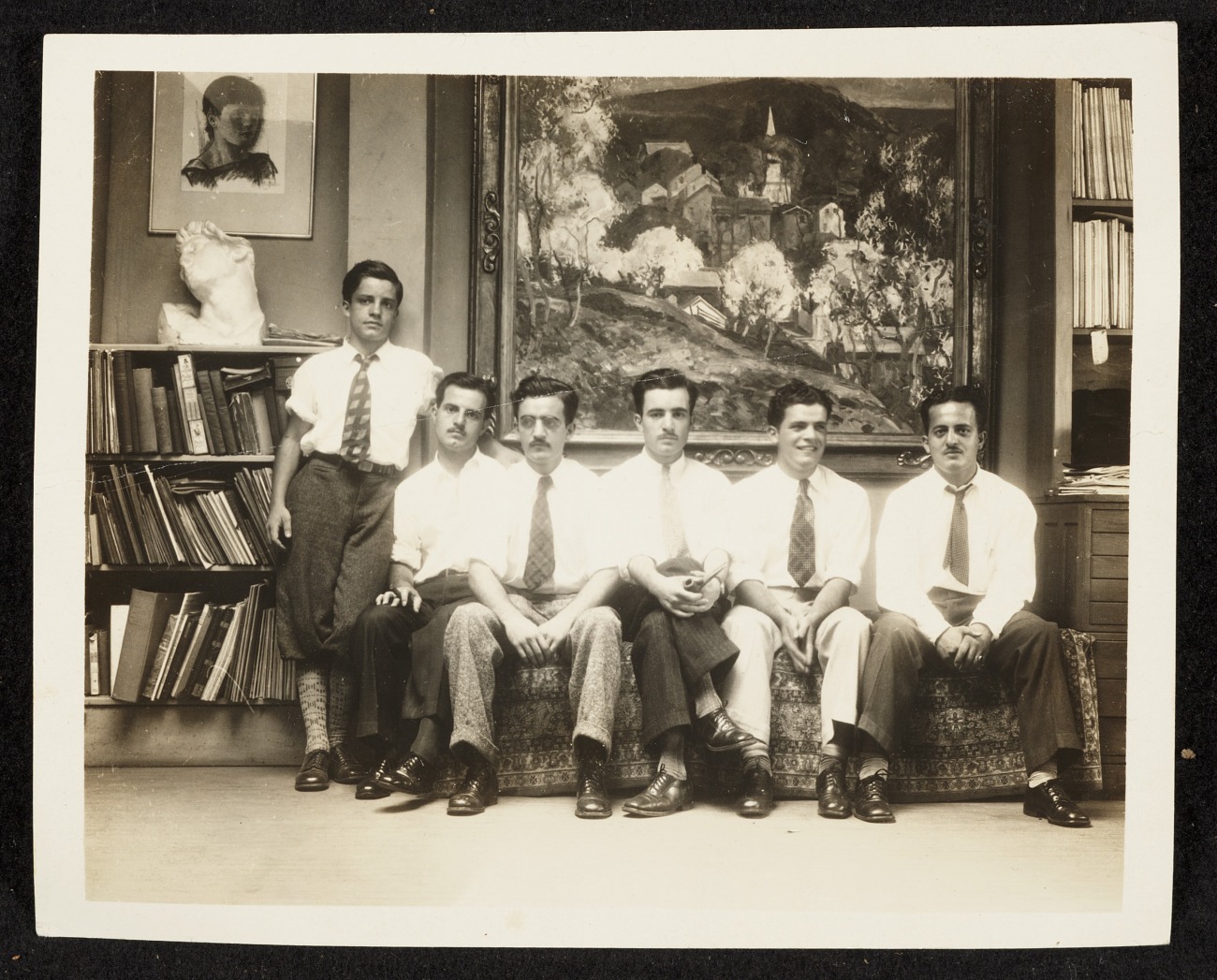 The Martino brothers, left to right, Edward, Albert, Giovanni, Antonio, William and Ernest, c. 1929. Photo credit: Woodmere Art Museum
All seven of the Martino brothers developed an interest in art. Antonio Pietro Martino (1902-1988) studied at the Graphic Sketch Club, Pennsylvania Museum School of Industrial Art (now The University of the Arts), Spring Garden Institute and La France Institute. He was showing his work at the Pennsylvania Academy of Fine Arts at age 23.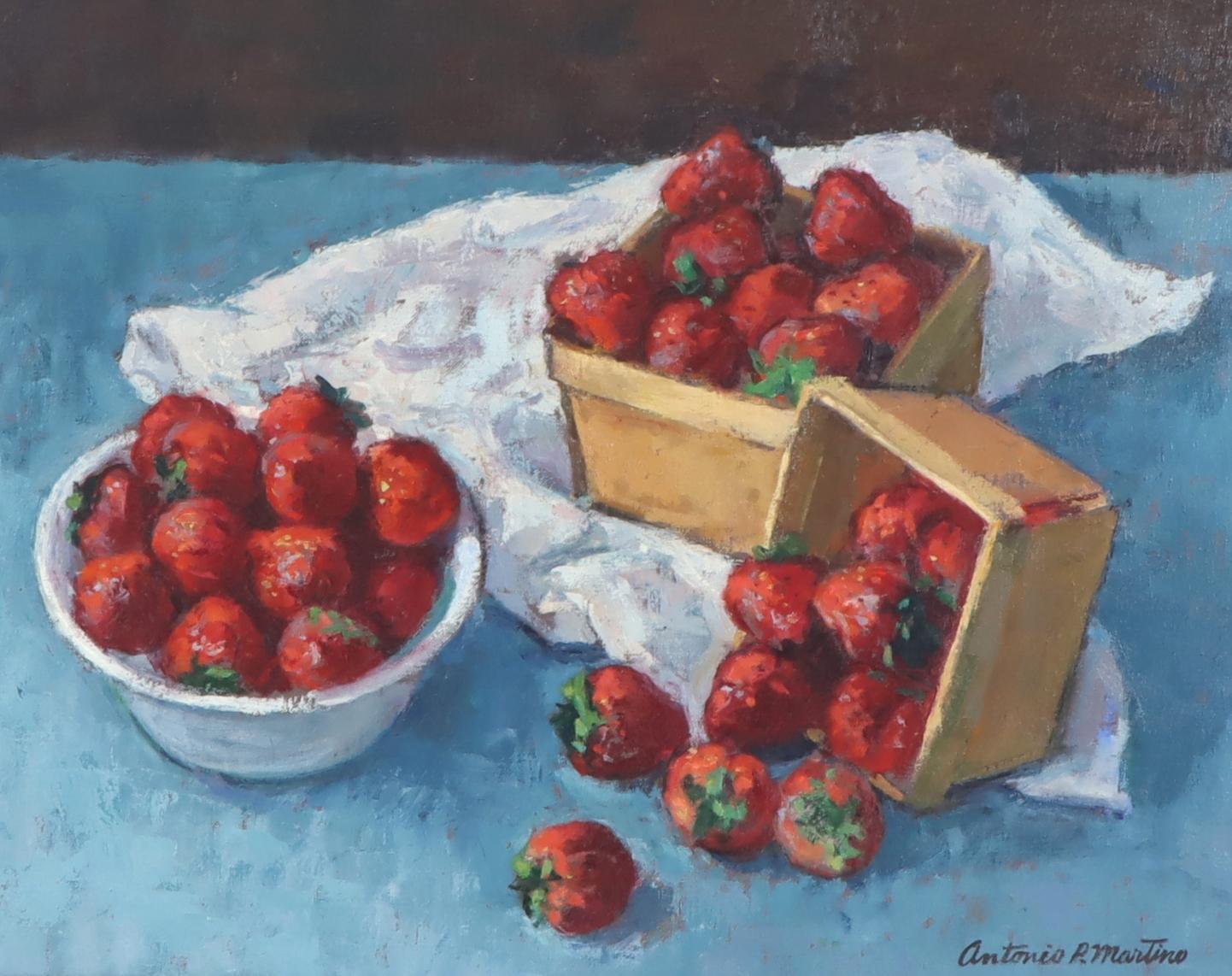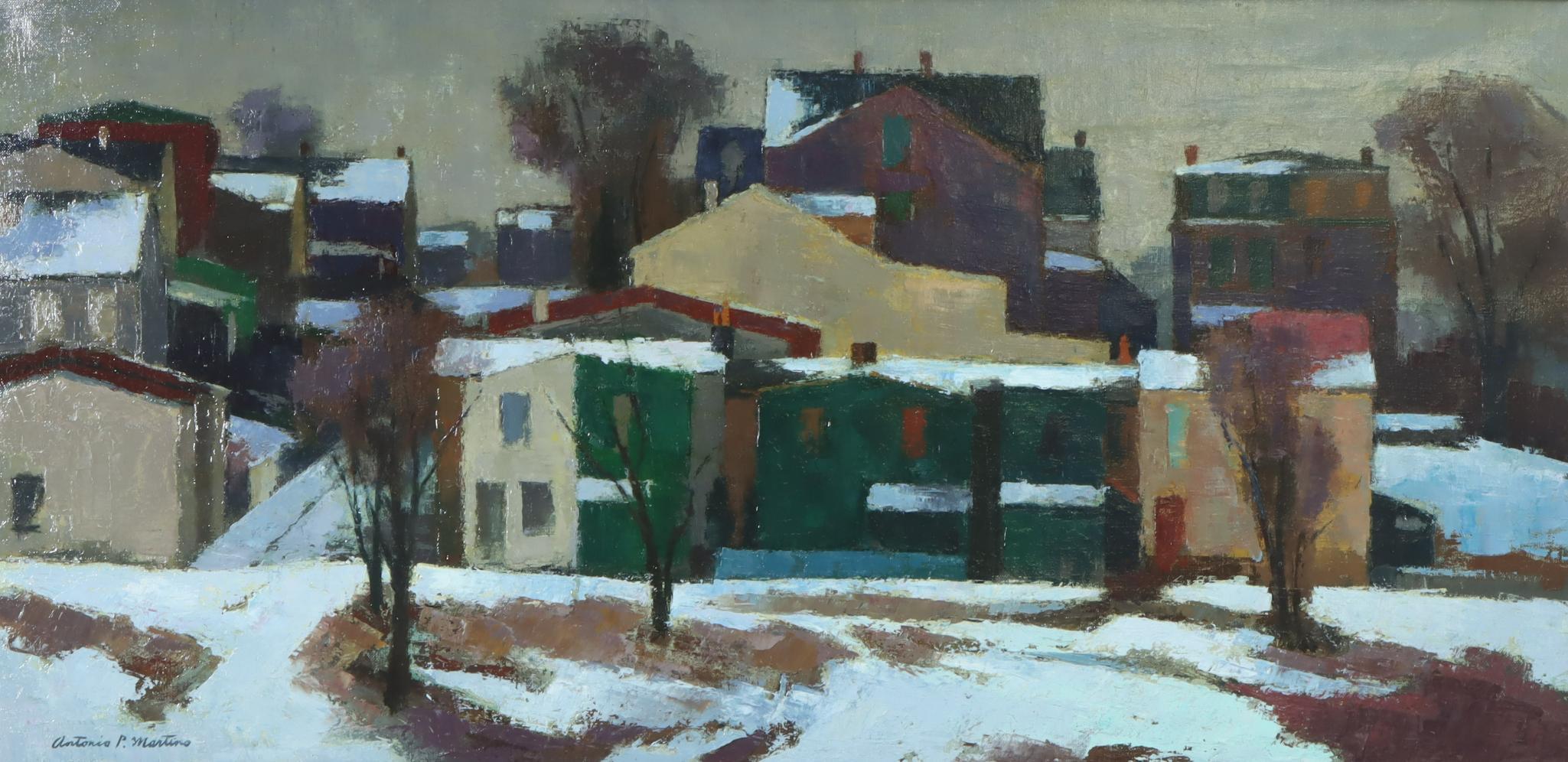 Antonio P. Martino, Featured Left: Strawberries, oil on canvas (16"h x 20"w; 24"h x 28"w framed) Feature Right: Gray Day, Manayunk, oil on canvas (10"h x 20"w and 16"h x 26"w framed)
His early work shows a strong Impressionist influence, using a thick impasto technique. In the 1930's, he began experimenting with rich colors, reminiscent of Edward Hopper's pieces, a prime example of the work coming out of the Philadelphia art scene. He earned over 80 awards during his career including 5 prizes from the National Academy of Design. He has his work included in the permanent collections of prominent institutions such as the Metropolitan Museum of Art, Whitney Museum of American Art, The Art Institute of Chicago, Carnegie Institute and Corcoran Gallery of Art.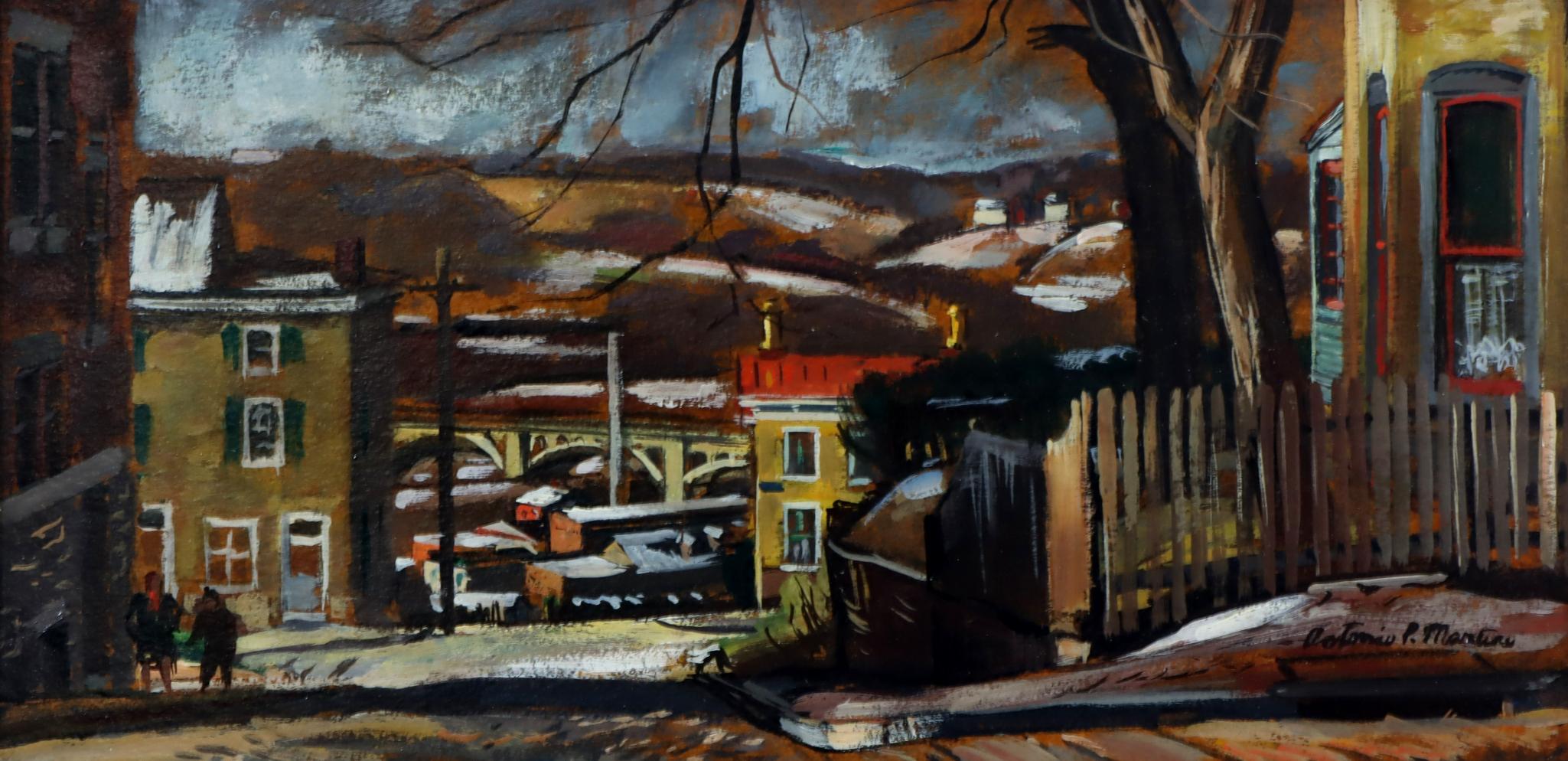 Antonio P. Martino, Winter Manyunk, oil on board (10"h x 20"w and 16"h x 26"w framed)
Giovanni Martino (1908-1997), who signed his artwork, M. Giovanni, to be recognized separately from his older brother. His wife, Eva, daughters,, Nina and Babette were all successful artists. Giovanni began his art instruction at the Philadelphia Sketch Club, The Art Club of Philadelphia in and many of the same instituttions as his brother. From 1941-1970, he worked and taught at The Martino Studios, located in South Philadelphia. He had a successful career and also has his work in permanent museum collections throughout the United States.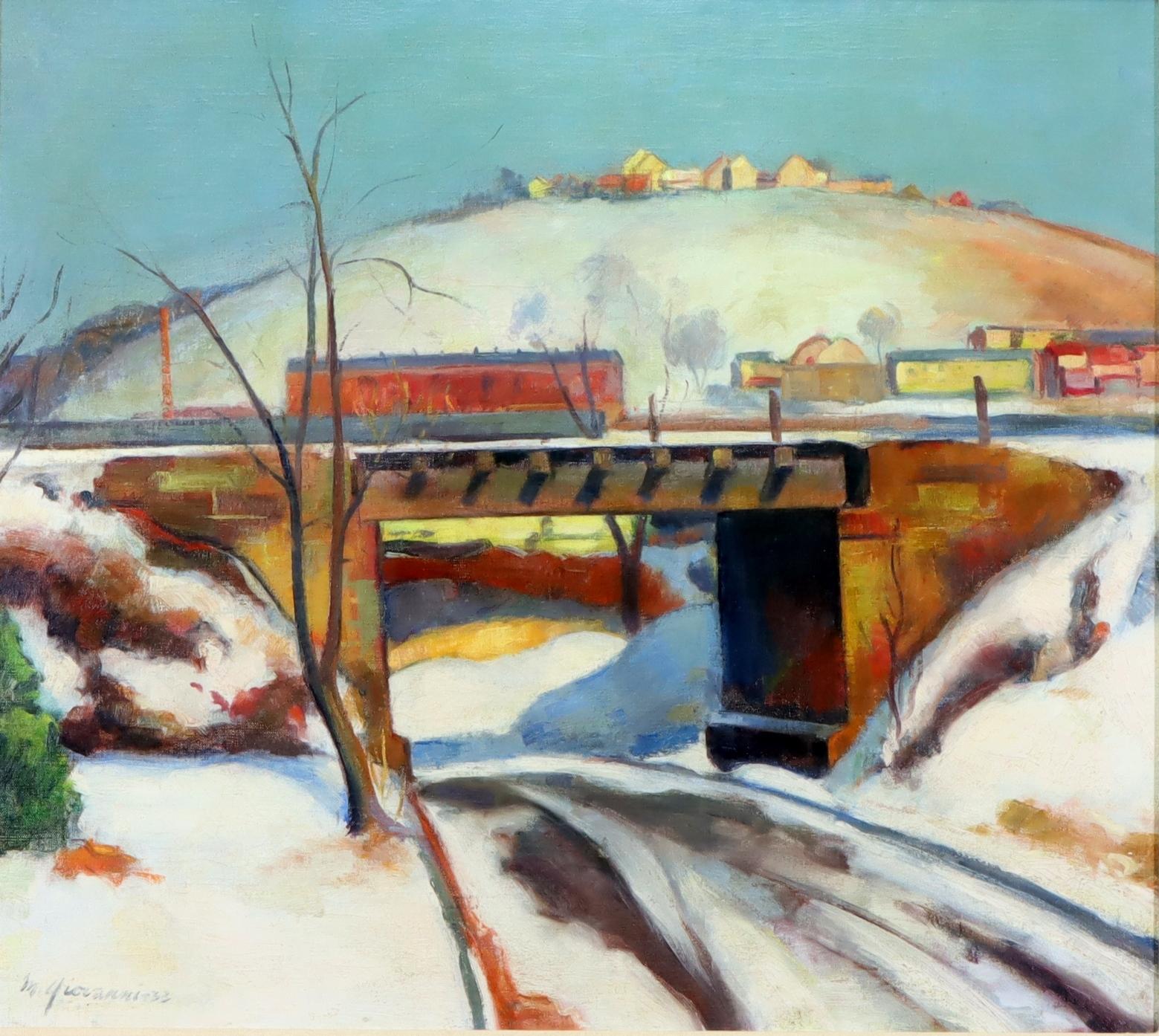 Giovanni Martino, Hagy's Ford, Looking Toward M, oil on board (25"h x 28"w and 33.5"h x 36.5"w framed)
Both Antonio and Giovanni would travel to Bucks County, Pennsylvania, specifically the New Hope and Delaware River areas. They enjoyed painting landscapes in Bucks County and in the Manayunk section of Philadelphia. In 1926, at the Sesquicentennial International Exposition in Philadelphia, Antonio's work was exhibited and earned him a bronze medal awarded by a 9 member jury, including Bucks County Impressionists, Daniel Garber and Edward Redfield. In 1971, Antonio moved to Thousand Oaks, California with his family and began to paint seascapes.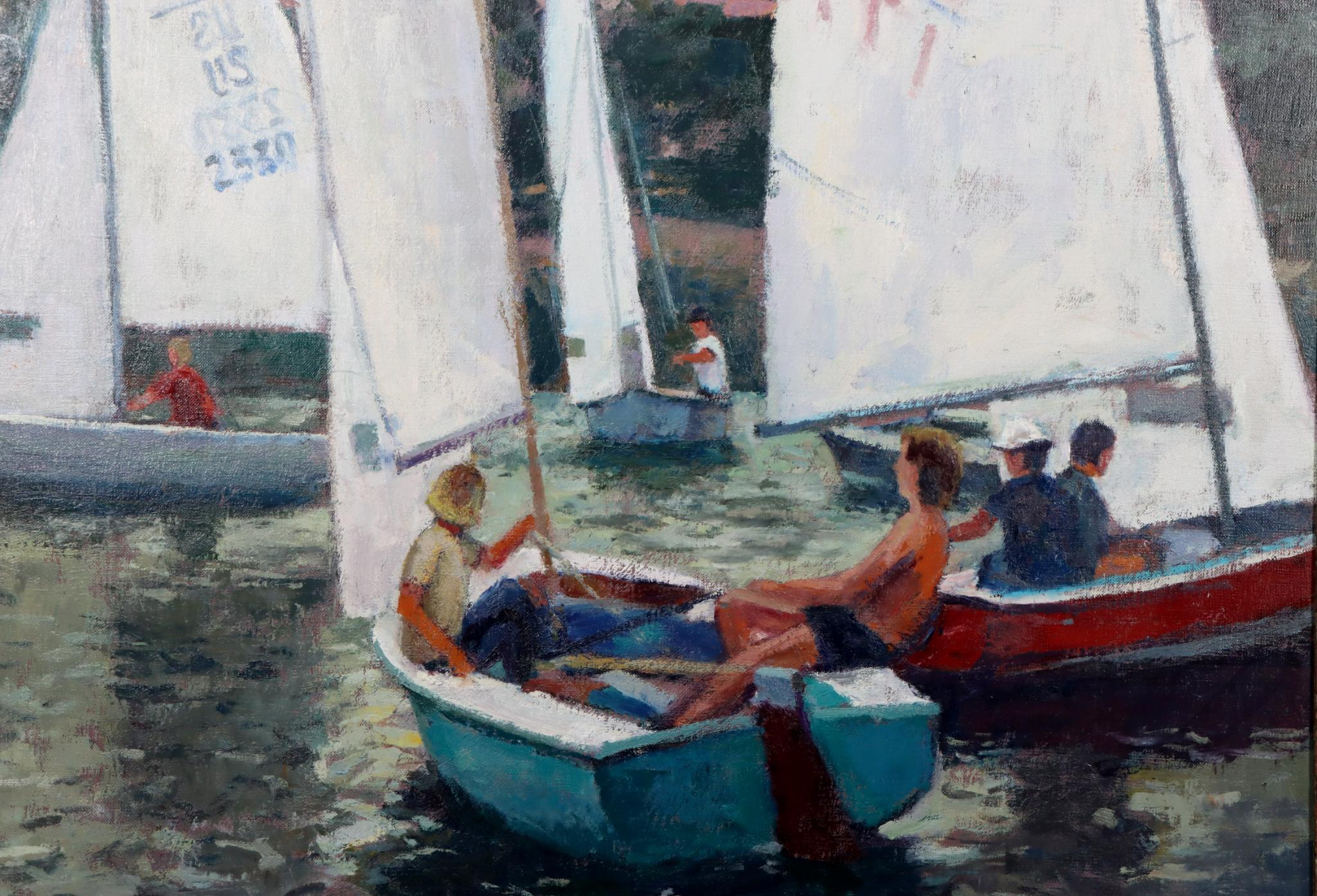 Antonio P. Martino, July Regatta, oil on canvas (20"h x 24"w 27"h x 31"w framed)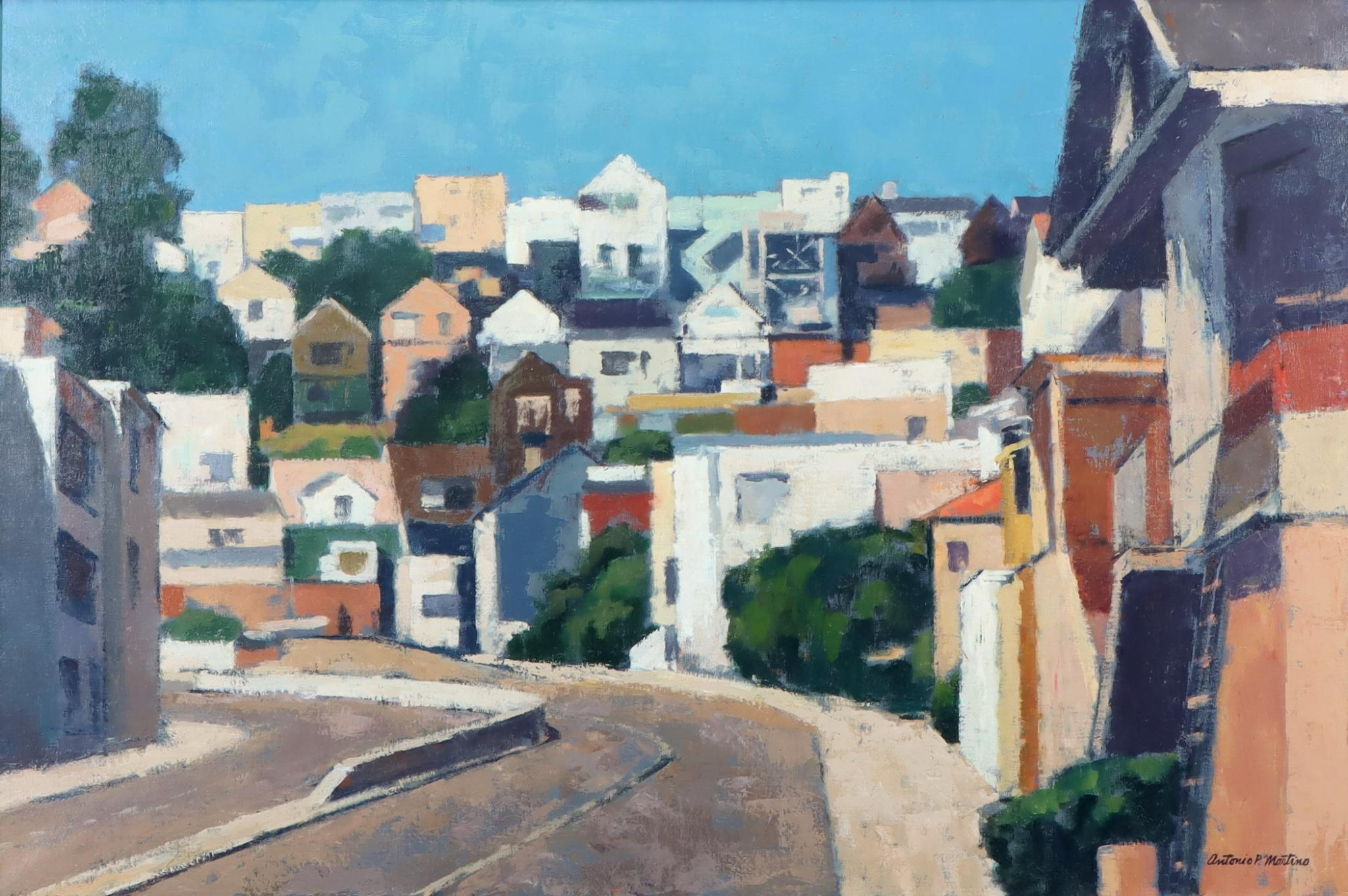 Antonio P. Martino, San Francisco, oil on canvas (24"h x 36"w and 32"h x 44"w framed)
---