Alderfer Auction To Sell Smallsea Museum Collection of Miniatures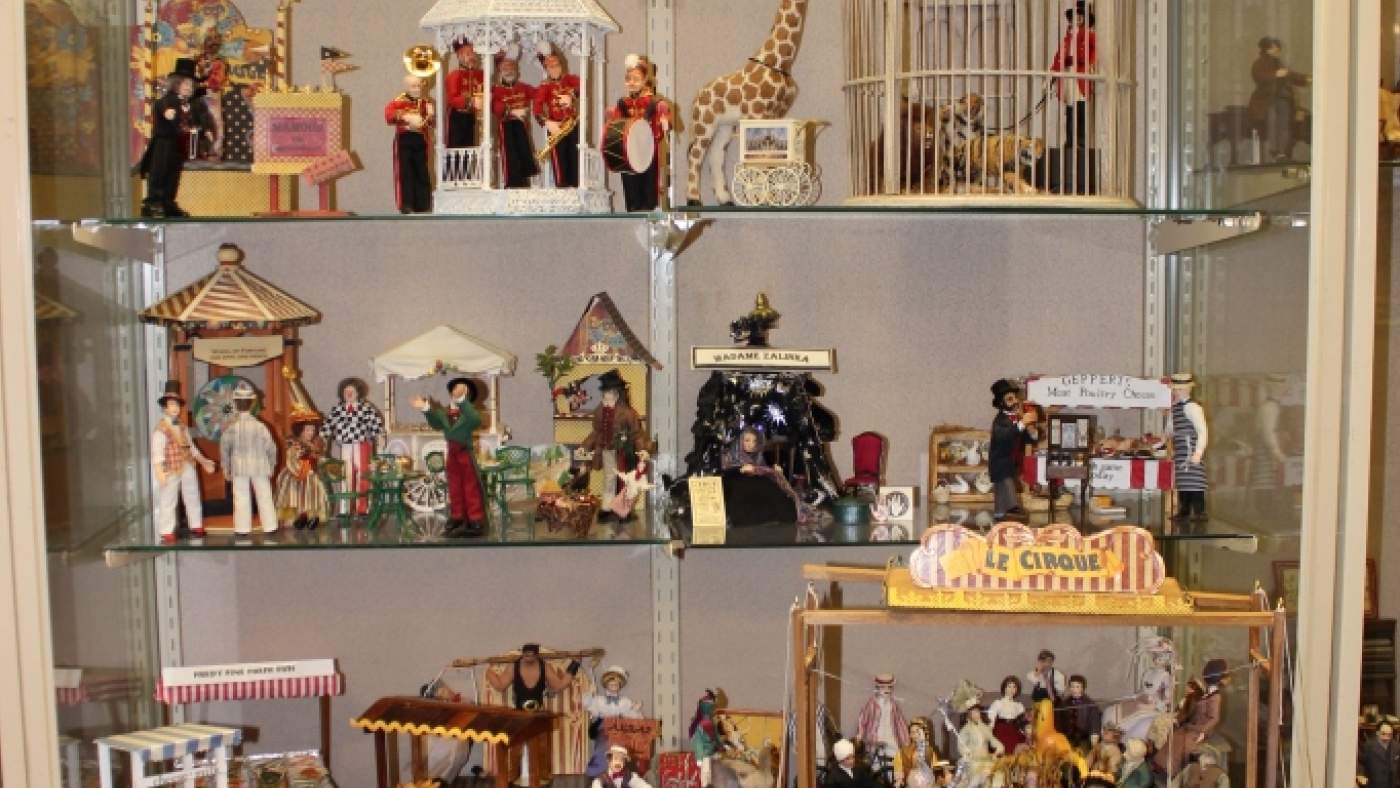 This collection of 25+ years, features 1,000 pieces of furniture and accessories, 40 custom buildings, 500 dolls, 25+ automobiles, carts and carriages. Artists are represented in the Smallsea Collection are from all over the world and span the decades.
The Smallsea Museum was famous for A Metropolis in Miniature. The fictional English town was conceived and brought to life by Diane and Howard Birnberg. Visitors of the Museum had their favorites, such as the special "events" portrayed around Smallsea Town Hall. These seasonal exhibits included: Spring at Town Hall with the park full of flowers; citizens (dolls) dressed in their best spring clothes; music by the organ grinder; and a cooling glass of lemonade or tea with cakes. For autumn, the trees displayed their brilliant colors while pumpkin and apple sellers shared their harvest. The cider vendor served his popular beverage with biscuits to the park crowd.
The winter festival at the Smallsea Museum was a great treat during the Holiday Season and into the New Year. The displays sported an ice skating rink with skaters and a skate shop renting skates and sleds. A Holiday Market with kiosks displayed: Gingerbread and other baked treats; a vast array of sparkling ornaments and German traditional wooden decorations; and a Holiday Emporium full of toys, gifts and hot tea and chocolate to warm carolers and happy families.
Alderfer Auction will be auctioning these Museum scenes of seasonal life via live and online Auctions:
Part 1: Online Only – Bid Now through Auction Close Wednesday, July 19th at 12:00 Noon (ET)
Part 2: Simulcast – Live & Online Thursday, July 20th at 12:00 Noon (ET)
Part 3: Online Only – Bid Now through Auction Close Saturday, July 22nd at 12:00 Noon (ET)
The Auction is sure to draw worldwide interest, collectors and buyers. Alderfer has been built on impeccable personal, professional and community ethics. Their professionals have knowledge of fine art including Pennsylvania impressionists, decorative accessories, period furniture, jewelry, antiques, firearms, militaria, coins, stamps, dolls, miniatures, books & ephemera, collector automobiles and many various collections. Bridging history with today's technological world, Alderfer Auction offers online bidding and worldwide marketing while maintaining its unrivaled local customer service.
For more information or to view or bid visit www.AlderferAuction.com or call 215-393-3000. Alderfer Auction is located at 501 Fairgrounds Road, Hatfield, PA 19440.
---