Alderfer Auction to Sell 18 Antique & Collector Automobiles Including Pennsburg, PA 1928 Firetruck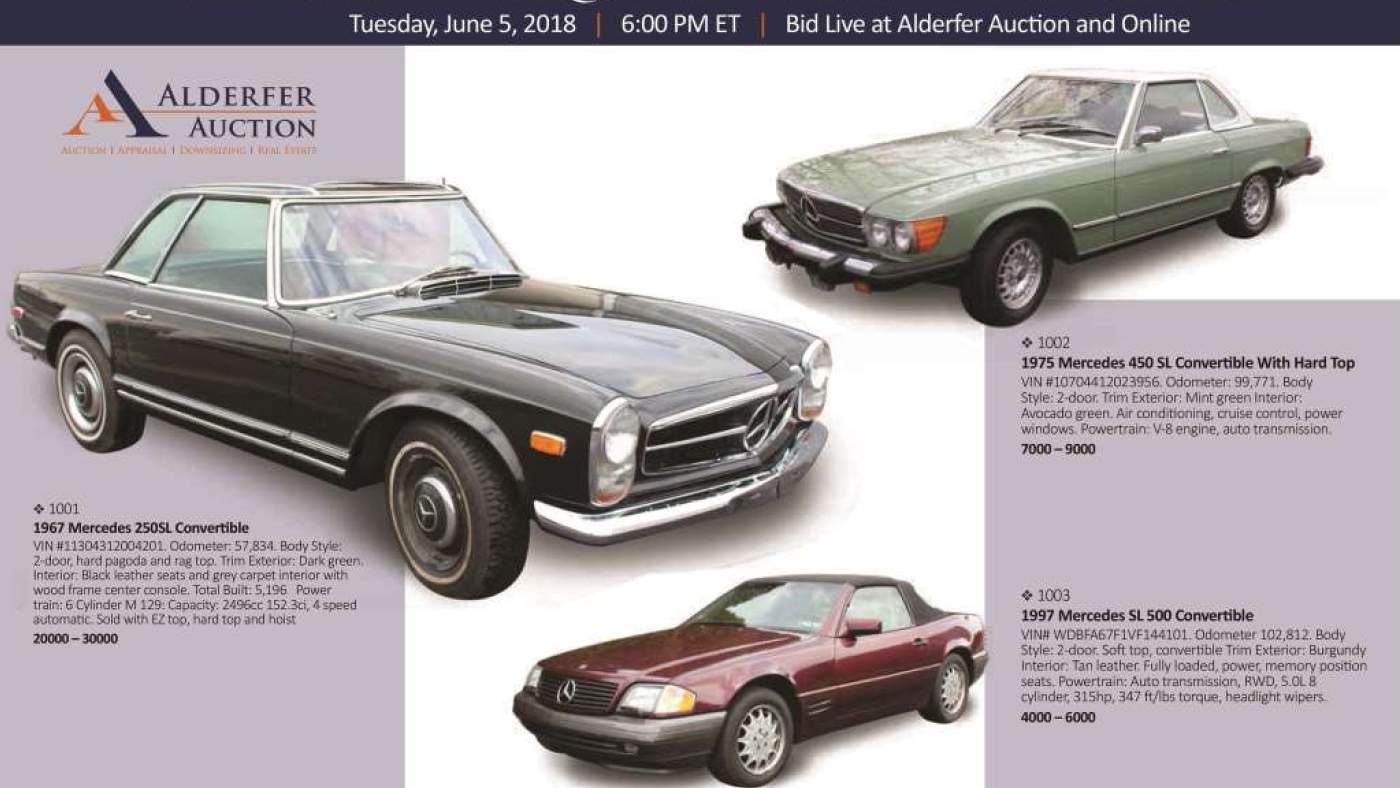 Appealing to Individual Buyers, Specialty Dealers & Collectors, Alderfer Auction to Sell 18 Antique & Collector Automobiles Including Pennsburg, PA 1928 Firetruck
May 16, 2018 – Alderfer Auction releases its sale date of June 5th for 18 highly desirable antique and collector automobiles including a 1928 Fire Truck. American classic cars, muscle cars, exotics and late model classics appeal to individual buyers, specialty dealers and collectors, locally and abroad.
Premium Classic Vehicles to include 1935 Ford Phaeton Convertible Sedan, 1940 Ford Deluxe Convertible, 1946 Ford Super Deluxe Convertible, 1947 Ford Coupe Businessman's Special, 1955 Ford Fairlane Crown Victoria Coupe, 1957 Ford Thunderbird, 1959 Nash Metropolitan Convertible, 1967 250 SL Dark Green Mercedes Convertible (Hard Top), 1970 Lincoln Continental Mark III, 1972 Mustang Convertible, 1975 Mercedes 450 SL Convertible (Hard Top), 1975 Lincoln Continental, 1978 Lincoln Continental Mark V Coupe, 1988 Lincoln Town Car, 1997 Mercedes SL 500 Convertible, 2000 Mercury Grand Marquis, 1984 Alpha Romeo Spider 2.0, and 1928 American LaFrance Fire Truck – Model 94 City Service Truck.
The 1928 American-LaFrance Fire/Ladder Type 94 City Service Truck was originally owned and operated by the Pennsburg, PA Fire Department. It was sold to a private individual in 1989, and barn-stored for 20-years until now. The truck has multiple size ladders but the most unique feature is its "Browder Company" life-saving net.
Alderfer Auction's Fine & Decorative Arts Sale is a 3-day event starting June 5th with a fine collection of automobiles including fire truck, antique and collector cars. Following on June 6th, is the ever-popular Collector's Auction with its eclectic mix and broad appeal of jewelry, decorative, furniture and art for the emerging and seasoned collector. The Fine & Decorative Arts Auction is June 7th at 12:00PM EST. The auction will accommodate live, online, phone and absentee bidding. The full-color Catalog can viewed at www.AlderferAuction.com.
Alderfer Auction is conveniently located in the suburbs of Philadelphia between New York and Baltimore at 501 Fairgrounds Rd., Hatfield, PA 19440. For Catalog and more information visit www.AlderferAuction.com or call 215-393-3000.
---