Alderfer Auction Announces the Sale of Alquimia XXXVIII by Olga de Amaral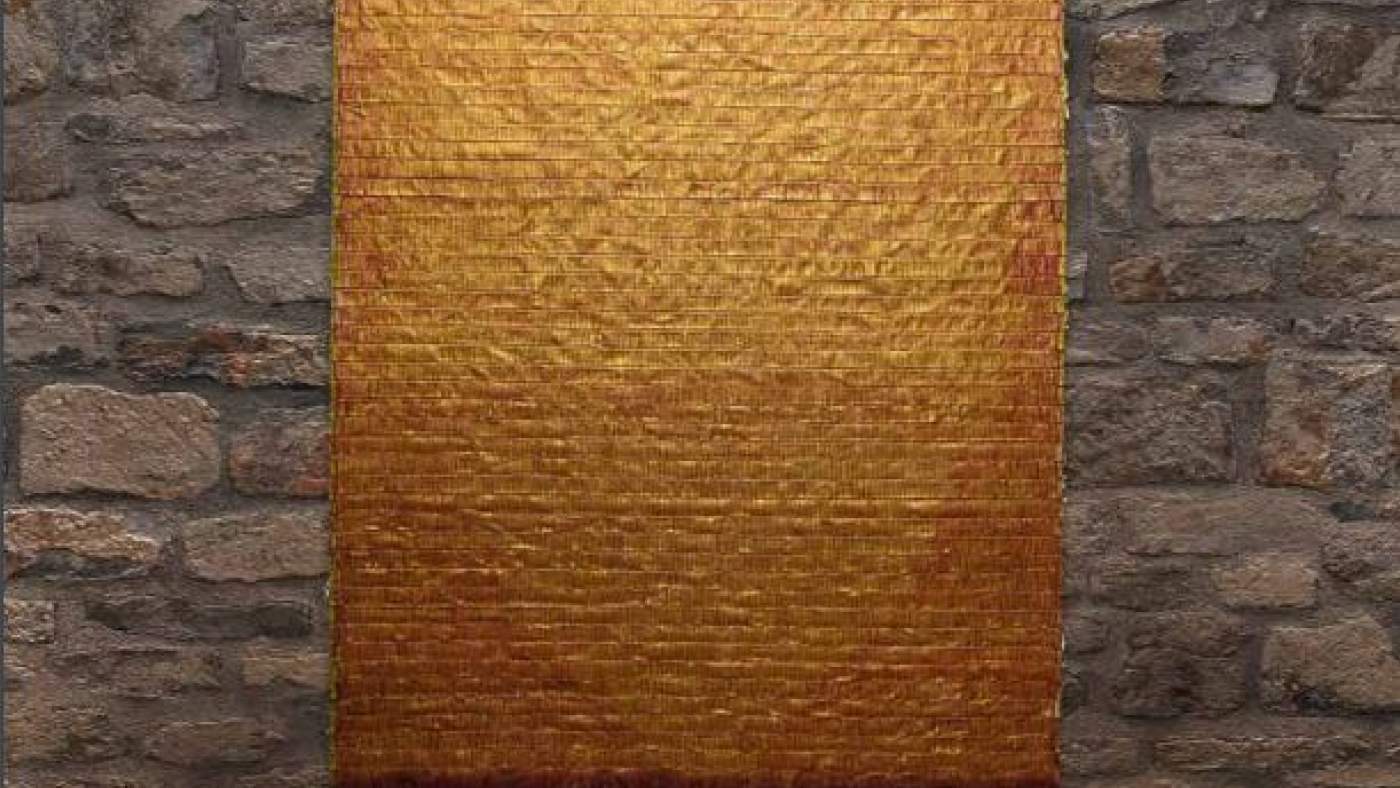 May 8, 2018 – Alderfer Auction announces that Alquimia XXXVIII by Olga de Amaral (b. 1932) will be among the highlights of its June Fine & Decorative Arts sale on June 7. Acquired directly from the artist, this rare and important studio craft woven tapestry is expected to sell in excess of $50,000.
Olga de Amaral (Columbia, born 1932): Acrylic and gold leaf on woven linen strips, "Alquimia XXXXVII" signed, dated, titled and numbered on reverse, Olga De Amaral 1987. On a rapid visit to Ireland to participate in a World Craft Council conference in 1970, on her way back to Colombia,
Olga passed by Lucie Rie's studio in London (she met the British ceramist at the conference). Rie inspired Olga to incorporate gold into tapestries: Olga reflected, "That afternoon in London I noticed a break in a ceramic vase. Lucy Rie explained to me that the breakage didn't exist for her because she transformed the piece when she mended it with gold leaf, as do the Japanese when prized porcelain breaks. The concept touched me in some mysterious place of my mind".
The Alchemies series, started in 1983/84 and ongoing, was the first series made entirely with gold leaf, which the artist considered, just as the alchemists did, as a symbol of knowledge. The pieces from this series are rectangular mini "canvases" made out of cotton and prepared with white-washed gesso to be covered with acrylic paint and gold/silver leaf. After experimenting with the large scale, Olga de Amaral wanted to return to a human scale. The first 13 works in the series are based on the proportion of the human figure and inspired by the ancestral culture of Peru - its objects and science, especially mathematics. Also, when the artists visited the village of Barichara in northern Colombia, the architectural landscape of that beautiful town inspired the materials and colors used in the first pieces in the series too - clay-colored linen predominantly with white, gold and blue tones.
Gold has played an important role both in various Native American cultures and in the Catholic religion. The artist realized that the application of gold made the weaving appear heavy and flexible, a quality she was looking for after the early large scale weavings that had an architectural and sculptural intention. Unlike those massive constructions woven with heavy fibers such as horsehair and coarse hand-spun wool, the Alchemies are more concerned with how surfaces, textures and finishes transform the space they occupy or contain. The pieces from this series hang in a vertical, gravitational way and separated from the wall, as if they were living in their own unique space. The effect, the atmospheres they create when hung together are similar to when you enter a colonial church or the burial chambers of pre-Columbian cultures. "It has always been my desire to induce a (…) state of silence in the places where I install my pieces," states Olga.
From the same collection is an outstanding example of Lino Tagliapietra's (b. 1943) studio glass. The impressive yellow ground sculpture glass was created in what many consider the beginning of the apex of his artistic career exhibiting a tour de force of skills involving several techniques.
Alderfer Auction's Fine & Decorative Arts Sale is a 3-day event starting June 5th with a fine collection of automobiles including fire truck, antique and collector cars. Following on June 6th, is the ever-popular Collector's Auction with its eclectic mix and broad appeal of jewelry, decorative, furniture and art for the emerging and seasoned collector. The Fine & Decorative Arts Auction is June 7th at 12:00PM EST. The auction will accommodate live, online, phone and absentee bidding. The full-color Catalog can viewed at www.AlderferAuction.com.
Alderfer Auction is conveniently located in the suburbs of Philadelphia between New York and Baltimore at 501 Fairgrounds Rd., Hatfield, PA 19440. For more information visit www.AlderferAuction.com or call 215-393-3000.
---