Alderfer Auction Sells Collection of Highly Desirable Vintage Pedal Cars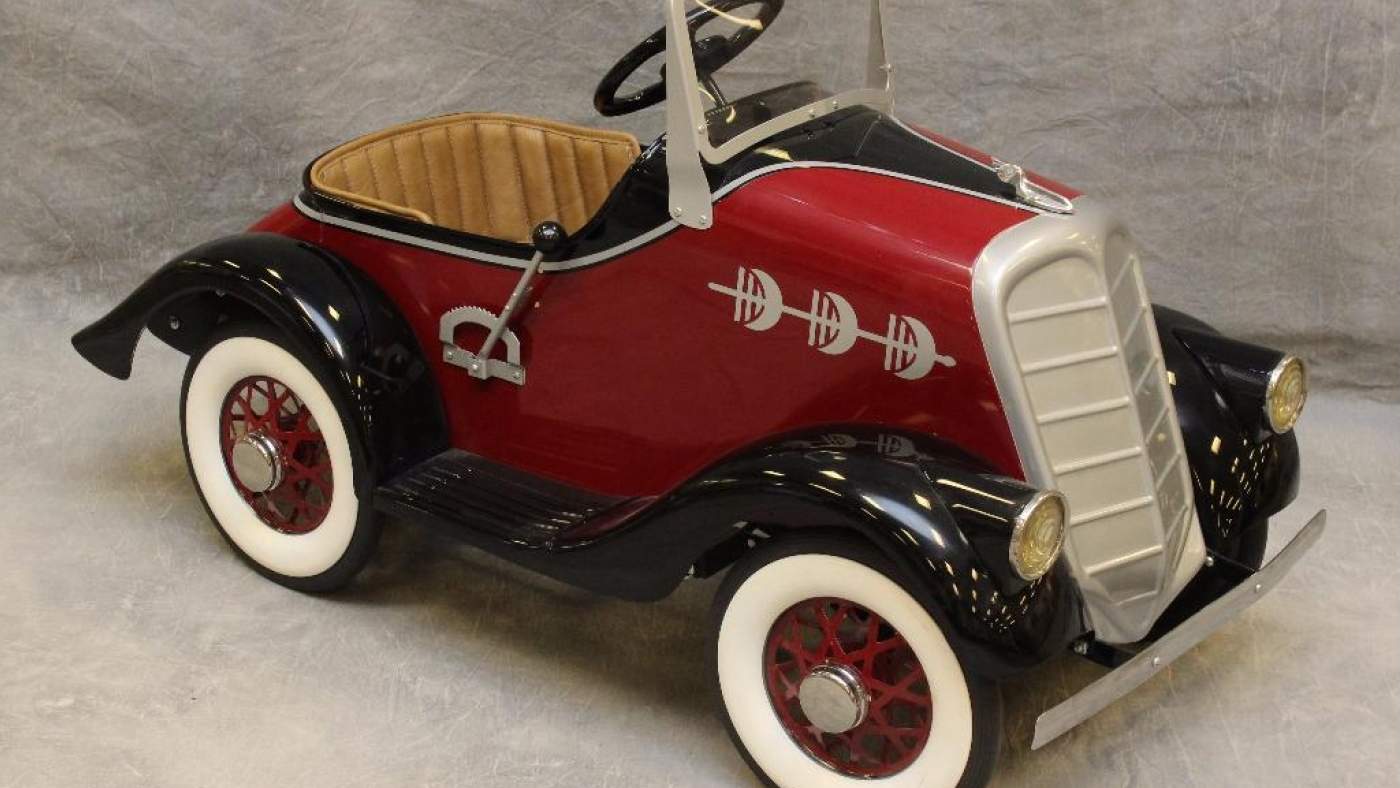 Alderfer Auction Sells Collection of Highly Desirable Vintage Pedal Cars
June 17 - Pedal Cars have been a hot collectible for many years. What started out as a kid's toy, has become much more serious than child's play. Peruse any auction site and one can see the value of these tot-sized automobiles. Alderfer Auction, of Hatfield, PA recently sold a single owner collection of more than 40 vehicles. These included both restored and unrestored cars, trucks, motorcycles, trains, boats, airplanes and 3 (very unusual) bulldozers. Their June 17th sale occurred both in-house and online and brought sale prices in the thousands. For example, the top 3 selling cars brought between $2400-3000 each: 1937 Pierce Arrow Pedal Car sold at Alderfer's for $2700; 1937 Auburn Supercharger Pedal Car brought $2400; 1950's New London Caterpillar D-4 Bulldozer sold for $3000 at Alderfer Auction.
Pedal cars first appeared in the late 1880's and were modeled after the vehicles of the day. Made of durable enameled steel and operated by pedals, they were made to look just like the originals….true replicas. Many had working lights, white wall tires, moveable windshields, working horns, hood ornaments and other details. They became very popular after World War II, with companies such as Garton, Lines Bros., Whitney Reed, Steelcraft, American National and Murray producing many different models. Because they were used as toys, it is rare to find originals in mint condition today (which of course, affects their value). However, many are carefully and accurately restored to their former glory by both individual collectors and restoration companies. The popularity of the pedal car continued through the 1960's, but came to a screeching halt in the 1970's, when plastic replaced the metal versions.
What makes the pedal car such an attractive and popular collectible? Perhaps it is nostalgia of childhood fun, or perhaps it is the desire to finally own that '58 Corvette Stingray, albeit in pint size. By the way, this particular model sold for $11,500 at auction in 2015! Not bad, considering original pedal cars sold for about $10-$25 each. Now, that's an investment!
Alderfer Auction is conveniently located in the suburbs of Philadelphia between New York and Baltimore at 501 Fairgrounds Rd., Hatfield, PA 19440. For more information visit www.AlderferAuction.com or call 215-393-3000.
Article written by Karen Murray, an associate appraiser with National Appraisal Consultants, LLC, based in NJ and PA.
---