Alderfer Auction Honors History & Heroes with its American Civil War Images in its June Auction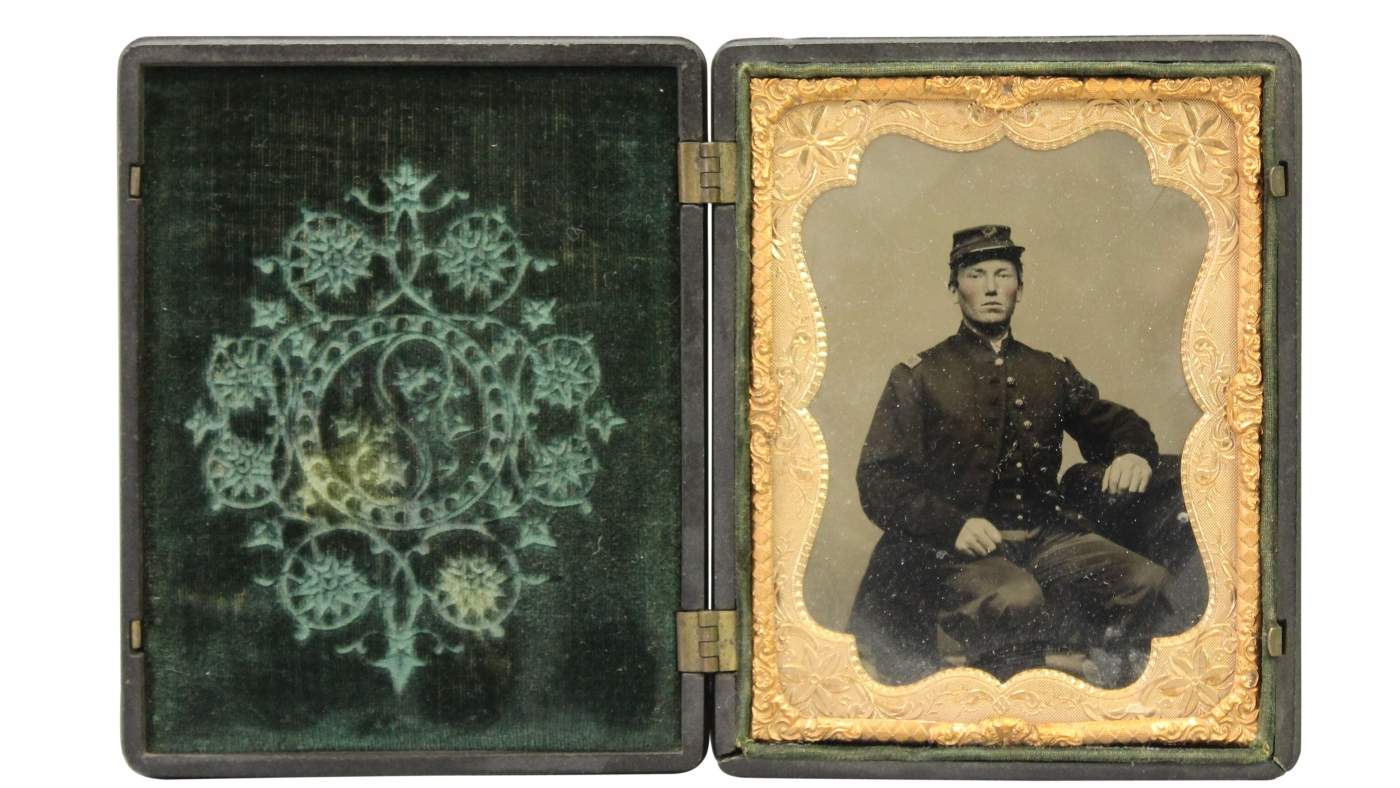 Alderfer Auction Honors History & Heroes with its American Civil War Images in its June Fine Art Auction
May 29, 2018 - Over 150 years ago, during the American Civil War, many young men joined the Union Army and contemplated their uncertain future as they left home and traveled to yet unknown far off battlefields. Many of these soldiers, in an effort to preserve and document their precarious existence, paid photographers to record images of them in their new uniforms wearing the accoutrements of war. The soldier's photographs were given to and treasured by family members in the possible event the soldier would lose his life in battle or for some other reason not return home. On June 7, 2018 Alderfer Auction of Hatfield, Pennsylvania will offer numerous images related to the American Civil War as part of a Fine and Decorative Arts Auction. The offered images have been preserved by families and collectors providing a visual and historic record of an important and difficult time in American history.
Many of the images are identified including a grouping of three images of Eben Harding, of the 4th Maine Volunteer Infantry. During his service Harding would serve in the trials and tribulations of the regiment and would suffer wounds at both the battles of Fredericksburg and Chancellorsville. Because of the severity of his wounds, Eben Harding was discharged from the army eventually moving to Minnesota and dying in 1912 at the age of 81. Another fine grouping that will be offered relates to the Civil War service of Private Freeman H. Smith who served in the 1st, 7th and 15th New Hampshire Infantry. Smith enlisted in 1861 at the age of 16 and served through the whole war. The grouping includes photographs of Smith as well as letters written by him to his family when he was in the field. An item that brings this grouping full circle is the plate that adorned Freeman H. Smith's coffin upon his death at the age of 21 in 1867. The item kept as a keepsake by one of his family represents a life cut short by four years of arduous service in the Union army.
A third grouping of items and photography related to the Civil War military career of Private Charles G. Davis, Company H, 16th New Hampshire Volunteer Infantry and Company F, 1st Hew Hampshire Cavalry. The Davis grouping includes images of Davis as an infantry soldier and a cavalry trooper as well as certificates documenting his service during the Civil War. These lots as well as other Civil War related materials and other historical related items will be offered as part of the Fine Arts Auction on June 7, 2018.
Alderfer Auction's Fine & Decorative Arts Sale is a 3-day event starting June 5th with a fine collection of automobiles including fire truck, antique and collector cars. Following on June 6th, is the ever-popular Collector's Auction with its eclectic mix and broad appeal of jewelry, decorative, furniture and art for the emerging and seasoned collector. The Fine & Decorative Arts Auction is June 7th at 12:00PM EST. The auction will accommodate live, online, phone and absentee bidding. The full-color Catalog can viewed at www.AlderferAuction.com.
Alderfer Auction is conveniently located in the suburbs of Philadelphia between New York and Baltimore at 501 Fairgrounds Rd., Hatfield, PA 19440. For Catalog and more information visit www.AlderferAuction.com or call 215-393-3000.
---