Alderfer Auction Turns Up the Heat at Summer Auction for "The Hellyer Collection" of Wyndmoor, PA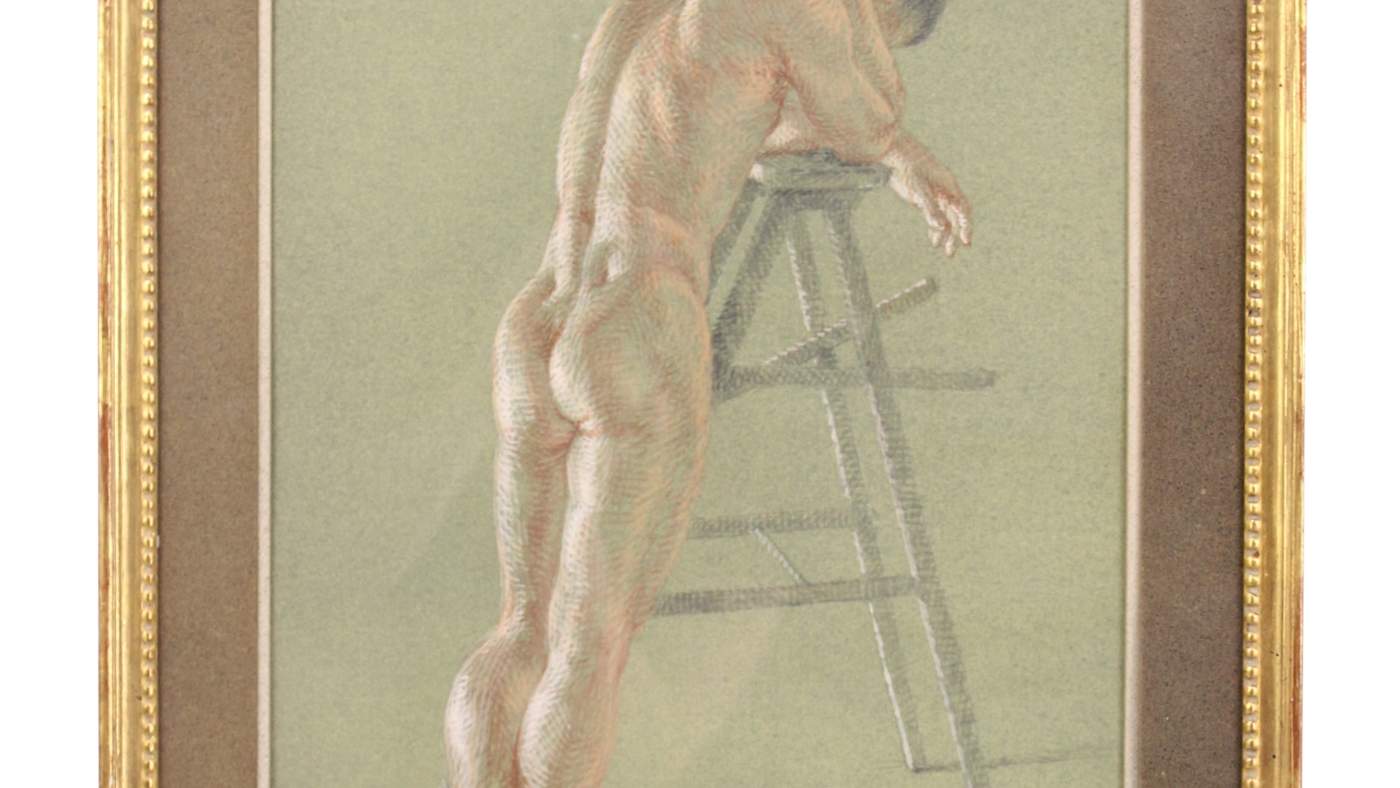 August 23, 2018 – As the temperatures were rising under the August sun, so where the prices at Alderfer Auction, Hatfield PA, with the top lot soaring to $30,000. The 1956, signed painting by Paul Cadmus, "Male Nude TS12", measured 17.75" x 11.5" and was featured in the 2002 DC Moore Exhibition.
Alderfer Auction had the privilege to sell "The Hellyer Collection" of James "Jay" Hellyer Jr. of Wyndmoor, PA. He was the founder of Hellyer Lewis, Inc. an architectural and interior design firm in Philadelphia, PA. He was a member of the Rittenhouse Club and Franklin Inn Club. Jay was an avid gardener and kept an impressive English garden on his grounds. He was a bibliophile enjoying a variety of writings in his free time. Jay had a great love for all animals and a great supporter of the Pennsylvania SPCA.
This single owner, fully photographed catalog auction featured over 320 pieces from various artists and collections including books, decorative arts, sterling, clocks, furnishings and fine art. The feature of his collection included over 100 lots of fine art and over 80 tall case and mantle clocks attracting an audience from around the world. Alderfer reported a record number of phone bids, absentee bids and a crowded gallery.
American, English and French timepieces such as the 1810 French Allegorical seated figure bronze mantel clock (lot 49); 1800 French Hercules fighting the Nemean Lion mantel clock (lot 119); and Martin Schreiner, Lancaster Pa, Walnut Tall Case Clock (lot 125) realized prices reminiscent of the past at $6600, $6300, $10200 respectively. The energy in the room was invigorating as the day went on and interest in the art mounted.
Contemporary and Mid-Century artists included Daniel Adel, Robert M. Kulicke, Wes Hempel, Bo Bartlett III, Robert Liberace, Louis-Albert Lefeuvre, Wade Shuman, Martha Mayer Eriebacher, Jacob A. Pfeiffer, Adam Vinson, Harvey Dinnerstein, Thomas Chimes, Patricia Traub, Anne Packard and others. Attracting a lot of attention was "Sirocco" a fantastic Trople-L'oiel painting by David Adel (lot 267) realizing $8,400; "Jar of Green Olives on a Dark Grey Background" by Robert M. Kulicke (lot 228) achieved $7800; and "Suspension of Disbelief" by Wes Hempel (lot 226) amazed the crowd at $7200.
Other auction highlights included sculpture by Louis-Albert Lefeuvre "Les Fondeurs du Moyen Age" Bronze (lot 173) reaching $6000; "The Architecture of Sir Edwin Lutyens; The Lutyens Memorial Volumes" (lot 5) sold for $2520; and Jacob A. Pfeiffer's whimsical still life of asparagus and red licorice (lot 281) tempted taste buds and sold for $4500.
Alderfer Auction will also be holding an Alderfer Online Only "Onsite" Auction for Hellyer's Wyndmoor estate. The auction will close at 8:00pm on Thursday, September 27th. The Auction will feature garden statuary and furniture, books, antiques, art and collectibles.
Alderfer Auction is conveniently located in the suburbs of Philadelphia between New York and Baltimore at 501 Fairgrounds Rd., Hatfield, PA 19440. For more information visit www.AlderferAuction.com or call 215-393-3000.
---