The "Googly" Eyed Doll Has it for $22,800 at Alderfer Auction Sale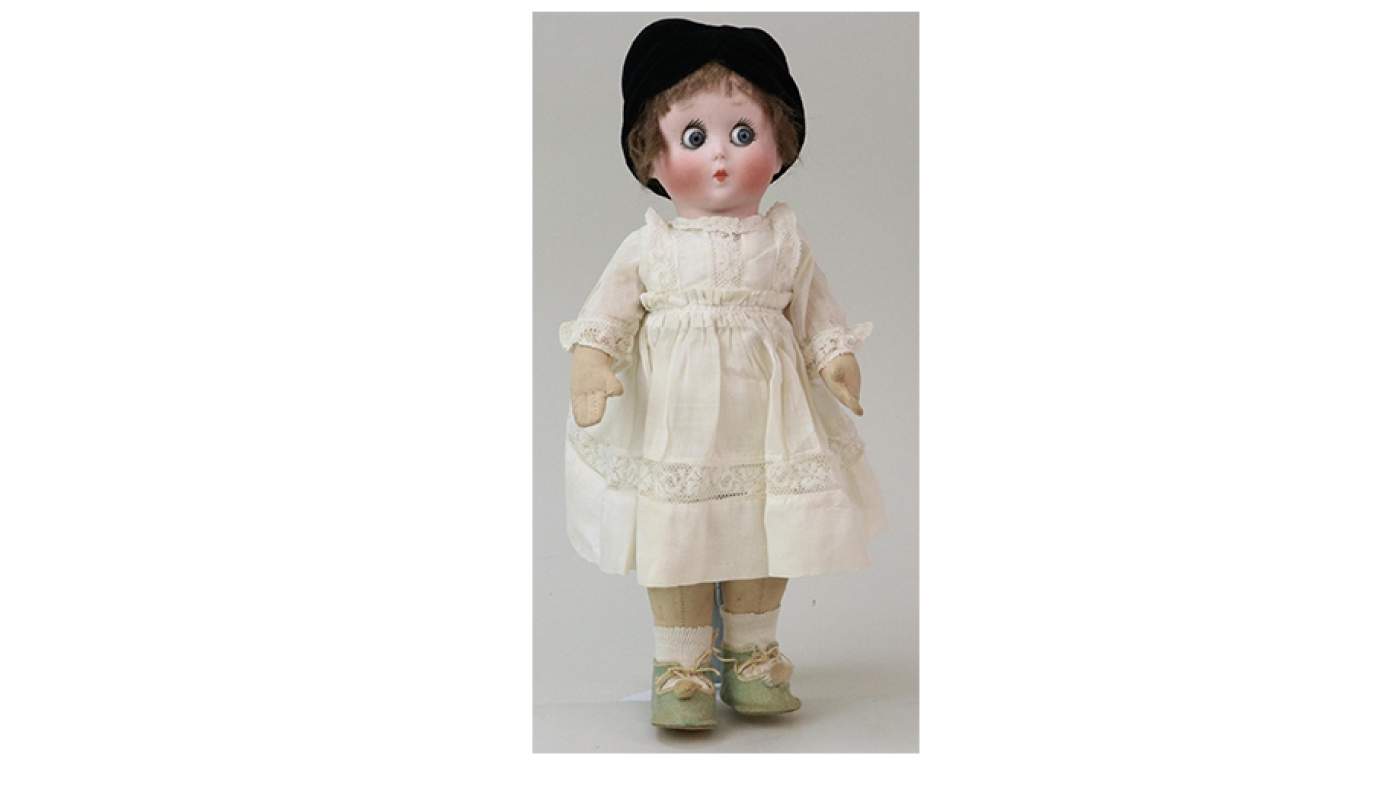 The "Googly" Eyed Doll Has it for $22,800 at Alderfer Auction Sale
Second Highest Selling Doll Auction in Alderfer Auction History
Hatfield, Pennsylvania – Emotions ran high on April 3rd, 2019 as the last doll sold for $22,800 at the Alderfer Auction highly anticipated Doll Auction. The buyer raised his bidder number passionately competing against online, phone and live bidders. He waited decades for this German "Googly" Eyed doll to come up for sale. s
This "Googly" Eyed dolled, named Virginia ("Ginny" for short), is an Oscar Hitt German character doll with stunning blue side glance eyes, a closed mouth and brown mohair wig. She was comprised of a bisque head, flange neck and pin joints. Ginny came dressed for the occasion with her five-piece cloth body adorned with antique cotton clothing. Ginny "somehow knew" to be prettily dressed for this special day of new ownership.
Other items from this sought-after collection from a well-known Lehigh Valley, PA dealer, were a pair of girl and boy Maggie Bessie dolls with a price tag of $13,200. The European dolls took front and center stage leading with lot 3426, a 17" female Van Rozen Doll France Depose, selling for $7,800. Following the trend was the 17" 6EJ, Emile Jumeau, lot 3423, which sold for $5,100. Lot 3409, a 14" 02033 BSW "Wendy" Doll Character sold for $5,400. A Lenci doll with original owner's Lenci Child's Dress sold for $3,300 and the unique antique early Steiff blue mohair cat sold for $660. The American Artist, Dorothy Heizer, brought in a winning amount of $3,900 for her 10" "Dorothy Heizer" cloth sculpture doll, lot 3347.
This was not only the 2nd highest selling doll auction in Alderfer Auction history, but also, an auction that satisfied collectors who yearned to complete their collections after years of waiting.
Alderfer Auction services Montgomery, Bucks, Berks and Chester counties, as well as the tri-state area. Alderfer Auction provides, Auction, Appraisal, Transitions & Downsizing and Real Estate Services that work with individuals, families, financial advisors, accountants, banks, estate, elder law attorneys and insurance companies. For more information, visit www.alderferauction.com, call 215.393.3000 or visit Alderfer Auction at 501 Fairgrounds Rd., Hatfield, PA.
---