Brent Souder of Alderfer Auction is Inducted into the PAA Hall of Fame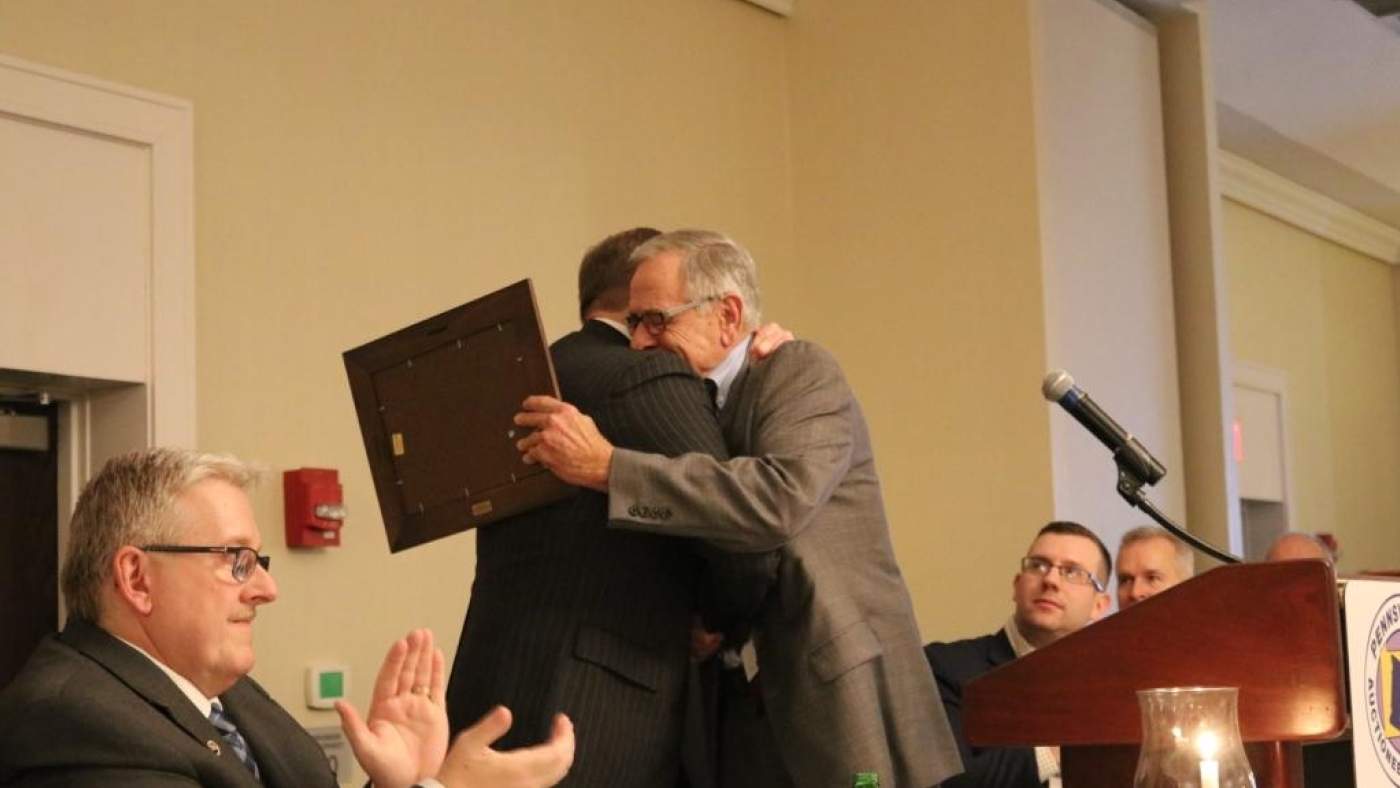 Welcome to the Big Time: Alderfer Auction's Own Brent Souder Gets Inducted into the PAA Hall of Fame
Hatfield, Pennsylvania – Alderfer Auction announces the induction of its very own H. Brent Souder into the Pennsylvania Auctioneers Association Hall of Fame. Mr. Souder had the honor bestowed upon him by his longtime associate Mr. Vernon L Martin at the recent 72nd PAA Annual Conference in Harrisburg, PA, on January 10.
Martin said of Souder that, "It takes consistent greatness in a profession to make it to the Hall of Fame. Be it the football Hall of Fame in Canton, or the basketball Hall of Fame in Springfield, MA, or baseball's Hall of Fame in Cooperstown, or the Hall of Fame of the Pennsylvania Auctioneers Association. Our next recipient is an excellent example of that consistent greatness. Not being from an auction business family he had to find his way into the profession on his own. This was accomplished by landing a job at the age of thirteen with a local auctioneer. He spent the next years doing any, and every, entry level job that included sanding and painting of the building, which he is now part owner. He spent all of his efforts and hard work - just so he could be around auctions.
He worked hard and was persistent. A few years later, he went to auction school and became a Pennsylvania licensed auctioneer. As his passion for the auction business grew, so did his knowledge, expertise and dedication. His achievements included earning many designations and awards including CAI (Certified Auctioneers Institute), MPPA (Master Personal Property Appraiser), PAA (Pennsylvania Auctioneers Association) bid calling champion, PA Auctioneer of the Year, Lehigh Valley Chapter President, PAA Director, PAA past president, and a member of the NAA(National Auctioneer Association). Brent puts his expertise in practice by being available and accessible to anyone in the auction industry, especially those new to the business. Brent generously shares his knowledge and wisdom with others in the industry. He has taught classes at RAAC (Reading Area Community College) in areas of art education and identification, as well as, classes in best auction practices."
Upon receiving his award Mr. Souder had the following to say: "Thank you for this. I am rarely at a loss for words. I'm humbled to receive this award. I could not have accomplished my dream without the support of my family and my team at Alderfer Auction." Owner of Alderfer Auction, Sherry Russell, stated "We could not be prouder of Brent as he is deserving of this honor in our industry." The next day, after the roar of applause from his family, friends, co-workers and fellow auctioneers, trade members, and other auction professionals faded, Mr. Souder received a phone call from his long-time mentor, 96-year-old Sanford Alderfer. In the call Mr. Alderfer said, "Congratulations for your recognition and award! The Alderfer Auction Company was founded 61 years ago. Thank you and your team for elevating my dream." They were kind, thoughtful and much appreciated words.
When asked for a quote, Mr. Souder replied with the following, "Over the years, many people have asked what the 'H' in my name means. I added, the 'H' is a daily remembrance of my father "Harley" who passed away while I was in Auctioneer school in 1986." The 'H' stands for remembrance, dedication, and an earned place in the Pennsylvania Auctioneers Association Hall of Fame.
Alderfer Auction services Montgomery, Bucks, Berks and Chester counties, as well as the tri-state area. Alderfer Auction provides, Auction, Appraisal, Transitions & Downsizing and Real Estate Services that work with individuals, families, financial advisors, accountants, banks, estate, elder law attorneys and insurance companies. For free one-hour consultation or more information, visit www.alderferauction.com, call 215.393.3000 or visit Alderfer Auction at 501 Fairgrounds Rd., Hatfield, PA 19440.
---