Bootiful, Bewitching & Bizarre Halloween Collectibles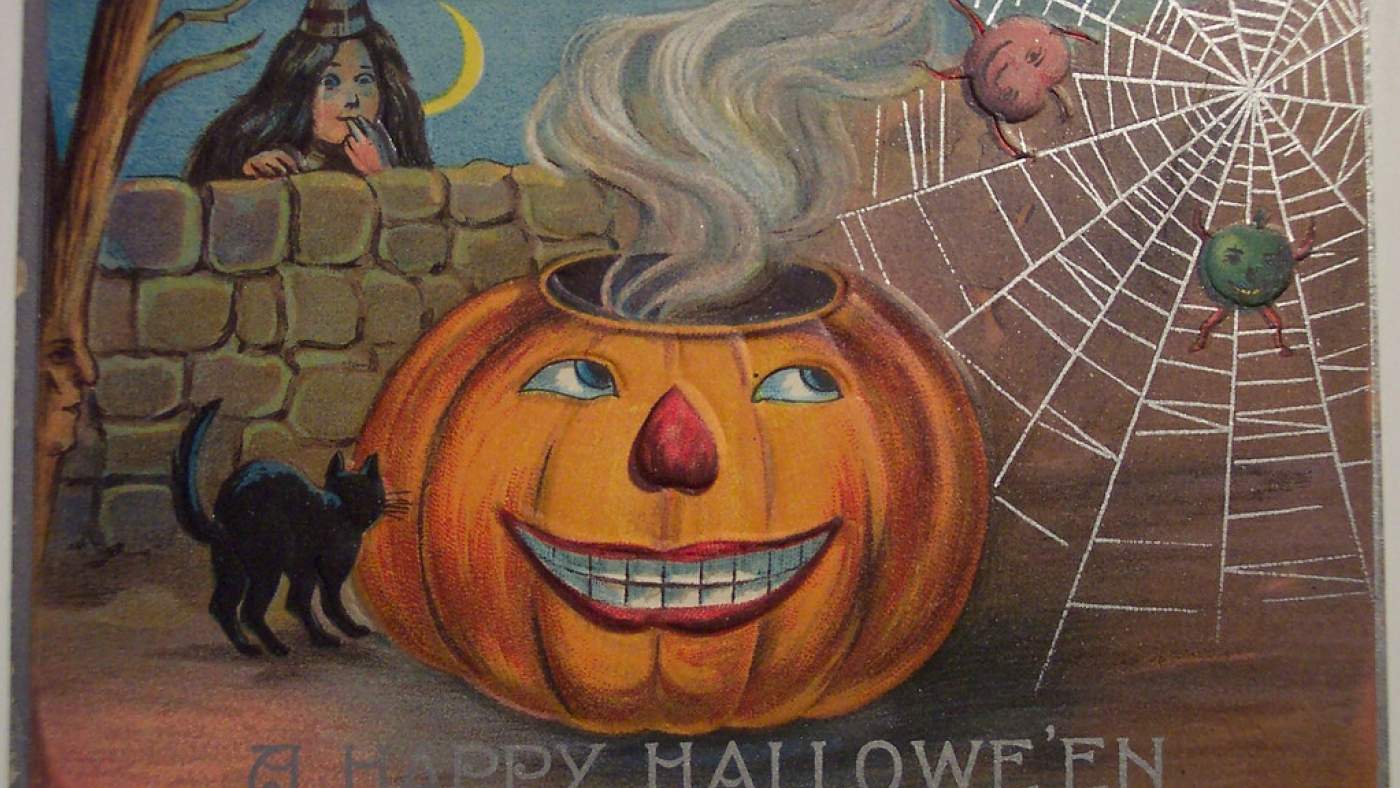 In the United States, our Halloween traditions have not been around for that long. The root of Halloween itself goes back thousands of years when it was a holiday celebrated at the end of the harvest season, the Celtic holiday of Samhain. Halloween did arrive in the United States in the mid-1800's, brought to our shores through Scottish and Irish immigrants. However, it was not the kid-friendly trick-or-treating holiday that is now popular throughout our nation. It was originally an adult holiday, and the holiday was just a good excuse to throw a party. In 1912, the Dennison Paper Company produced a guidebook, a how-to for Halloween decorating, recipes and entertaining, called Dennison's Bogie Book. This book was updated each year until 1935.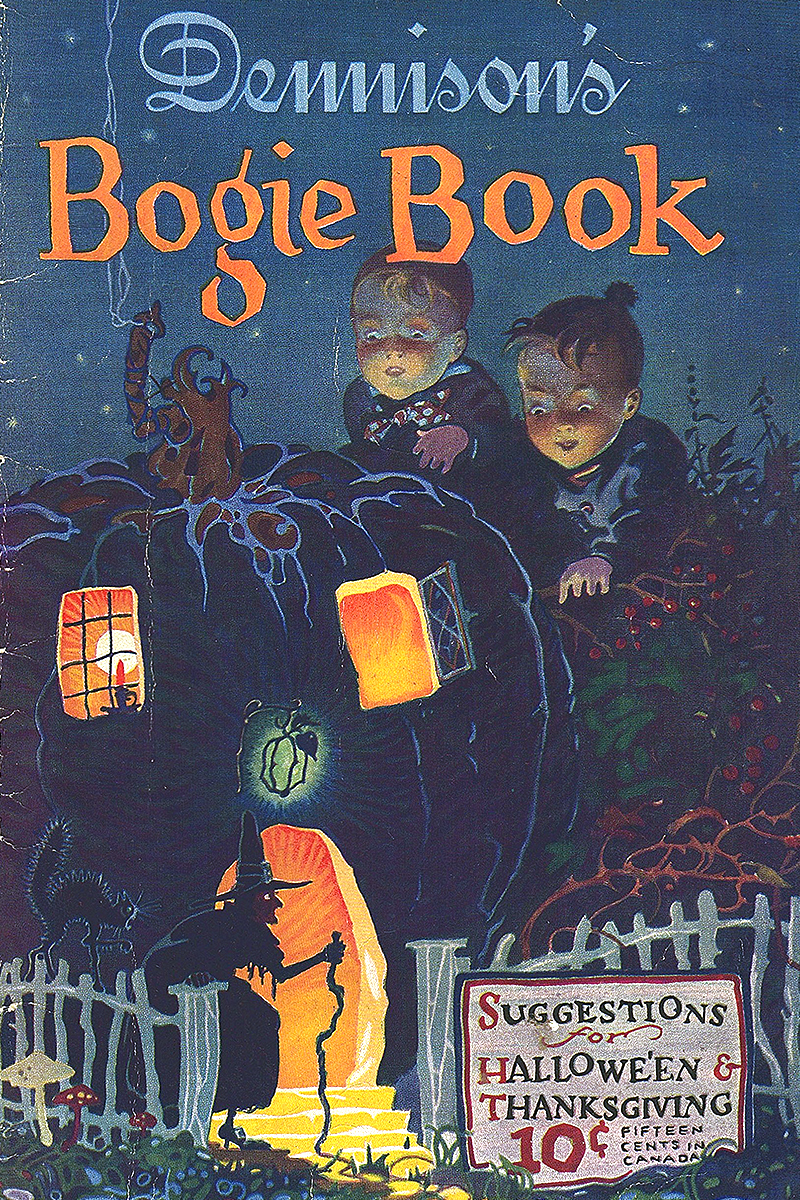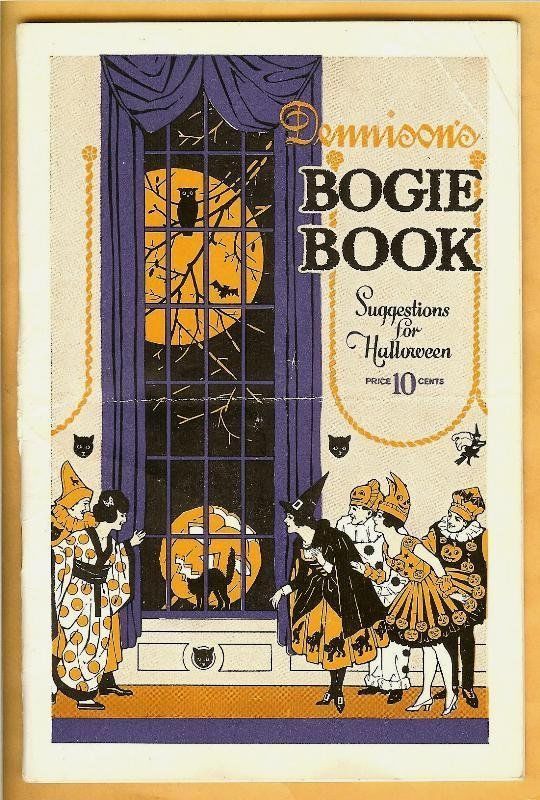 Dennisons' Bogie Book, c. 1925 (left) and c. 1921 (right) - (images from private Collection)
The tradition of trick-or-treating and Halloween decorating began in the 20's and 30's. It did wane in popularity during WWII due to rationing, but, by the time the 1950's rolled around Halloween had transformed into the children's style holiday we are so familiar with each October 31st. During this time, the holiday made a move toward mass produced Halloween decorations, they were less creepy and geared toward family fun. In fact, Mamie Eisenhower decorated the White House for Halloween for the very first time in 1958, therefore giving the idea of Halloween house décor the national seal of approval.
Today Halloween is exceedingly popular. Consumers spend billions of dollars on decorations and costumes. Modern Halloween decorations are elaborate, expensive, inflatable and are usually the favored method of celebration for the masses. However, there are individuals that still have a love for vintage and antique decorations.
The 1920's to the 1960's was a peak time for Halloween decorations and avid collectors seek items from this period. There are a variety of categories for vintage Halloween decorations including noisemakers, postcards, papier mache lanterns, blow molds, party decorations and games, candy containers, costumes, and many subcategories.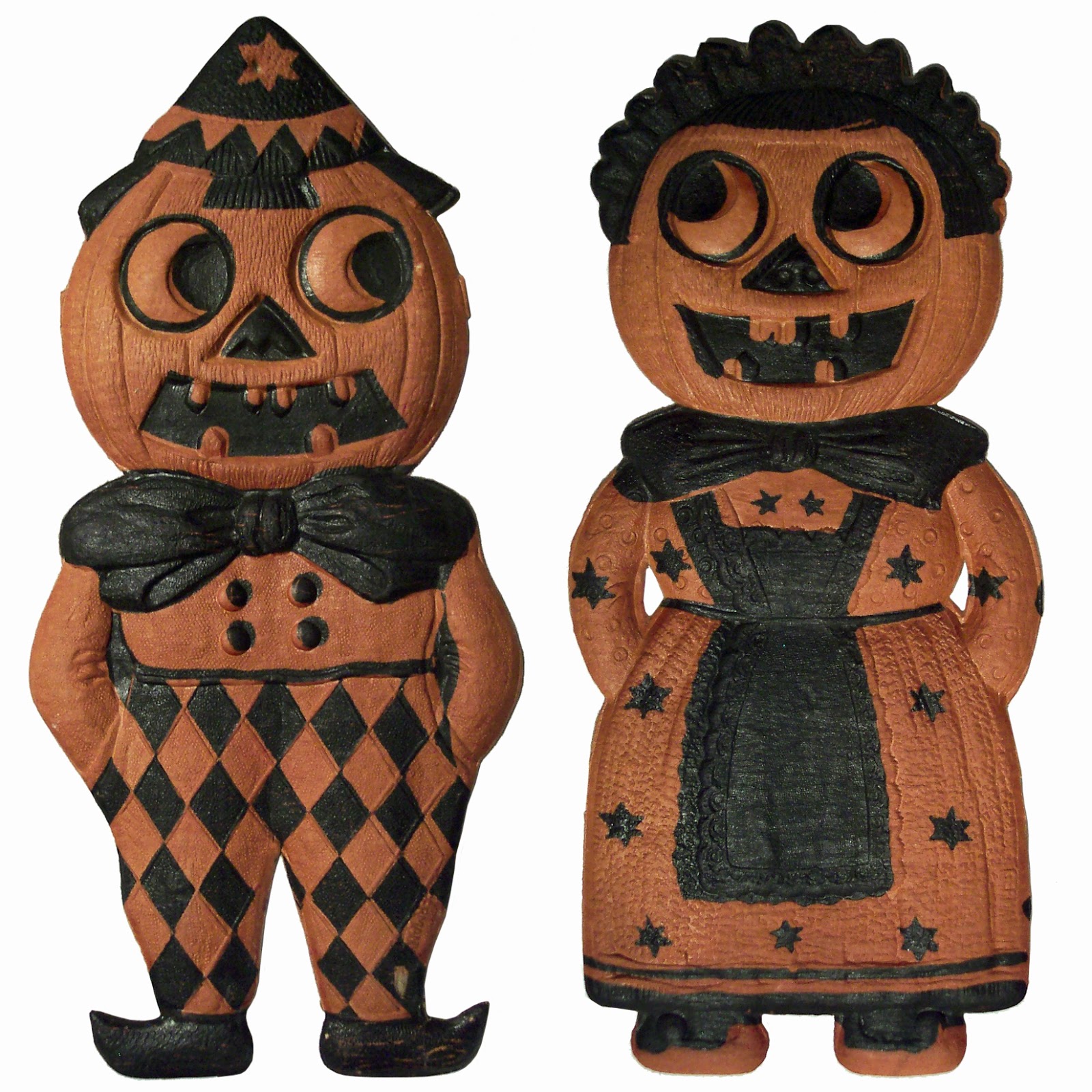 German die-cut Halloween decorations, c. 1920's (Mark Ledenbach)
Noisemakers were created in both paper and metal formats, noisemakers range in price from $20 to $300 depending on condition and rarity. Notable manufacturers of noisemakers were Kirchhoff, T. Cohn, Bugle Toy, US Metal Toy, J. Chein and German manufacturers.
Vintage Halloween postcards are a great find for collectors, especially if they are unused and in mint condition. These can range in price from $10 into the hundreds. Postmarked cards are also valuable if they have Halloween messages or invitations written on them. Another Halloween collector must-have are highly sought after plastic candy containers. One company, Rosbro Plastics, also known as The School House Candy Company or E. Rosen Company, in Rhode Island, created plastic contianers using the popular Halloween characters we all love. These containers in the shapes of witches, cats and ghosts can be purchased in the $20 range into the hundreds depending on the model.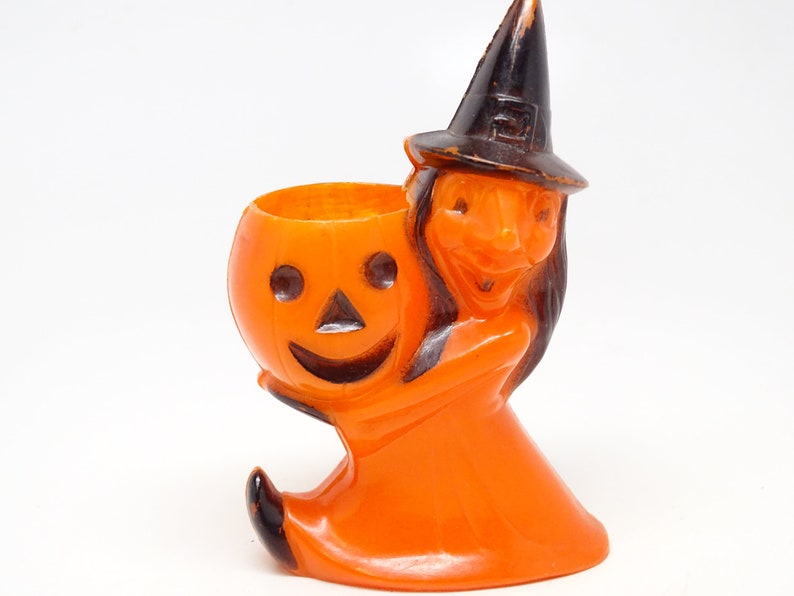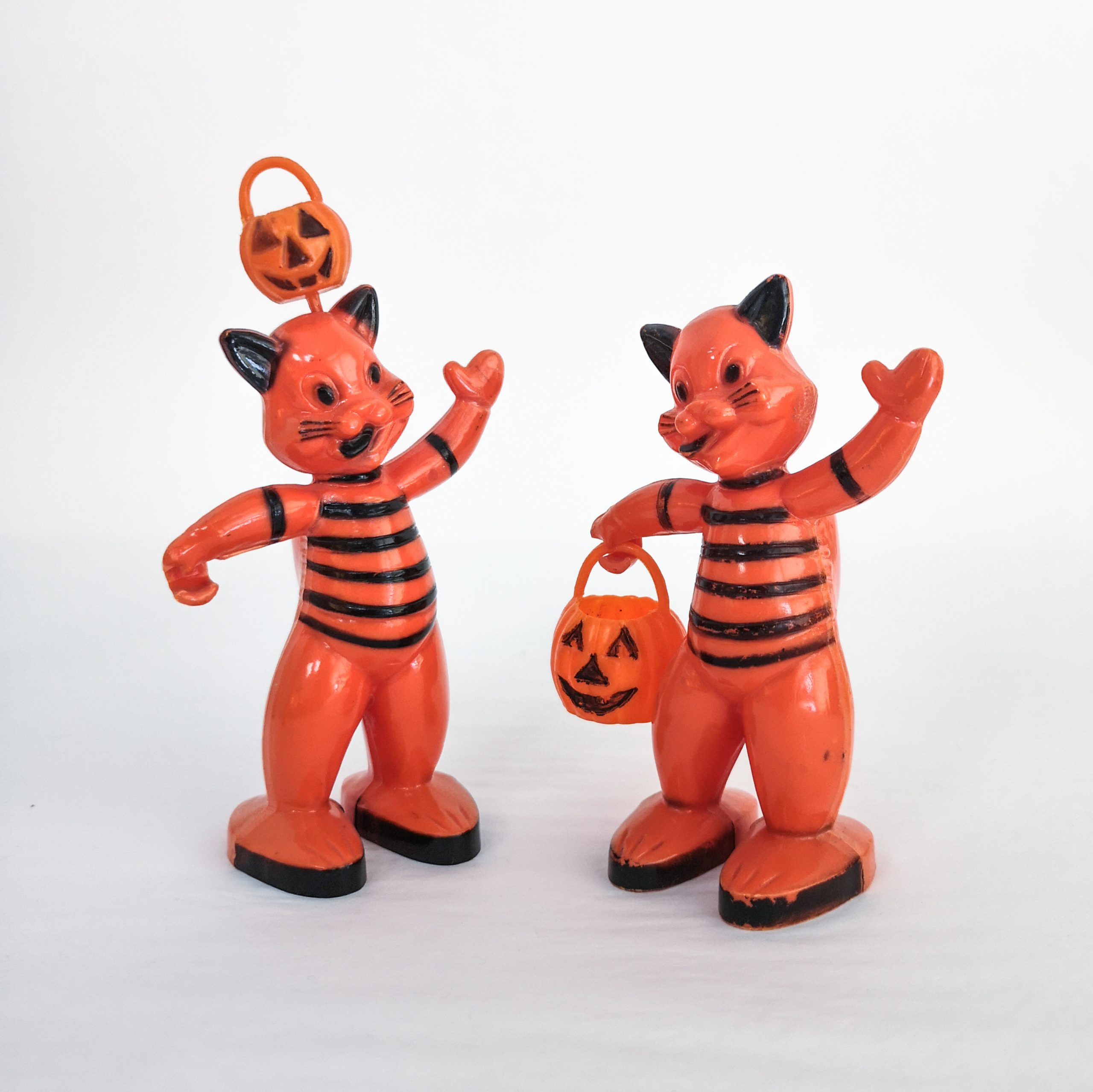 Rosbro Plastics witch and cat candy container, c. 1950's (collectorsquests.com)
During their heyday, Halloween papier mache lanterns were an inexpensive and a wonderful way to decorate for the holiday. Many of the lanterns had paper inserts in the facial features and they came in the shape of cats, pumpkins and more. In addition to lanterns, they were used as candy containers and nut cups.
Collectible Halloween party decorations include paper ephemera such as candy boxes, garlands, die-cuts, table décor, tableware, treat bags, doilies, invitations, place cards, and party books. The Beistle Company, established in 1900 in Pennsylvania, was one of the largest producers of this type of décor. Halloween games ranged form board games to fortune telling. These games are collectible and still fun to play. Beistle Company, in addition to decorations, produced some of these fortune and stunt games. Many of their products have been reproduced over the years.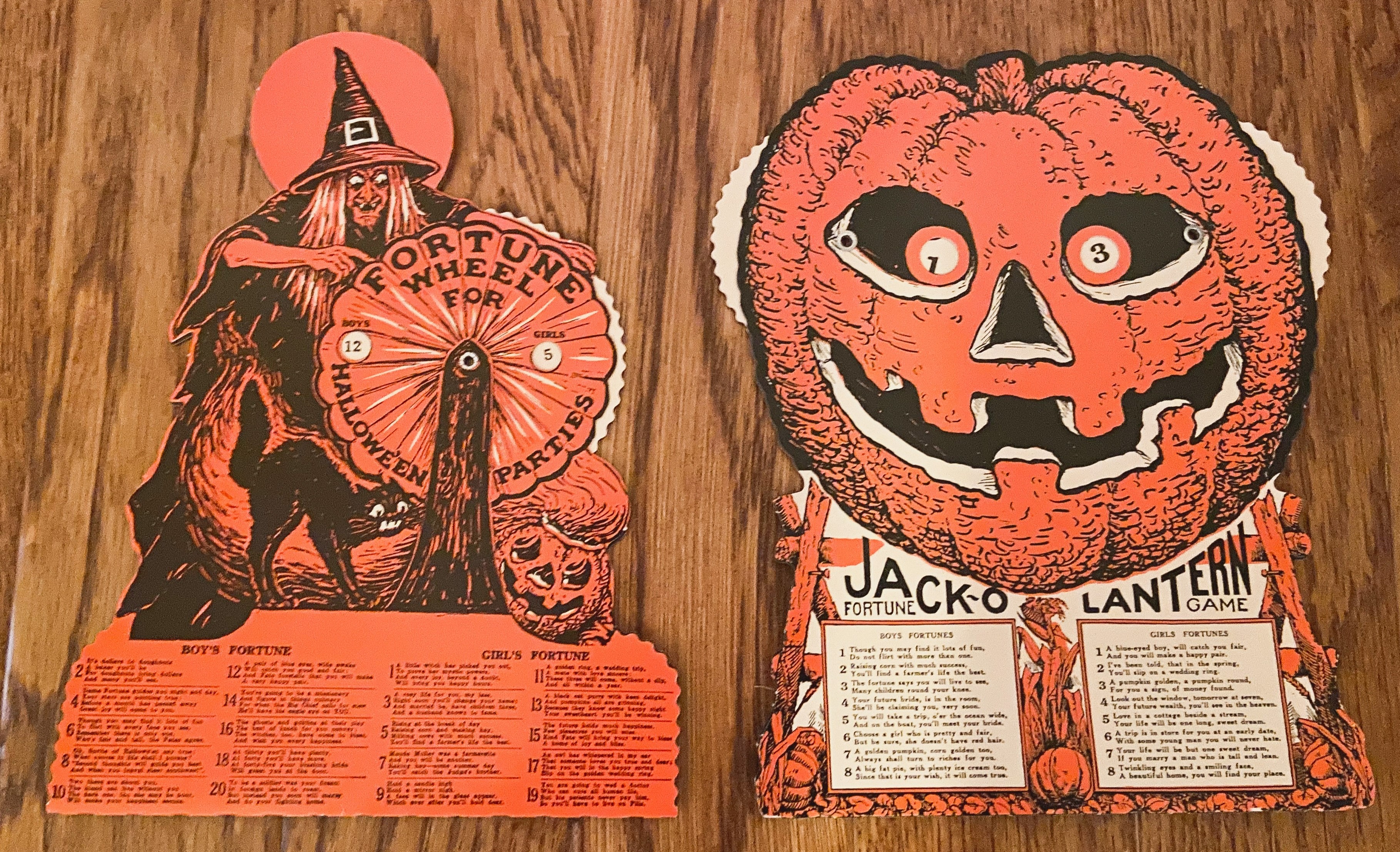 Beistle Company's reproduction die-cut Halloween games (Images from private collection)
Dressing in costume on Samhain was a Celtic tradition that made its way to the United States and has become a beloved custom of the holiday. Originally, costumes were donned to blend in with the ghosts and to scare away darker spirits. Boxed and handmade Halloween costumes became quite the staple for Halloween in the the United States. Vintage costumes focused on the usual suspects like witches, ghosts, Dracula, mummy, devil, angel, cowboy and a plethora of superheroes and cartoon characters. Collegeville Costume Company in Pennsylvania was one of the leading manufacturers of these boxed costume sets starting in the 1920's, the company still exists today.
Many handmade Halloween costumes were made from crepe paper, however, not a lot of handmade costume editions survived. Finding a handmade or vintage boxed costume, including the mask, still intact today would be an amazing discovery. Many of these costumes were thrown away immediately after use, finding one for a Halloween collection would elevate one's inventory to the next level.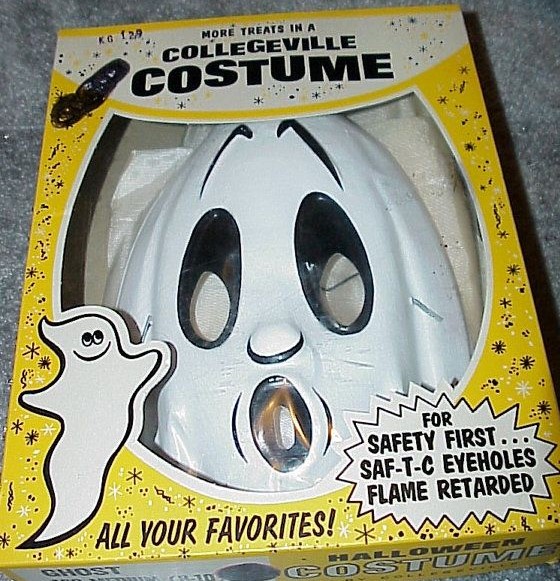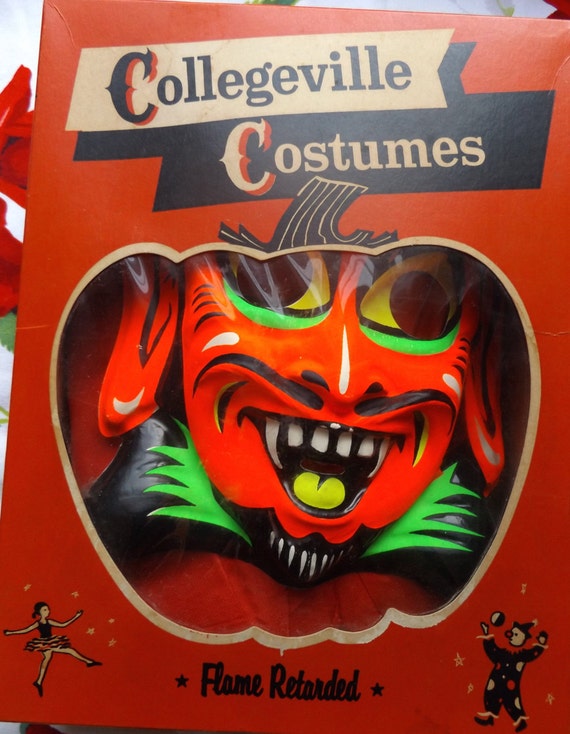 Collegeville Costume Company Halloween costumes (valleyforge.org/blog)
Blow molds, hollow plastic creations based on the same principle for glassblowing, are also a vintage holiday staple. Either in the form of lights or baskets, blow molds were made for a variety of holidays. Collecting Halloween blow molds today can be an expensive endeavor. Rare blow molds can be priced in the high $300-$400 range, however most range between $45 to $150. Blow mold decorations were present in the late 1930's and early 1940's, however, their mass popularity began in the 1950's when Union Products produced the first blow mold pink flamingo lawn ornament. From the first flamingo to Halloween blow mold haunted houses, many decorated their homes with these illuminated delights. Two of the larger manufacturers of blow molds were Empire Plastic Corporation and Union Products, but there are many others.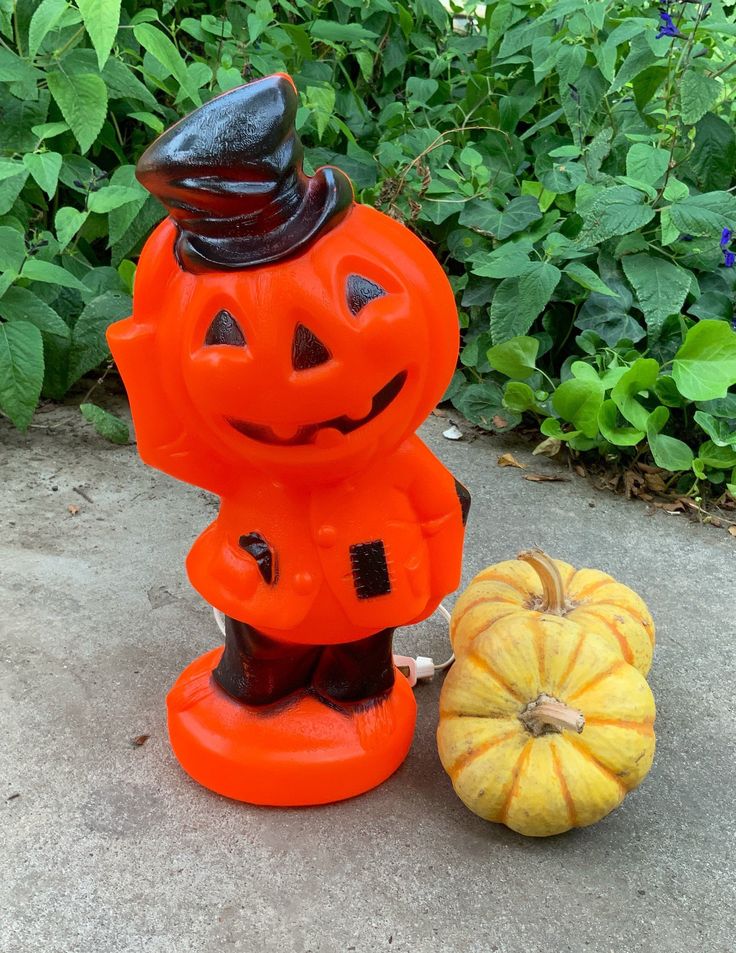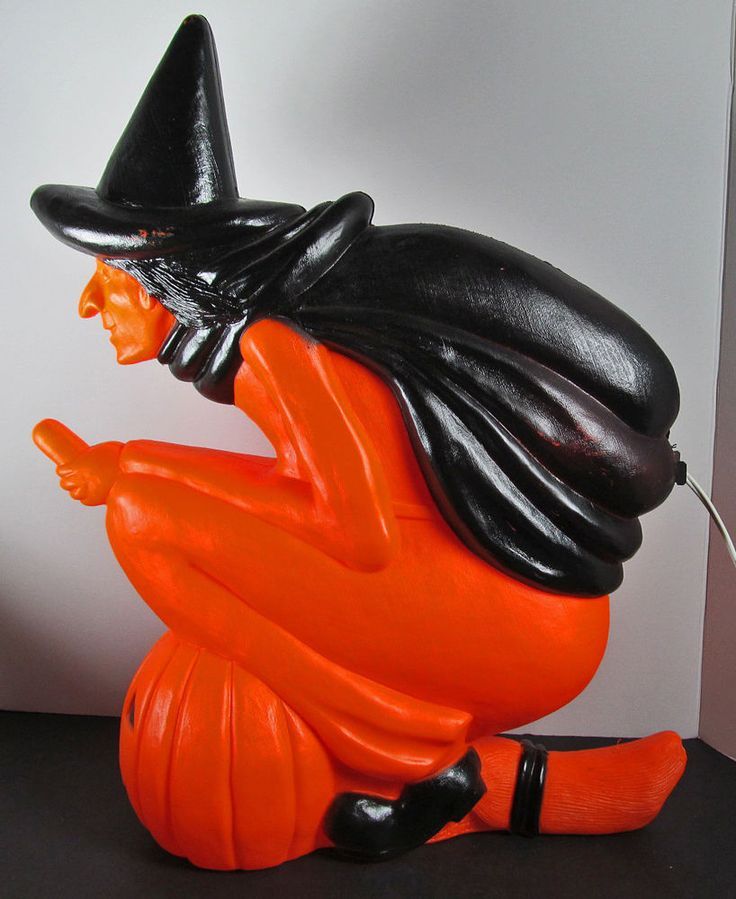 Empire Plastic Corporation blow mold (left) and Union Products blow mold (right)
From noisemakers to costumes, Halloween is quite a collectible holiday. These items will become more difficult to find as years pass. Hardcore Halloween collectors will not be deterred, hopefully this type of collecting will preserve what is left of holiday decorations from years past. One way to find these rarities is by shopping at Alderfer Auction.
Written by Melissa Jay
---