An Artist's Story: Thomas Pollock Anshutz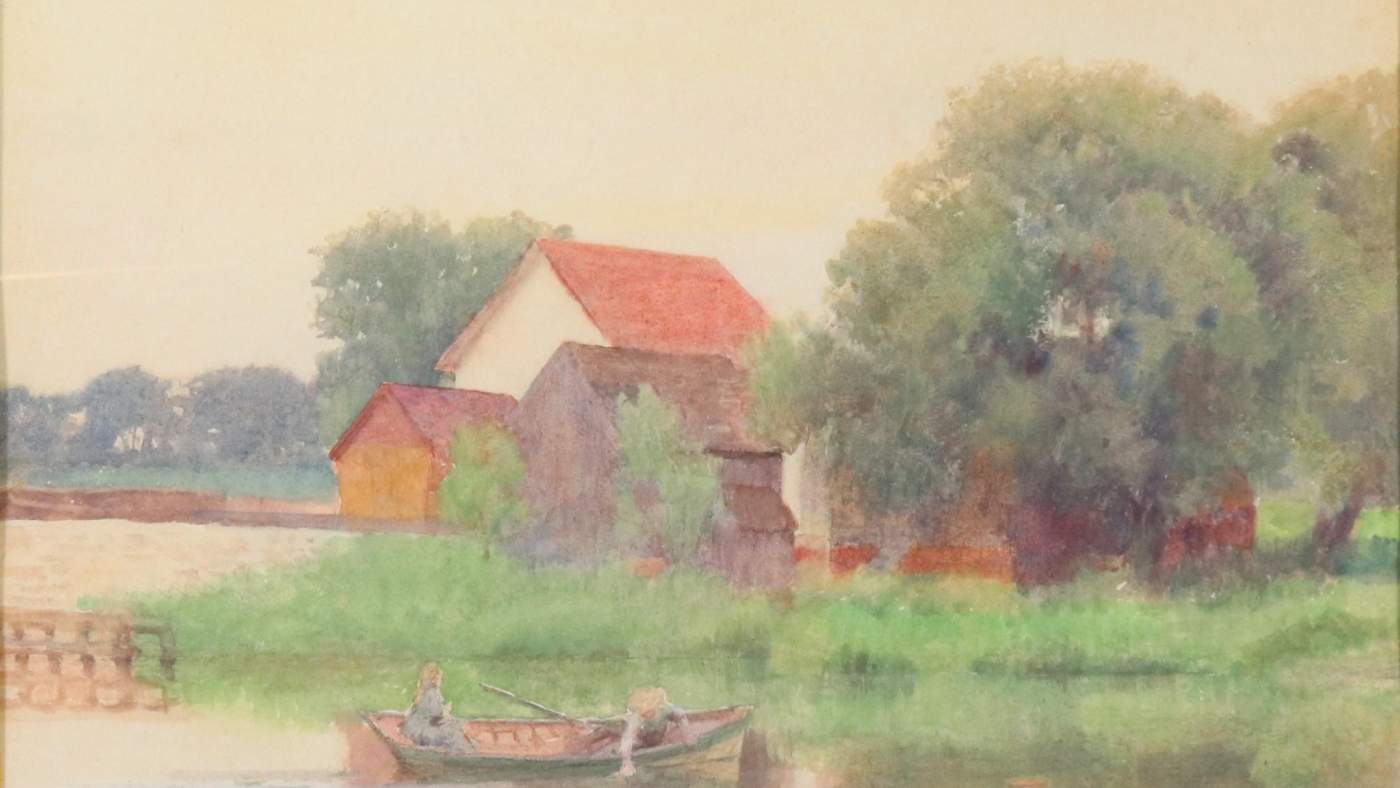 Thomas Pollock Anshutz was an American artist from Philadelphia, who instructed some of the most well-known artists in Philadelphia area. Alderfer Auction has the good fortune to have several Thomas Anshutz paintings in our upcoming Fine Arts auction. In addition to his paintings, we have an archival collection including correspondence, notes, news clippings and photographs. This archival gold mine is attributed to consigners, Robert and Joy McCarty, who purchased a portion the estate of Thomas Anshutz, 489 Ambler Road, Fort Washinton, PA, in 1971. The McCarty's had a close relationship to Thomas's son, Ned, a popular subject of some of his father's work.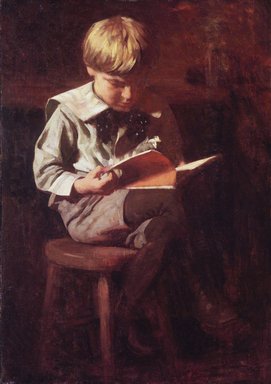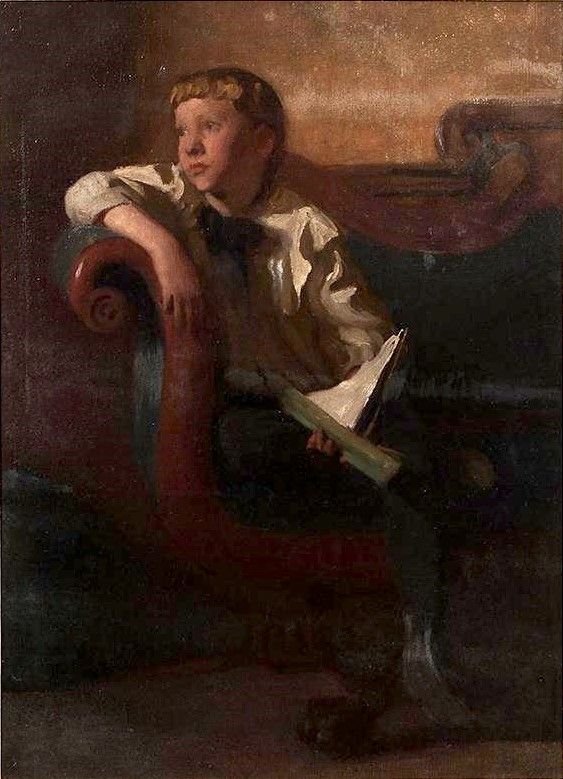 Thomas Pollock Anshutz, portraits of his son, left, Boy Reading (1900) and, right, Portrait of Ned Anshutz (1902)
Thomas Anshutz, born in Kentucky, always was drawn to the creation of art. He started his art career in the 1870's at The National Academy of Design in New York. In 1875, Anshutz moved to Philadelphia to study under artist Thomas Eakins. He enrolled the Pennsylvania Academy of Fine Arts, continuing instruction with Eakins. In 1878 he became Eakins assistant and in 1881, he succeeded Eakins as the director of drawing and painting instruction at PAFA. He was a member of the Philadelphia Sketch Club. He exhibited there in 1881, where his now famous painting, Ironworker's Noontime, Wheeling Virginia, was showcased. He later served as president of the Philadelphia Sketch Club.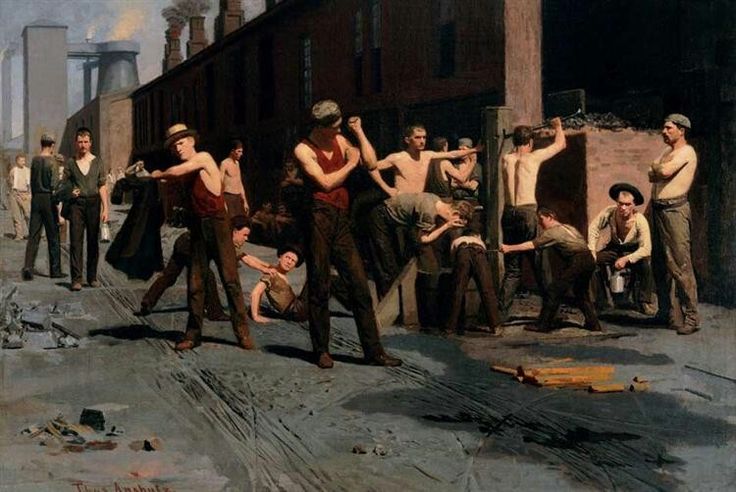 Thomas Pollack Anshutz, Ironworkers' Noontime, near Wheeling Virginia, photo credit, Fine Arts Museums of San Francisco
Thomas Anshutz was one of the first artists to utilize photographs as preparatory studies for paintings. This stemmed from his study of body movements and gestures when composing his creations. Many of the photographs in the archival collection at Alderfer Auction are the studies for Anshutz paintings, including Two Boys Near A Boat Near Cape May, Untitled (Horse and Boat), and Steamboat on the Ohio, see examples below.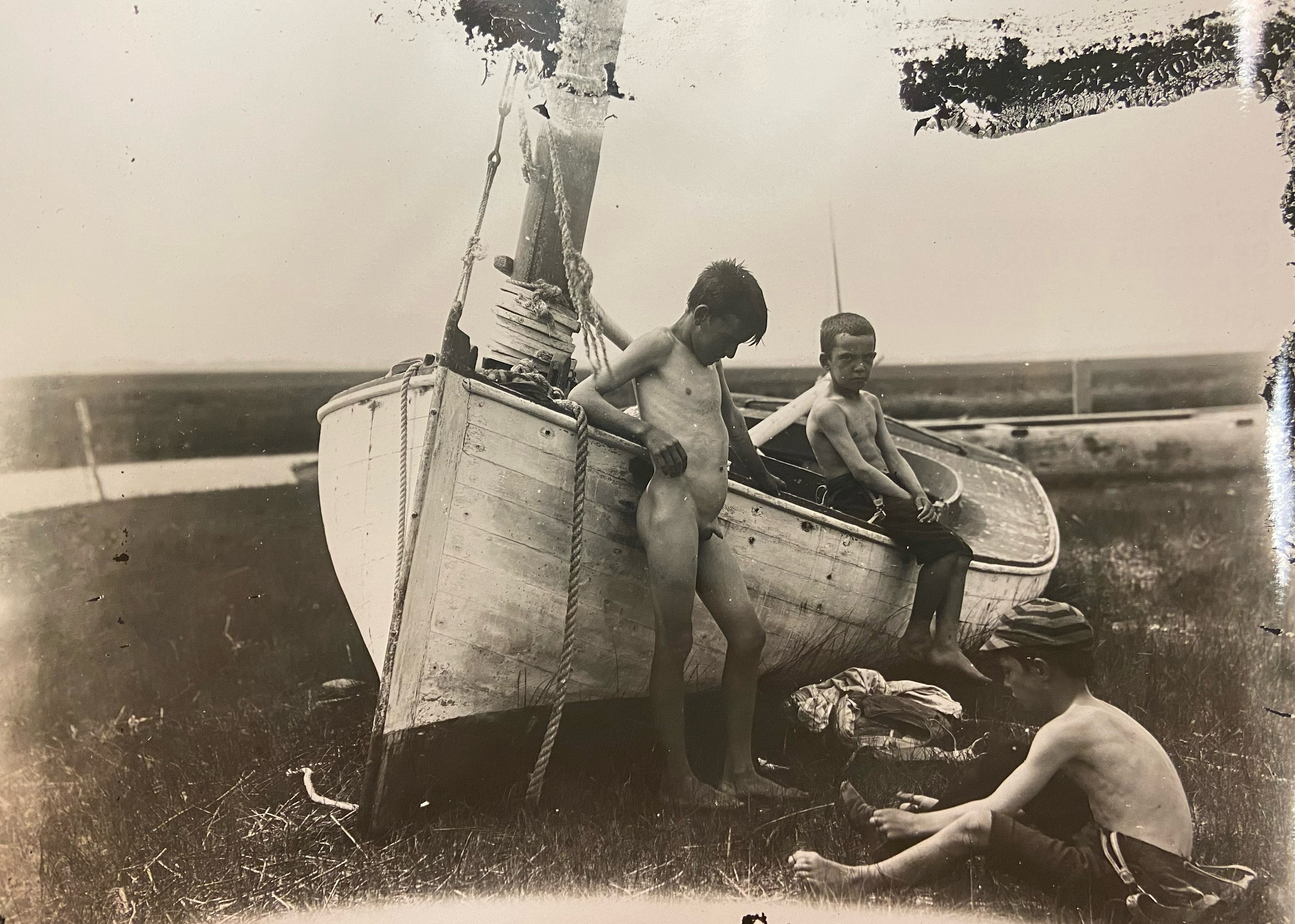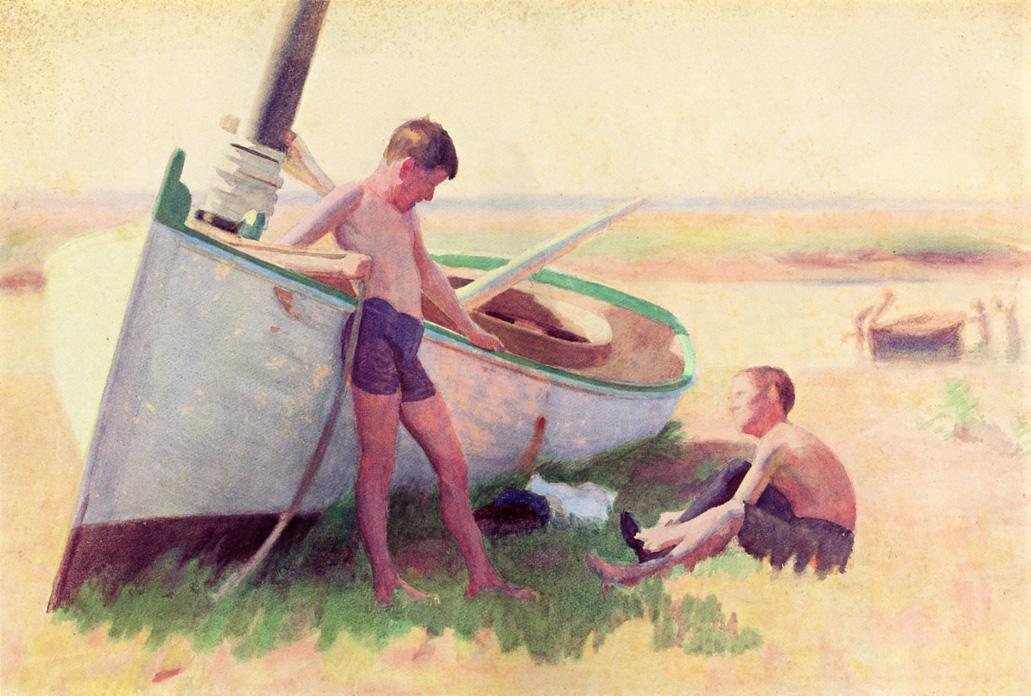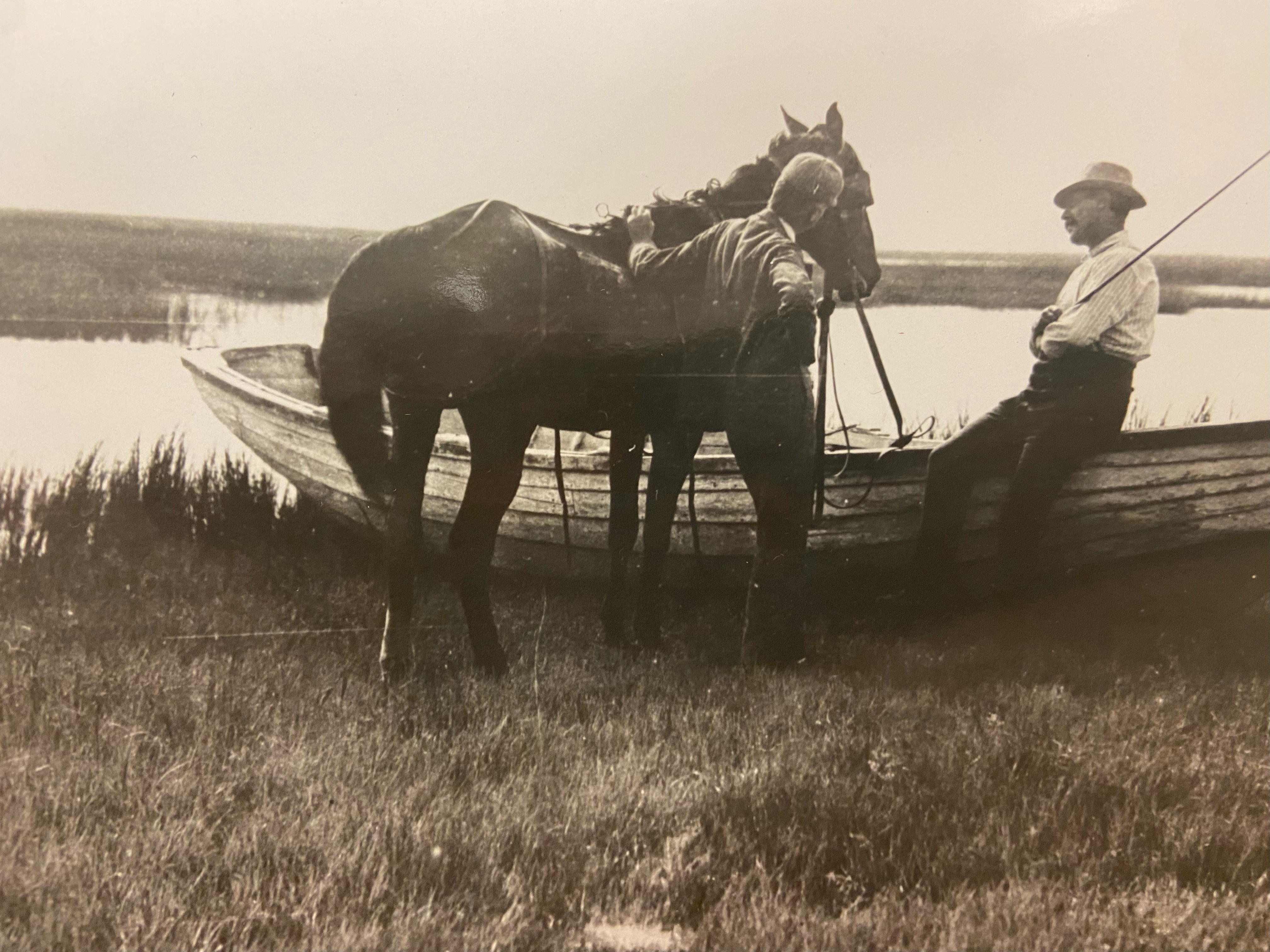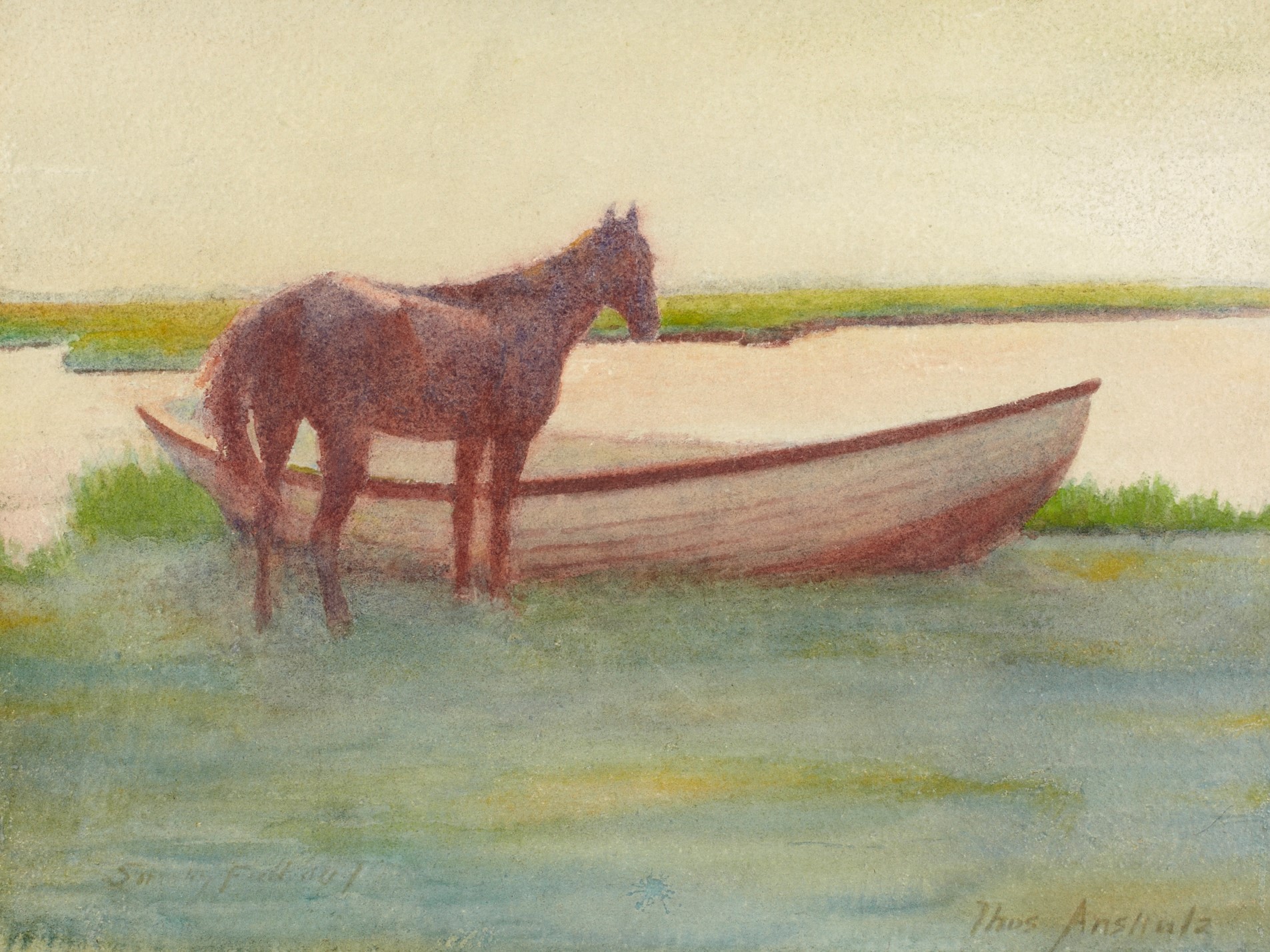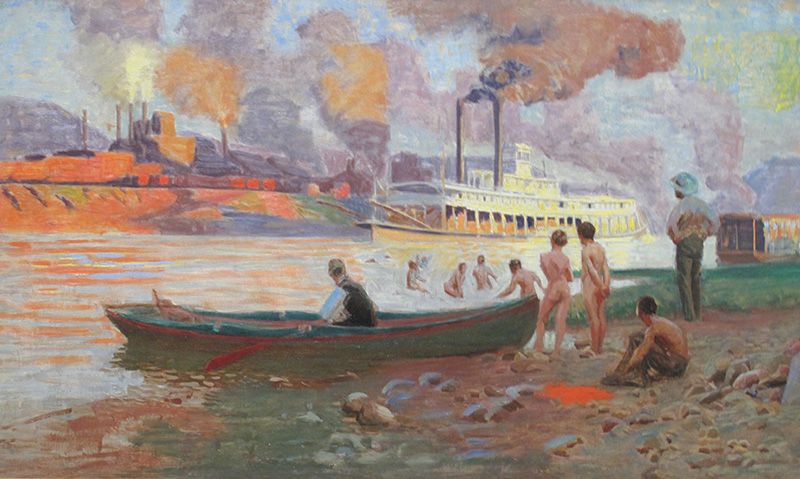 In 1898, with his colleague, Hugh Henry Breckenridge, Anschutz opened The Darby School of Art, a summer institute for artists. Located at the intersection of Ambler Rd. and Bethlehem Pike in Fort Washington in Montgomery County, Pennsylvania. The school specialized in landscape painting in the Impressionist style. One of the Darby School's first students was Daniel Garber in 1899. In 1905, Garber attended PAFA with Anshutz as his instructor.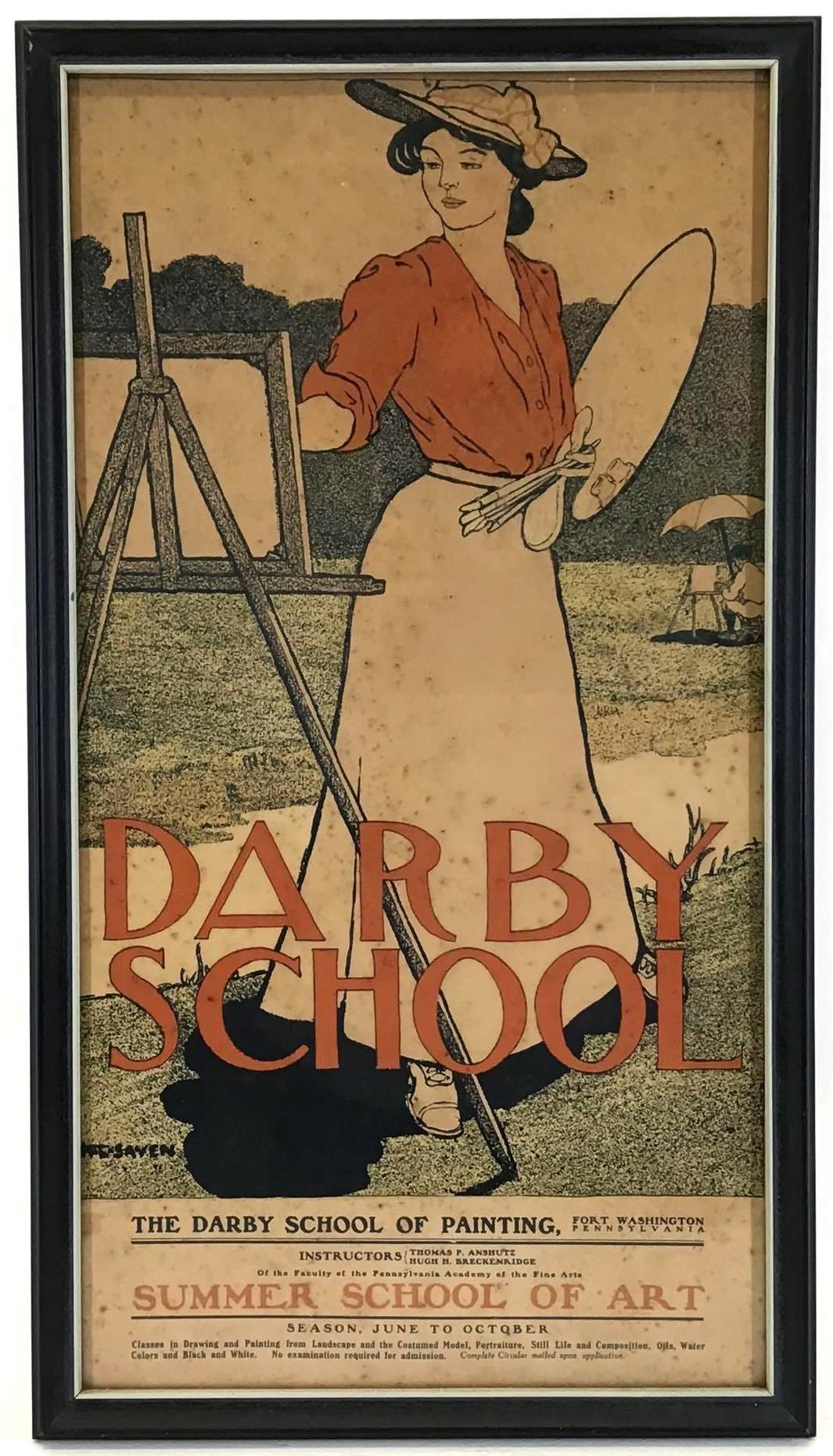 Thomas Pollock Anshutz, Darby School poster, available at Alderfer Auction, Fine Arts Auction, December 8, 2022
Some other artists of note that were instructed by Anshutz were Charles Wheeler, George Luks, William Glackens, John Sloan, Margaret Taylor Fox and more. Artist Maude Drein Bryant, another of his students, went on to become a key figure in the Philadelphia Ten, a group of women artists who exhibited together from 1917 to 1945. Students George Luks, John Sloan and William Glackens were inspired by their instructors to start their own school, The Ashcan School of Realism, in New York City.
In 1909, Anshutz received Pennsylvania Academy of Fine Arts highest honors, both the Lippincott Prize and the Gold Medal of Honor, for his portrait, The Tanagra, of Rebecca Whelan, daughter the former president of the Academy. She was a favorite subject of his, he used her at least five times in his work.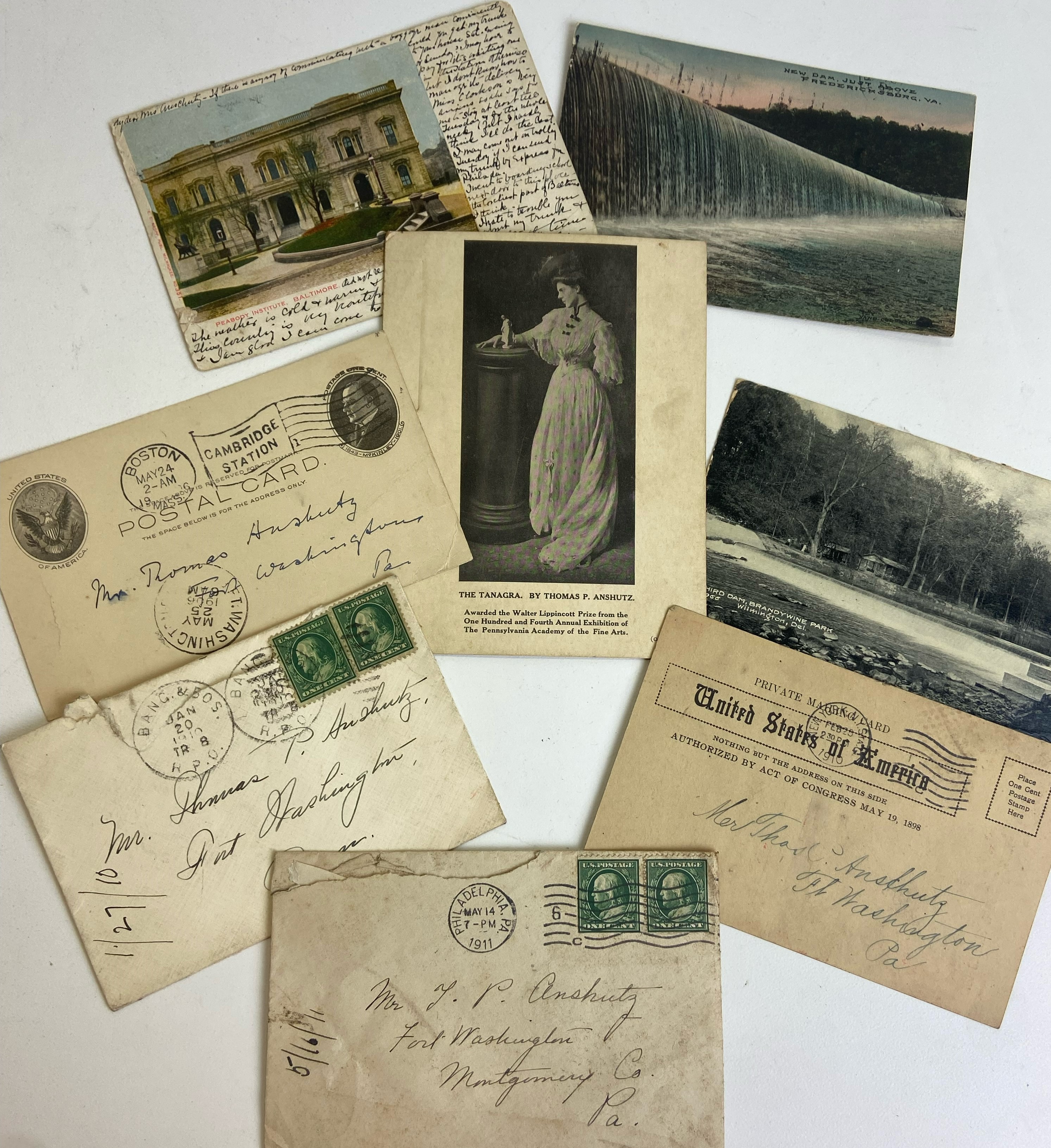 A selection of the archival collection of Thomas Pollock Anshutz, Alderfer Auction
Thomas Pollock Anshutz paintings, archival collection and signed box will be available in Alderfer's Fine Arts Auction taking place on December 8, 2022. It is a rare opportunity to purchase an artist's work and archives. This collection showcases Thomas Pollock Anshutz's process and dedication to his artwork, family and associates through his correspondence and writing, including prints of his photographic art studies.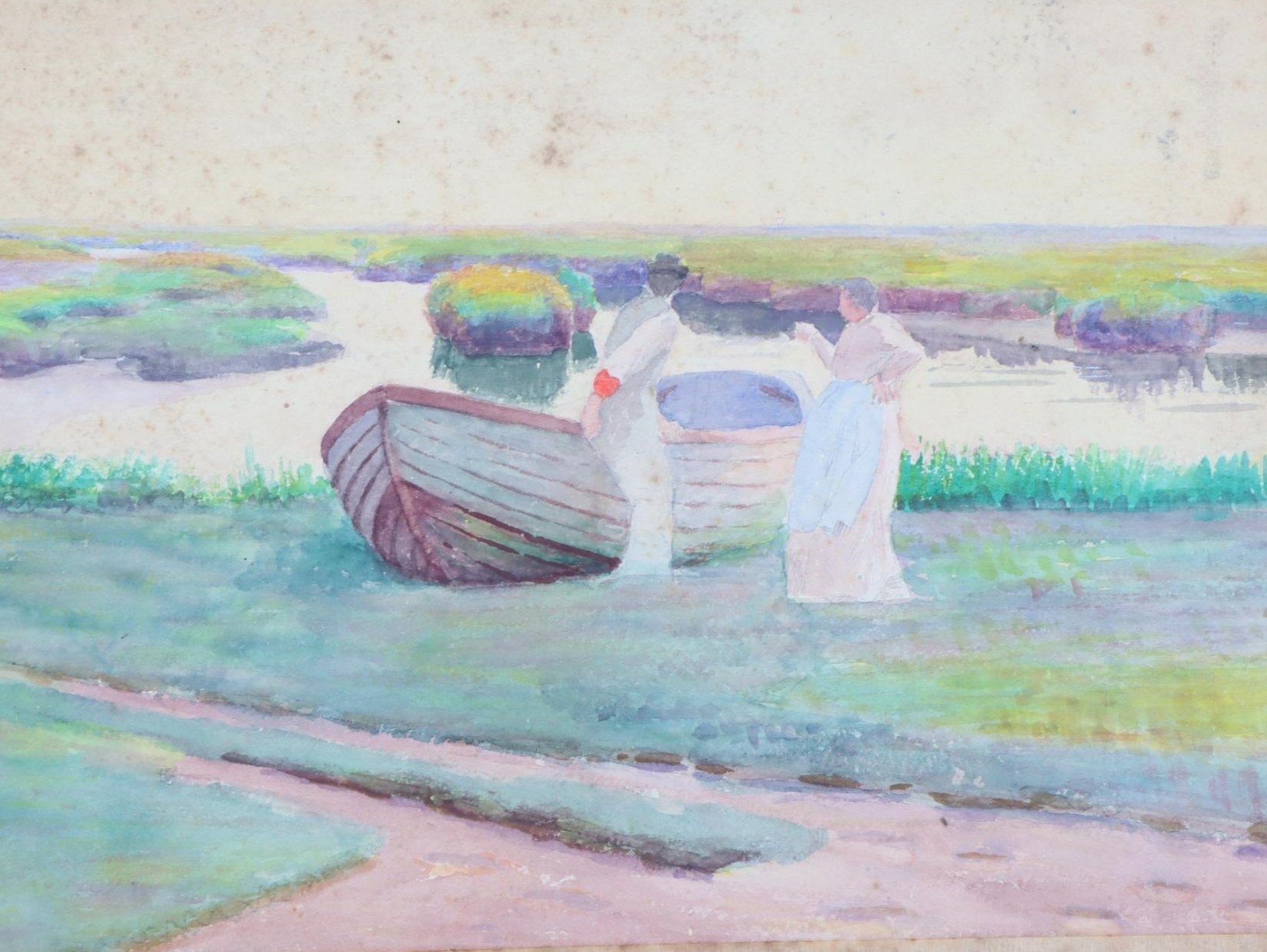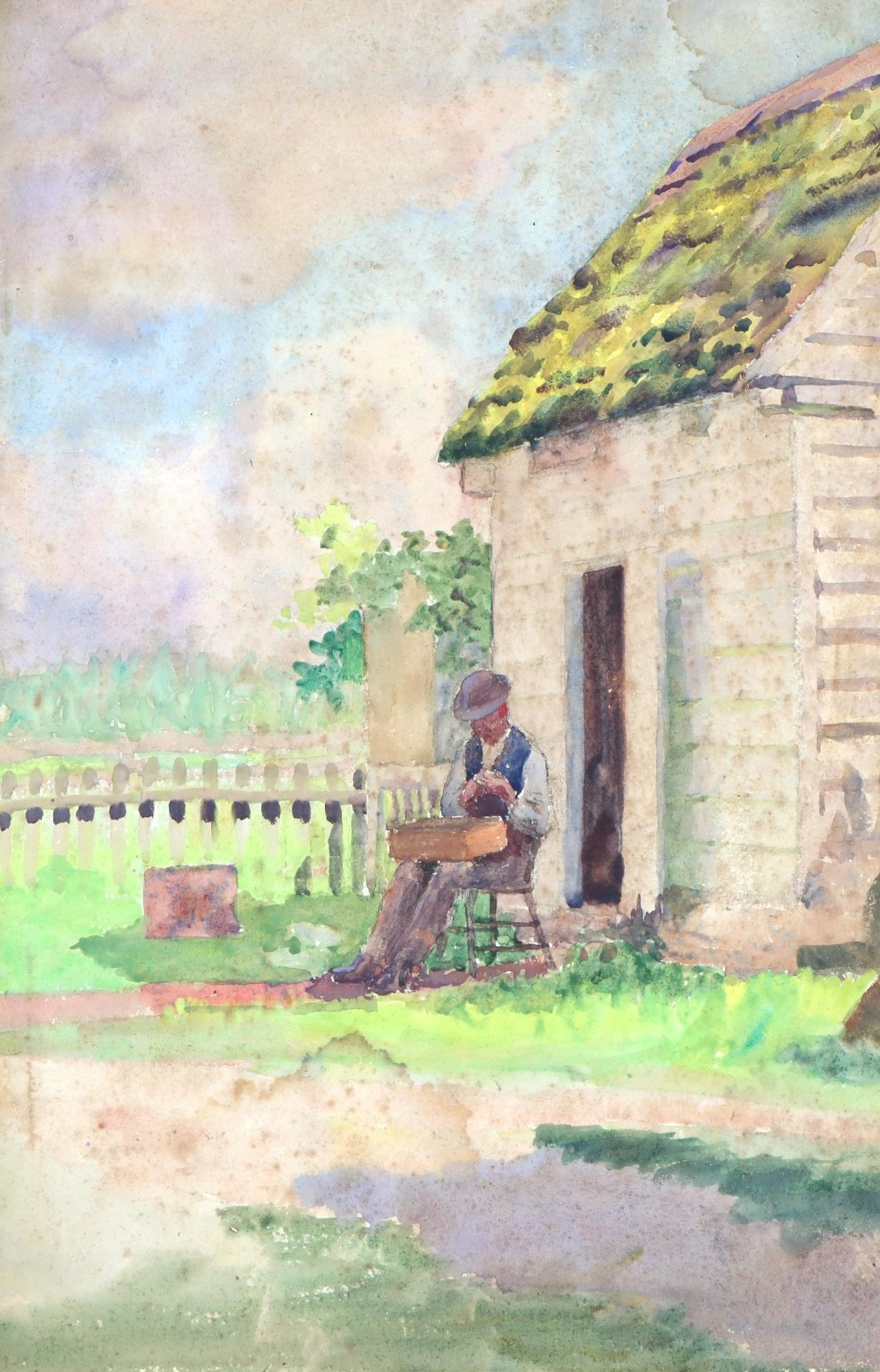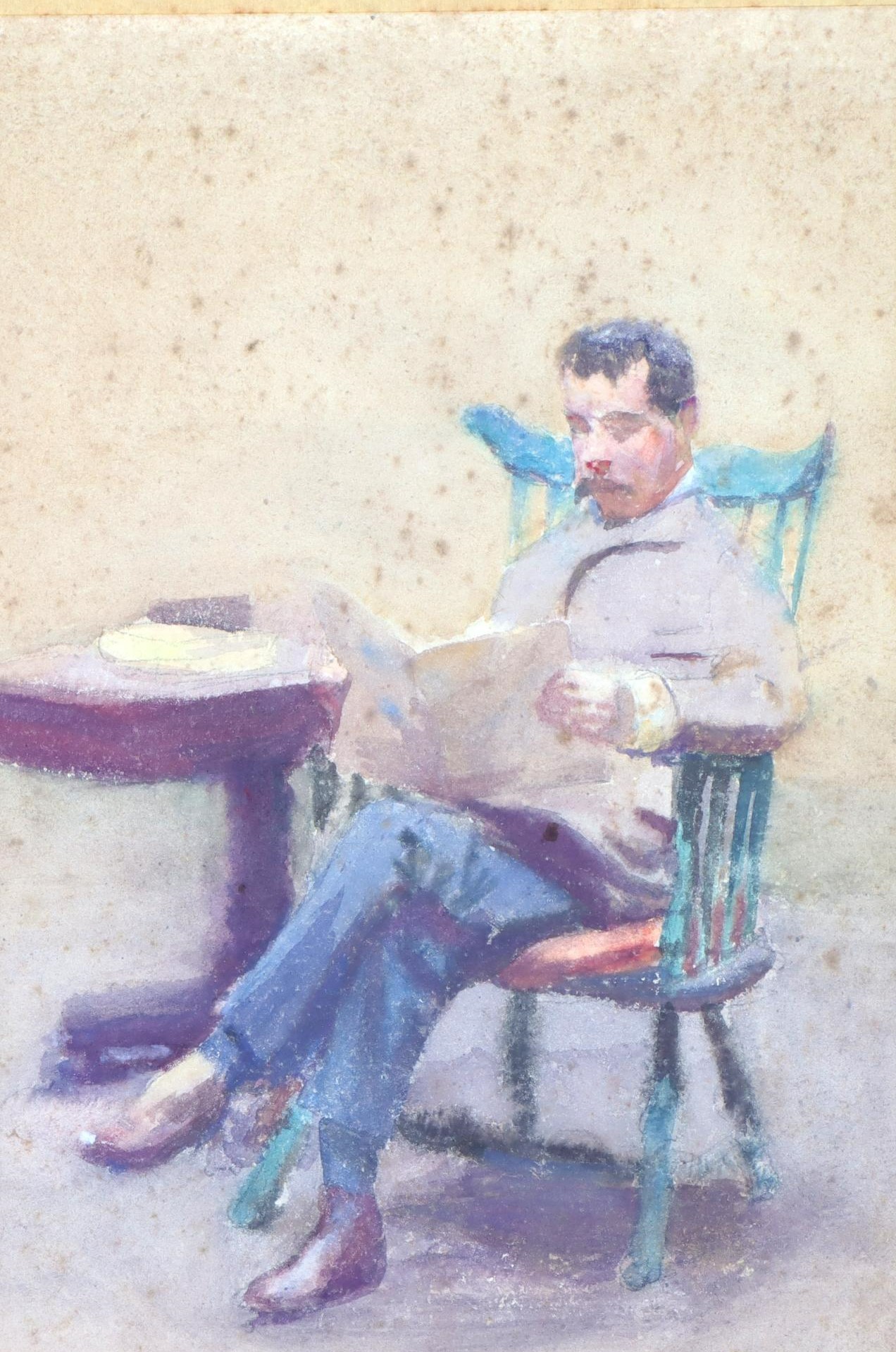 A selection of unsigned artwork by Thomas Pollock Anshutz, available in Alderfer's Fine Arts Auction, December 8, 2022
---