A Piece of History and the Passenger Pigeon - A Lesson to be Learned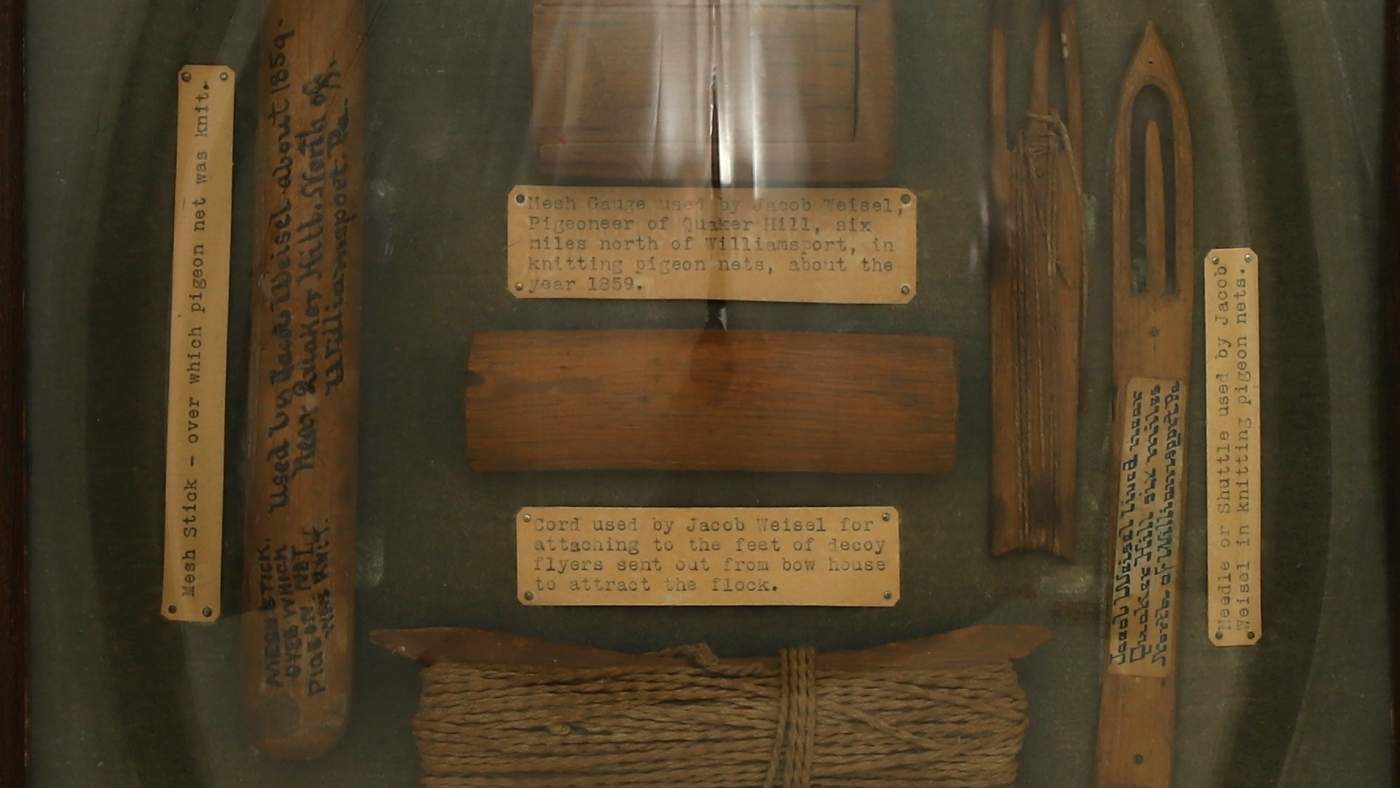 A Piece of History and the Passenger Pigeon - A Lesson to be Learned
Alderfer Auction December Fine & Decorative Arts Auction
On December 12, 2019 at its Fine & Decorative Arts Auction, Alderfer Auction will offer to the highest bidder, a relic of the past that holds a valuable moral in today's world. The item that is being offered for sale is a display case containing various items used to trap pigeons in the mid-19th century. Items included in the frame include a whistle, cord and other tools to make nets to trap pigeons.
The pigeons that were being trapped were not the pigeons that one feeds in the park, but the passenger pigeon, a migratory pigeon indigenous to North America that numbered in the billions in the 19th century. This bird became a cheap and readily available source of food that could be shipped from the countryside to the growing cities of eastern North America. In the 19th century the trapping/hunting of these birds was commercialized to meet that demand. This extreme pressure on the species as well as deforestation of the pigeon's breeding and nesting grounds sent their population numbers into a downward spiral. The last known surviving passenger pigeon died at 1:00 PM on September 1, 1914. In less than 100 years the species had gone from billions to extinct.
Many of the items in the case belonged to Jacob Weisel (1802-1884) a pigeoneer/trapper that lived north Williamsport, Pennsylvania. The documentation states that many of these items were used in the 1850's. The items themselves were collected by Charles H. Eldon (1852-1930) a taxidermist from Williamsport. Eldon mounted these items for display and presented them to Henry Wharton Shoemaker (1880-1958) several years after the last passenger pigeon had died. Shoemaker was a Pennsylvania "renaissance" man that excelled as a writer, folklorist, historian, diplomat, and soldier. His family was well acquainted with Theodore Roosevelt and his family. Shoemaker espoused Teddy Roosevelt's ideas on conservation and was well known in his own right for supporting various conservation ideals in Pennsylvania. The presentation of this case may have been a representation of what can go wrong if man's actions go unchecked in a fragile environment.
In today's news of threatened species, unchecked pollution, global warming, and quests for environmental "responsibility" these framed relics serve as evidence and a warning to future generations.
The 19th century framed grouping of pigeon capture will be sold on December 12th, 2019. The Two-Day Event of Collector's December 11th and Fine Art December 12th Auctions will be held live at 501 Fairgrounds Road in Hatfield, PA along with catalog viewing and online bidding at www.alderferauction.com.
---