Natural Fancy Yellow Diamond Ring Sells for $33,000 at Alderfer Auction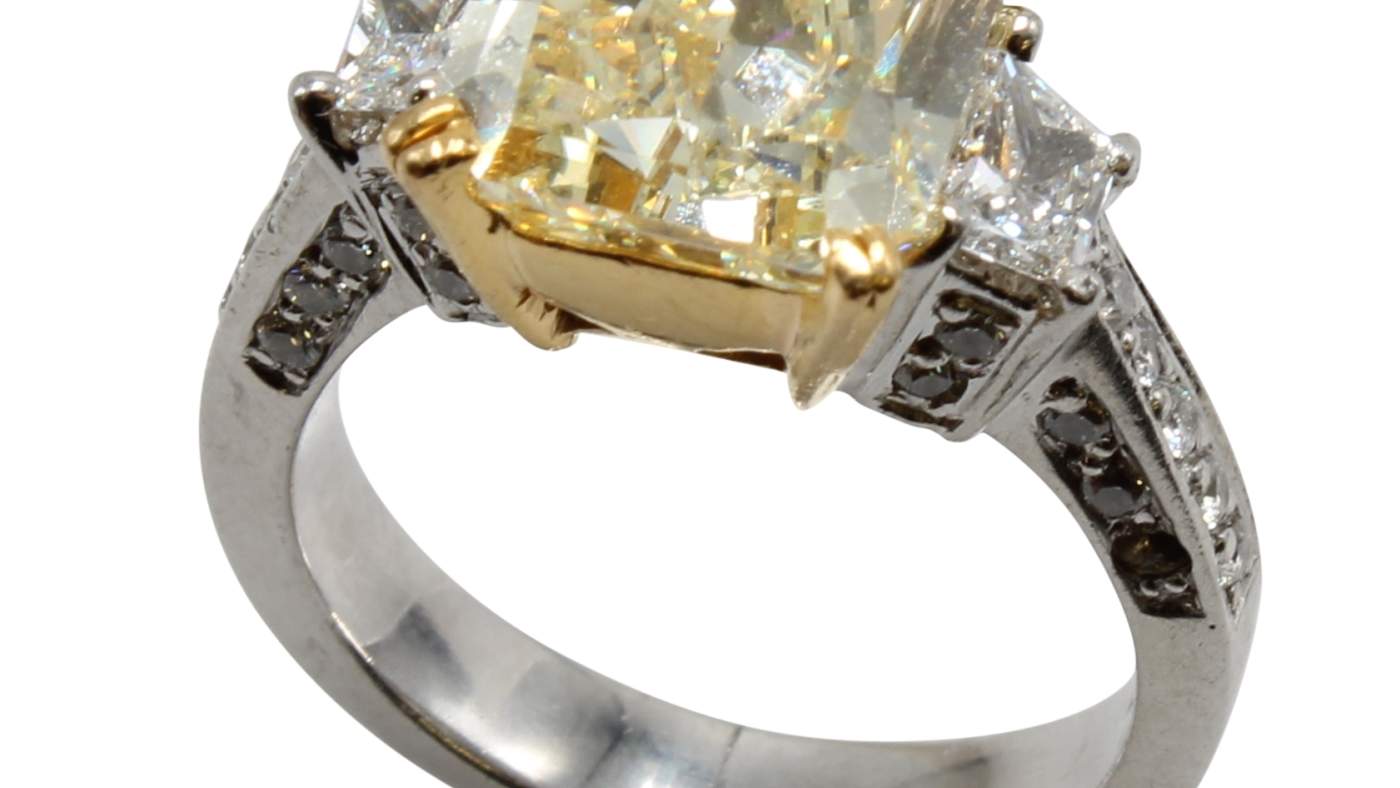 December 7, 2017 - Alderfer Auction Fine & Decorative Arts Auction Proves to be Multi-Faceted with the Selling of a Natural Fancy Yellow Diamond Ring for $33,000.
Alderfer Auction and its multi-faceted Fine & Decorative Arts Auction reflected the finest of jewelry, silver, historical pieces, decorative accessories, bronzes, period furniture and artwork. The 6.09CT brilliant cut Natural Fancy Light Yellow Diamond in Platinum and 22K Yellow Gold with 1+CT White Diamond ring radiantly shined with a selling price of $33,000. A 4+CT Oval Diamond ring in platinum kept the excitement with its beauty and price tag of $20,400. Collections such as this brought much interest from around the world with over 40 countries bidding. Completely encrusted with (434) full cut Diamonds, the Diamond Cuff Bracelet in 18K White Gold took your breath away at a price of $13,200.
As many appreciate the multi-facet sparkle of diamonds and gems, many appreciate the craftsmanship and artistry of decorative accessories and period furniture. Tiffany and Company J.C. Moore 1853 Sterling Silver Cream and Sugar Bowl shined at a $4,800 sales tag. The beautiful Loetz Titania Silver Overlay Art Glass Vase sold for $2,700. The Wurlitzer 850 Bubbler Jukebox Player with vinyl records pulled on the heart strings of buyers selling at $8,400.
Fine Art displays itself upon many "canvases" including bronze. The hand-painted bronze by Dimitri H. Chiparus (1886-1947, France/Romania), Dancer in Art Deco Costume, sold for $6,000. Other canvases included paintings, water colors and etchings from Bucks County, PA, to European artists. The oil on canvas painting, "Repairing the Docks", by Henry Bayley Snell (1858-1943) sold for $6,000. Jean Halter's painting, Bucks County Barnyard, sold for $5,100. George Lafayette Clough (1824-1901) River Valley Landscape painting sold for $3,600.
Alderfer Auction is conveniently located in the suburbs of Philadelphia between New York and Baltimore at 501 Fairgrounds Rd., Hatfield, PA 19440. For more information visit www.AlderferAuction.com or call 215-393-3000.
---