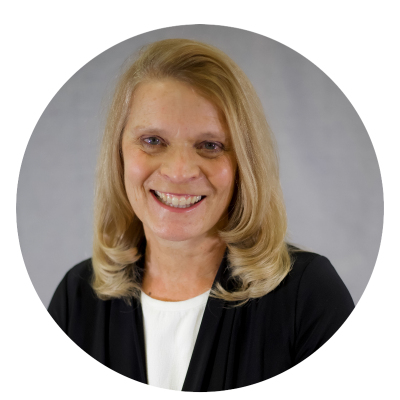 Sherry Russell
CEO of Alderfer Auction
I have been enjoying family businesses my entire career, whether working in our family businesses or supporting local family businesses. I believe in all aspects of family business! I am truly honored to have the opportunity to lead the Alderfer team. It is an incredible group of individuals that are dedicated and passionate about their jobs, and supporting their fellow team members. Owning a family business has allowed me to walk alongside my husband and our children; sharing business and life experiences. My involvements as a mother, wife, coach, mentor and board member have all contributed and impacted my career journey. Life Mission: To challenge and inspire God's children to believe in themselves, and to grow to accomplish their individual passion in life. "It's all about, it's all about the climb… Keep your faith, keep your faith"

H. Brent Souder
Auctioneer, CAI, Sales Director, Appraiser MPPA
Brent Souder began working with Alderfer Auction in 1986, and has extensive knowledge in the auction industry. Brent graduated from Mendenhall School of Auctioneering, Highpoint, NC in 1987. He is also a graduate of Certified Auctioneers Institute at Indiana University, with certifications as a Master Personal Property Appraiser (MPPA) He was named the Bid Calling Champion in 2006-2007 by the Pennsylvania Auctioneers Association. He was named the PA Auctioneer in 2018, and was infucted into the PA Auctioneer Hall of Fame in 2021. He Serves on the PA Auctioneer Association Board of Directors. His favorite part of his day is "Meeting new people, meeting the needs of buyers and sellers, new discoveries, and hearing the stories of collectors!" In his free time, he spends time with his children and grandchildren, spending time in Tioga, where he likes to go on his ATV, dirt biking, skiing, camping and going to auctions!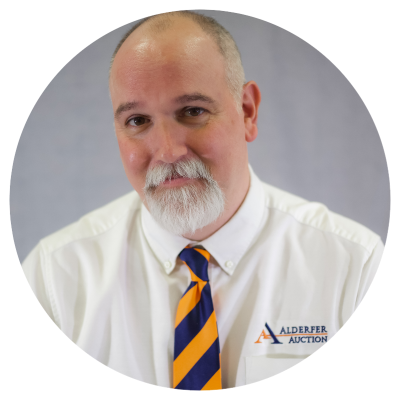 Christian Answini
Senior Specialist of Fine Art & Auctioneer
Joined the Alderfer team in January of 2018. Christian contributes a range of skills as an auctioneer, historian, and scientist which offer both a broad and targeted knowledge base to our Fine and Decorative Art, Specialty, and Single Owner auctions. His thorough research and Renaissance approach have yielded success for our consignors in a wide range of merchandise including fine art, silver, Americana, comic books, and pop culture materials. Christian's 10+ years as an auctioneer and 6 years serving on the Board of Directors of the Pennsylvania Auctioneers Association has enabled him to build a strong local and national network within the auction/antique/fine art community. In addition to his auctioneer's license, Christian holds a Bachelor of Science degree in Biology with a focus in Philosophy.

Annette Wilson
Business Development & Sales Associate
Annette Wilson recently joined the Alderfer team in 2022. Along with her professional experience, Annette brings a lifelong love of art and antiques to the table. A Graduate of Pennsylvania College of Art and Design, her first job was in designing wallpaper for York Wallcoverings. She brings 30 years of experience in sales, marketing, and business development mainly in the commercial interiors business. In 2019, Annette shifted her career focus because of personal experiences. Her desire was "to help families navigate the scary, stressful, wild world of senior living." She became CSA (Certified Senior Advisor) accredited in 2021 which provided her with the practical, multi-disciplinary tools and resources to help serve older adults more effectively. She looks forward to using her background and skillset at Alderfer's to help the senior population with the daunting question of "what am I going to do with all my stuff?" Annette has been married for 35 years to her best friend and supporter, Kevin. Their daughter Zoe lives in Philadelphia. Annette is a volunteer teacher for "Art Goes to School" in the North Penn School District, is a member of the North Penn Arts Alliance, and the Montgomery County Beekeepers Association.

Allyson Babcock
Appraiser & Sales Associate
Allyson began her career at Alderfer Auction learning the day-to-day operations of an auction house and became the lead cataloguer for their quarterly fine and decorative arts auctions where she researched and catalogued thousands of items for estate auctions. Her areas of expertise include American Furniture & Decorative Arts, American Fine Art, and general residential contents. Ms. Babcock is an accredited member of the Appraisers Association of America specializing in American Furniture & Decorative Arts. Allyson offers appraisal services to individuals, attorneys, insurance professionals, trust companies, financial planners, museums and historical societies. Allyson Constant Babcock holds double bachelor's degree from Brown University in American Civilization (Material Culture) and Organizational Behavior & Management. She obtained a certificate in Appraisal Studies. Allyson and her husband, Ray, have two children, Carter (19) and James (17). They currently reside in Malvern, Pennsylvania. The family enjoys spending their summers on the Eastern Shore of Maryland at their home on the Sassafras River.

Melissa Jay
Cataloger & Blog Writer
Melissa Jay has a BS in Elementary Education with a concentration in History and an MA in Museum Studies. She was the Coordinator of Education and National History Day Regional Coordinator for 15 years at the Mercer Museum & Library in Doylestown. She started her own business in 2019, Presenting History, LLC. This organization develops and presents history programs, on a wide range of subjects, but with a strong focus on women's roles during World War II. In addition to WWII, her research programs concentrate all areas of women's history, local history and holiday folklore. Melissa has been at Alderfer Auction since November of 2020, researching and cataloging a variety of auctions and writing educational articles for the Alderfer Auction blog.

Mike Gribbin
Sales Associate, Vehicles & Musical Instruments Specialist, Asset Recovery
Mike Gribbin has worked in the auction industry since 2015. Prior to this, he spent 6+ years in the high-end, collector-quality furniture market and another 6 years managing thrift stores for Liberty Ministries. His areas of focus at Alderfer Auction are as diverse as his background. Mike concentrates on asset recovery for our Business Liquidations in all markets of the workplace. Additionally, he coordinates the musical instrument auctions and is the point-person for all vehicle consignments. As a sales representative at Alderfer's, Mike enjoys the day-to-day opportunities of meeting new clients, listening to their stories, and discerning how Alderfer Auction can best fit their individual needs.

Adrian Martinez
Cataloger
Adrian Martinez joined the Alderfer team in 2020 as a Specialist and Cataloger with a focus on Decorative Arts and Silver. He attended The Hill School in Pottstown, PA and earned a BA in US History at New York University. Adrian spent several years in New York as an assistant to an antiques collector/archivist and as a museum tour guide. He has held various roles in the surrounding Philadelphia area auction industry over the past 6 years. Adrian works in the areas of Fine Art & Decoratives and Mid-Century Modern & Design.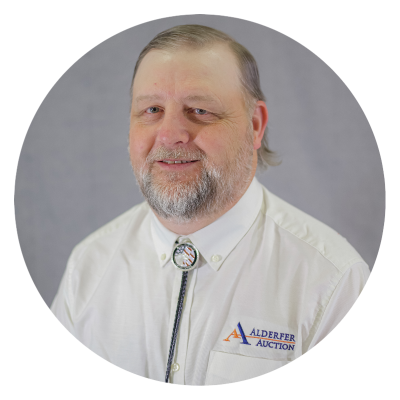 Barry Doremus
Firearms Specialist, Cataloger
Barry Doremus joined the Alderfer team in 2017 and works as the Firearms Specialist. Barry has 32 years of experience in the firearms industry buying, selling, valuing, and collecting antique military and modern firearms and militaria. Barry is a native Pennsylvanian and outdoorsman with a special interest in the American Civil War, Military and early American history and exploration. Favorite part of the day is meeting new people, meeting needs of buyers and sellers, new discoveries, hearing the stories of the collectors. Barry is often at the gun shows representing Alderfer Auction.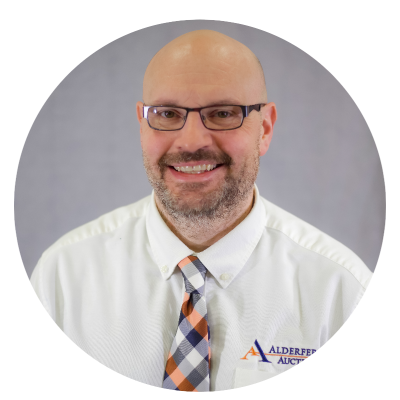 Chris Harper
Specialty Online Coordinator, Photographer, Firearms & Fine Art
Chris Harper has been with the Alderfer Auction team since 2013 specializing as an Online Auction Coordinator with an emphasis on lead photography, photo editing, advertising, cataloging, and research. He is most highly involved in the Fine and Decorative Arts, Mid-Century Modern and Design, Collectors, and Firearms auctions. Chris holds a Bachelor of Science degree in Meteorology from the Pennsylvania State University which he has used as a foundation to help cultivate his diversity within his position.

Grant Souder
Sales executive for Estates, Firearms, & Equipment
Grant officially joined the Alderfer team in 2018 after several years of sales experience in the vehicle industry. Grant grew up in and around the auction industry attending auctions and even periodically worked at Alderfer's as an auction "runner" as well as volunteering at local benefit auctions in his teen years. He is a graduate of Christopher Dock High School and Bucks County Community College and specializes is firearms, equipment, vehicles, and general estate items. His favorite part of working at Alderfer's is assisting our clients with their specific auction needs, discovering rare merchandise, and generally learning something new every day. Grant and his wife reside in Schwenksville, PA.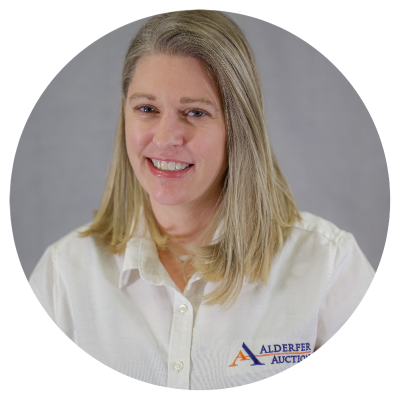 Sara Good
Cataloger
Joining the Alderfer Fine Arts team in 2019, Sara's ability and contributions made an immediate impact. With over 20 years of extensive curatorial experience in the museum field, Sara has brought her skills and abilities of identification, research, and targeted knowledge of Americana, textiles, artwork, primitives, and furniture to the Alderfer team. Her multiple degrees in both history and American Studies expand her skillset and bring a unique perspective to the Fine and Decorative Arts Department.

Glenn Nemath
Business Development and Real Estate Professional