Alderfer Online Onsite Auctions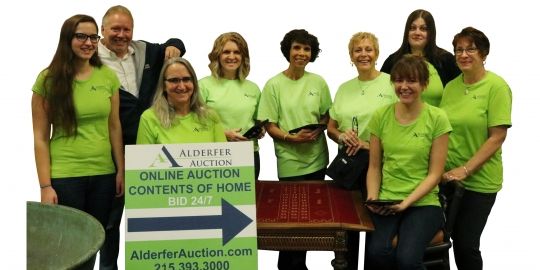 Many enjoy the benefits of sellings their home belongings, onsite, in-place and within their timeline. Alderfer staff will guide you through the online only auction process with compassion. We understand how overwhelming and stressful a major life change can be. We have simplified the steps and will walk with you through the process from start to finish:
All contents sold onsite at your location –no packing or moving of items required.
No moving costs
Virtually all of your household contents can be listed for sale.
Quick turnaround time – our staff will work to schedule and complete the auction within your time frame.
Alderfer brings highly competitive, online exposure, which translates to higher sale prices for you.
Five Steps to Sold:
1. Cataloging Onsite
2. Marketing
3. Selling, Bidding & Sold Online
4. Supervised Pick-up
5. Consignor Paid within 21 Days
Alderfer Online Onsite Team (L to R): Joanna Childs, Dan Angstadt, Bonnie Childs,
Jill Kaercher, Vicki Buchanan, Brigid Hillman, Hayley Schaffer, Meredith Clarke, Donna Rice